Hannah Ann Sluss Said She's Frustrated 'Bachelor' Producers Cut Out Important Scenes of Her in the Beginning
Those who watched Peter Weber's season of The Bachelor are still reeling over what went down. While Weber got engaged to Hannah Ann Sluss at the end of his season, there was trouble in paradise. Sluss later learned that Weber was still pining over Madison Prewett, and she was also suspicious when Weber felt the need to get into contact with Hannah Brown for closure. Ultimately, this resulted in the couple splitting up.
Both Sluss and Weber have been making their rounds and explaining exactly what went down with their relationship. And Sluss spoke with Ben Higgins and Ashley Iaconetti on their Almost Famous podcast in April 2020. She touched on Weber, of course — but she also mentioned that she believes the Bachelor producers left vital moments out with her in the beginning.
Contestant Kelley Flanagan thinks 'Bachelor' producers got into Peter Weber's head
Many Bachelor fans were unhappy with how the producers appeared to manipulate the show. And it seems contestant Kelley Flanagan is sticking up for Weber, as she believes the producers got into his head as well. Those who followed the season know Flanagan met Weber prior to The Bachelor, and their on-screen chemistry seemed to dwindle. But Flanagan thinks production may be to blame.
"Even in terms of, like, him and my relationship on the show, the first couple of weeks I saw him, like, look at me differently compared to when we got on our one-on-one. I could tell a hundred percent that, like, producers were in his head," Flanagan noted on the Almost Famous podcast.
Flanagan then went on to explain that Weber's entire demeanor during their one-on-one was off — and she thought production may have told him something to sway him away from her. Either way, it seems the two are connecting now that they're both off the show.
Sluss said the producers cut out beginning scenes that were important in building her character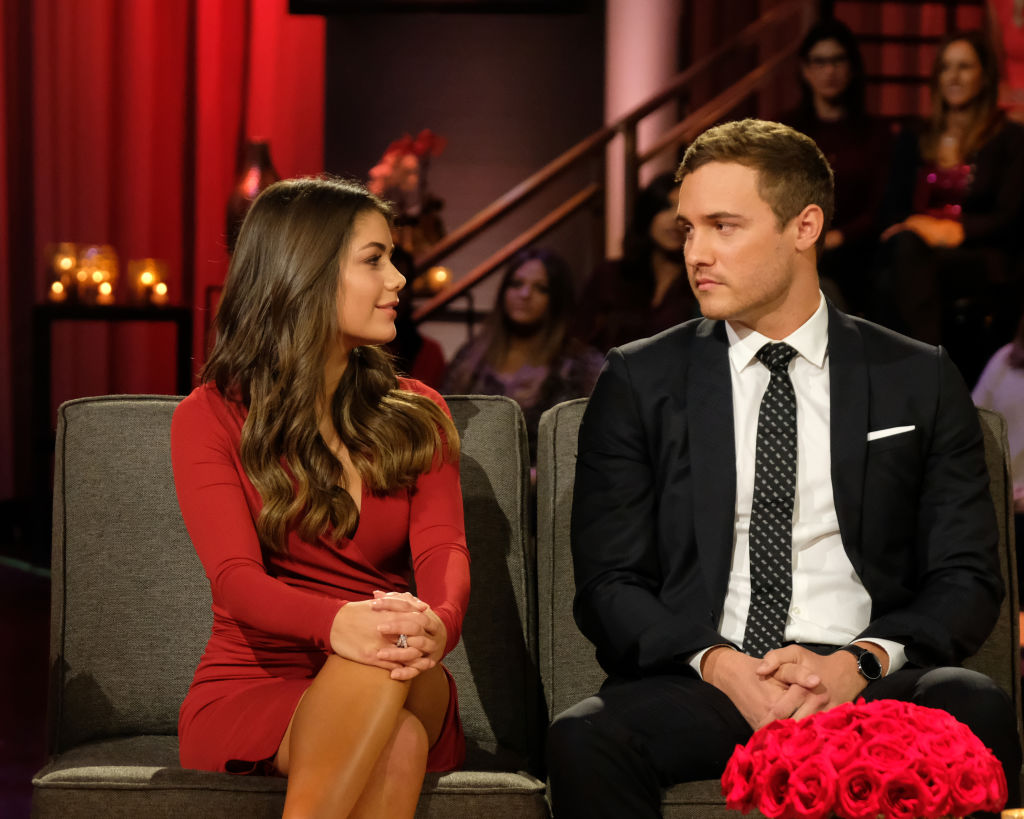 Producers have to cut major portions of what they filmed in order to fit the show into its time slot. But Sluss thinks the show could've done a much better job in how they portrayed her in the beginning.
Higgins brought up on the Almost Famous podcast that Sluss' faith was rarely addressed at the beginning of the season, though it became a main plot point for Prewett. And Sluss noted this as well.
"I think, watching back the show, you only see, like, blippets of me. And I think that was probably the most frustrating part is that there wasn't a lot of getting to know me and more of my character and my intent and why I was there," Sluss said. And she went on to explain that she had a conversation with Weber about her faith, which gave her that "emotional and spiritual connection" she was looking for.
"I would've loved for my faith, which is a huge part of me, to be shown more on the show," she added.
Ashley Iaconetti proposed a theory that producers wanted viewers to get attached to Madison Prewett
Sluss told Higgins and Iaconetti that her faith is what brought her closer to Prewett — though none of this was shown on-screen. And Iaconetti proposed a theory that Sluss' storyline went by the wayside so that viewers would get more attached to Prewett, the woman who ended up breaking Weber's heart by leaving early.
Sluss admitted Iaconetti had a good point. "When I was watching the first couple episodes, I was like, 'Oh my gosh,' … it definitely was disheartening, 'cause I knew I was going to be given the wrong impression of me. … And, unfortunately, even how it ended, you guys weren't able to see a lot of serious conversations me and Peter had …."
We know there's no bad blood between Prewett and Sluss now — though it's clear neither of them speak to Weber anymore. And it's clear Sluss proved she's stronger now than ever before.
Check out Showbiz Cheat Sheet on Facebook!