Happy 'JK Day:' Here's What the Other BTS Members Posted for Jungkook's Birthday
Sept. 1 is a pretty important day for the BTS ARMY. This year, Jungkook celebrated his 23rd birthday, (24th birthday, if you're in Korea.) Although they may be somewhat socially distant from fans, the other BTS members shared their birthday wishes with the Golden Maknae.
V shared a video of him squishing Jungkook's cheeks
Jungkook may be a Billboard chart-topping artist, but he's still the youngest member of BTS. That means other members, like the singer V, could squeeze his cheeks while wishing him a happy birthday. The idol posted the video to Twitter, earning over a million likes in less than a day.
According to one BTS fan translation, in the video V said, "Billboard No. 1 singer, are you sleepy? How much sleepy? You sleepy so much? Jungkook, happy birthday to you? Billboard No. 1 singer, congrats!"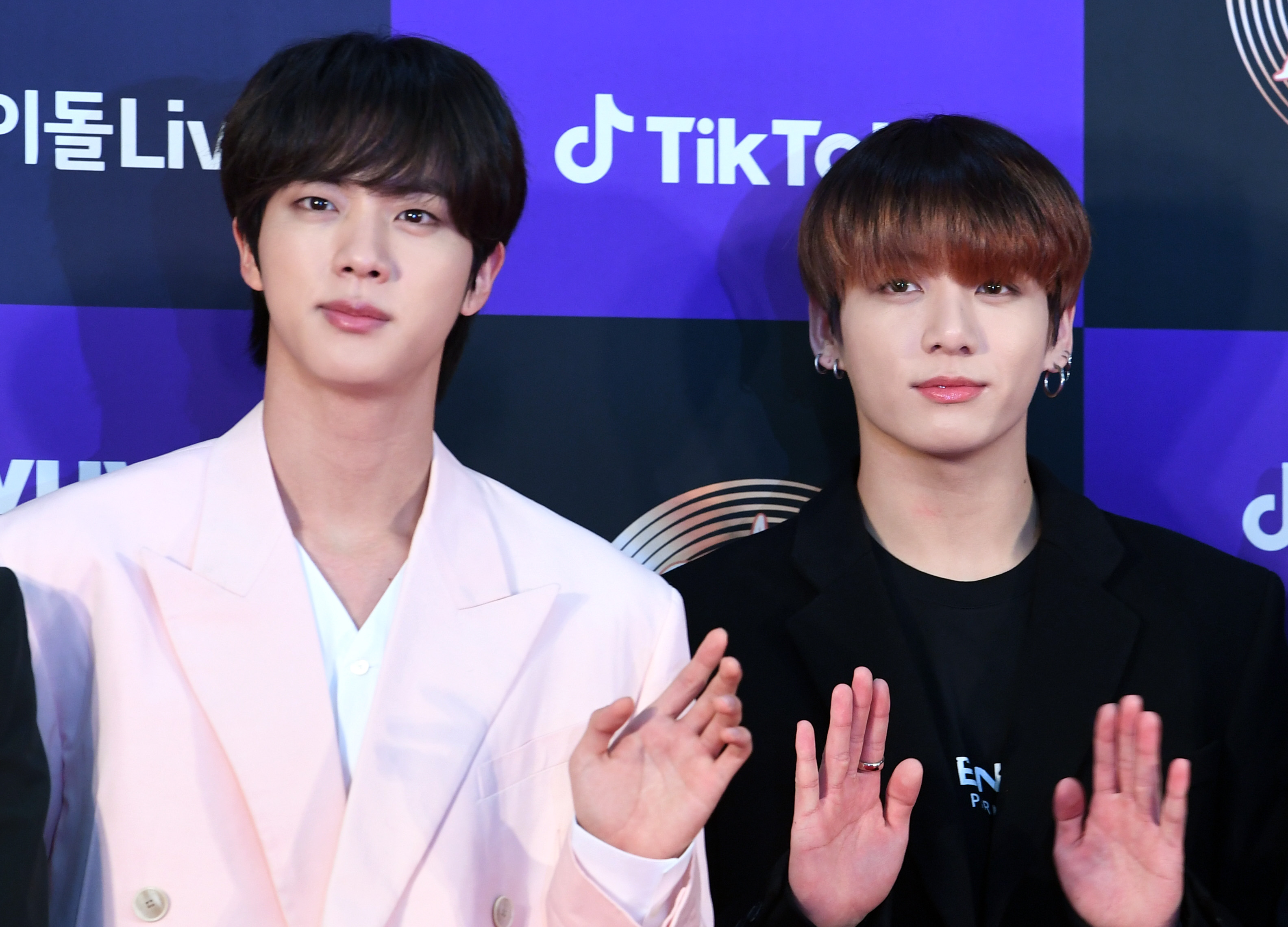 The oldest member of BTS shared a picture of the two of them
Two of the members who have a unique relationship are Jungkook, the youngest singer in BTS, and Jin, the oldest singer in BTS. For Jungkook's birthday, Jin posted a picture of the duo to Twitter. Jungkook looked amazing, but Jin was making a silly face right behind him.
"Jungkook, happy birthday. I chose [the] one you came out well in," Jin captioned the picture, according to the translation. The tweet earned almost 2 million likes in less than a day.
RELATED: Jin Actually Used to Drive the Youngest Member of BTS to School
J-Hope shared a message for Jungkook and for BTS fans
He's your hope, you're his hope. For Jungkook's birthday, J-Hope posted four different pictures of himself with the Golden Maknae. That included a picture of Jungkook on the set of BTS' latest record-breaking music video, "Dynamite."
One picture showed Jungkook and J-Hope with the other BTS members holding some strawberries. In the caption, J-Hope wished Jungkook a happy birthday. He also thanked ARMY for their constant support with their music.
"Happy happy birthday to our makdoongie, hyung loves you so much! Congrats on Billboard No. 1 members, because I have you I'm happy," J-Hope wrote. "And ARMY!! You know we thank and love you more than anyone, right? ARMY needs to be congratulated, too! I love you my people who are always with me."
Jimin shared a few silly pictures of himself with Jungkook
Another singer in BTS shared a number of pictures he took with Jungkook. Primarily, those included a few silly faces by both of the members. He captioned it, "Congratulations on your 24th birthday. Hyung loves you."
Some of the other BTS members took to social media, sharing their love for their ARMY on a historic day. (Dynamite recently reached the No. 1 spot on Billboard's "Hot 100" music chart.)
Music by BTS, including their recently released single, "Dynamite," is available on Spotify, Apple Music, and most major streaming platforms.
RELATED: Jungkook's Stage Name Was Almost 'Seagull' — Here's Why He Decided to Keep His Real Name for BTS Performances