Harry and Meghan: A Royal Guide
Prince Harry and Meghan Markle are in the headlines so often, that it seems surprising that they've only been a high-profile couple for around five years. Prince Harry, a member of the royal family who had been linked to a few different women over the course of his life, fell hard and fast for Markle, an American actor who had been married once before.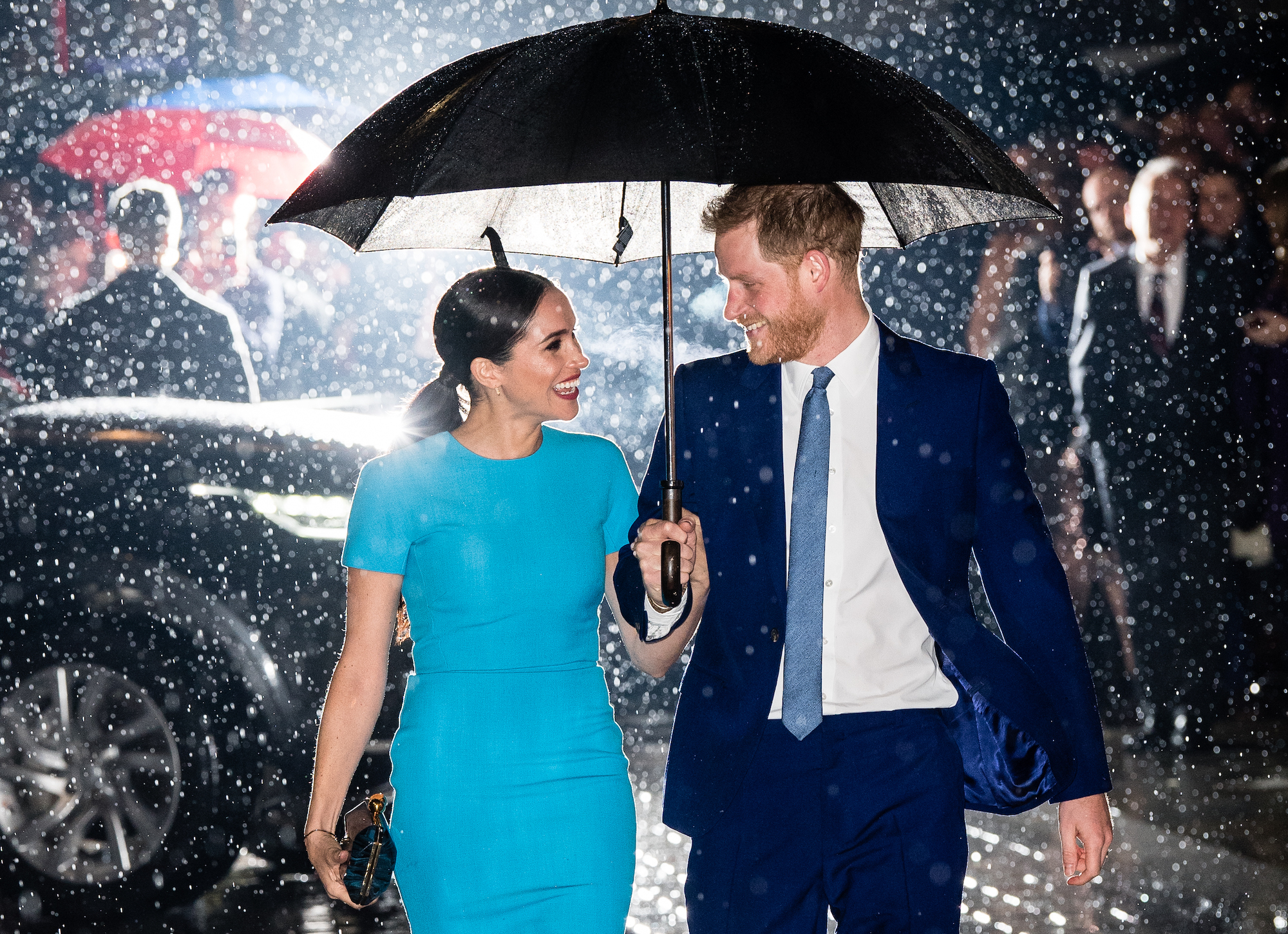 Their love story captivated fans all around the world, and these days, they are still making the news on a daily basis — although for very different reasons. As high-profile as their lives are now, it scarcely seems possible that in late 2017, they were a newly engaged pair planning their big day. 
When did Prince Harry and Meghan Markle get engaged?
Prince Harry and Meghan Markle first met in the summer of 2016. The two first crossed paths on a blind date, introduced by a mutual friend. It didn't take long before the two became infatuated with each other, and Markle later revealed that the first date quickly led to a second date, and then a third. By the fall of that same year, Markle was meeting Prince Harry's family, and things looked to get serious between them.
Over the next year, as the public began to become aware of the fact that Prince Harry was dating a glamorous American actor, news of their love affair dominated the headlines. By the end of 2016, everyone knew that they were an item, and by the time 2017 rolled around, it seemed as though Markle and Prince Harry were meant to be. In November 2017, after months of speculation, the couple announced their engagement. 
Meghan Markle and Prince Harry were engaged for roughly six months before tying the knot
The engagement news broke on November 27, 2017, and media outlets all around the world began furiously reporting all the details of the happy affair. Markle opened up about the sweet way that Prince Harry proposed in the couple's traditional engagement interview, revealing that he had popped the question in London, at Kensington Palace's Nottingham Cottage.
"It was just an amazing surprise. It was just so sweet and natural and very romantic," the actor said. "He got on one knee. As a matter of fact, I could barely let [him] finish proposing. I was like, 'Can I say 'yes' now?'"
The couple planned on having a short engagement, not wanting to wait too long before walking down the aisle. While many American engagements are long-term affairs, lasting one or two years, Markle and Prince Harry married on May 19, 2018 — about six months after getting engaged. 
Prince Harry and Meghan latest news and more
Prince Harry and Meghan Markle's grand royal wedding was an event watched by millions. Still, the happiness of the occasion was short-lived, as in the weeks and months that followed the wedding, reports swirled about the difficulties that the couple was having relating to other members of the royal family. Some reports labeled Markle as "difficult," while other publications printed unkind stories about her family, her work habits, and her Hollywood background.
Ultimately, in early 2020, Markle and Prince Harry decided to step away from their positions as senior members of the royal family. They started a new life in California, one including their son, Archie Harrison. In recent weeks, the couple has welcomed a second child, a daughter named Lilibet Diana — and with their new path ahead of them, they seem poised for a bright future. 
Prince Harry and Meghan Markle have become such a tabloid staple, that for many fans, the time when the couple enjoyed relative anonymity seems very far away. The two, who first started dating in the summer of 2016, are now living in California, raising their two young children and working on a variety of passion projects well away from the royal family, from podcasts to motivational speaking gigs. However, not so very long ago, Markle and Prince Harry were just starting out, dating long-distance while they worked out the next steps in their relationship. 
When did the public find out about Prince Harry and Meghan Markle's relationship?
Prince Harry and Meghan Markle first met on a blind date, introduced by a mutual friend in the summer of 2016. In short order, the two got serious, and they began spending a great deal of time together. Markle later revealed that the couple dated for five or six months before news of their romance began making headlines. When it did, in November 2016, the public's interest grew rapidly.
Markle, who was an actor well-known for her work in the TV series Suits, was beautiful and accomplished — and had already been married and divorced prior to meeting Prince Harry. People couldn't get enough of her romance with Prince Harry, and by early 2017, Markle and Prince Harry were the hottest topic in popular culture. By that time, Markle and Prince Harry had been dating for around a year, maintaining a long-distance relationship all the while. 
When did Meghan Markle move to England?
By early 2017, Meghan Markle had met several members of the royal family and had been on several long trips with Prince Harry. The two decided to take their relationship to the next level, and in April, Markle shut down her lifestyle blog, "The Tig," presumably to focus on her relationship with Prince Harry. The couple also began stepping out to public events together, marking a major turning point in their romance.
According to Town and Country, in October 2017, Markle opened up about her relationship with the royal, admitting "We're a couple. We're in love. I'm sure there will be a time when we will have to come forward and present ourselves and have stories to tell, but I hope what people will understand is that this is our time."
Fortunately, the public wouldn't have to wait long to hear their story, since Markle and Prince Harry got engaged about a month later, in November 2017. It was around that time that Markle officially moved overseas to be closer to her love, coordinating her final days of filming Suits with packing up and moving her belongings from Toronto to England. 
When Prince Harry left the royal family the pair moved to California
After a brief, six-month engagement, Meghan Markle and Prince Harry tied the knot in May 2018. Following their tradition of moving quickly, the couple welcomed their son just one year after their wedding. Even as their family grew, however, rumors of trouble within the royal family started swirling, and between reports of a feud between Prince William and Prince Harry and stories about Markle's alleged "difficult" nature, the couple had enough.
In early 2020, Markle and Prince Harry decided to leave England (and the roles as senior royals) in order to move to sunny California. This move would allow them to be closer to Markle's family and give them the freedom to pursue their own business interests. While the couple received criticism for their decision, many fans supported them — and these days, there's no doubt that the couple is living their best lives. 
Prince Harry and Meghan Markle just had their second baby, a daughter named Lilibet Diana. With fans around the world eagerly waiting for their first glimpse of the new little one, many royal family aficionados are thinking back fondly to the days when Markle and Prince Harry were a new family of three, having just welcomed their first child, Archie Harrison, into the world.
Just like with the rest of the couple's love story, Archie's birth was surrounded by excitement and a good bit of controversy, increasingly so as Markle and Prince Harry proved that they wanted to introduce their son to the world purely on their terms. 
When did Meghan Markle and Prince Harry announce that they were expecting their first baby?
Meghan Markle and Prince Harry got married in grand style, tying the knot in May 2018, after a nearly two-year courtship. The wedding was attended by many Hollywood heavyweights, including Oprah Winfrey, and millions of fans around the world tuned in to watch the American actor marry the British royal.
Many royal fans assumed that the couple wouldn't wait long before starting their family — and that theory was ultimately proven to be correct. In October 2018, six months after their wedding, Meghan Markle and Prince Harry announced that they were expecting their first child. The announcement read, in part:
"Their Royal Highnesses The Duke and Duchess of Sussex are very pleased to announce that The Duchess of Sussex is expecting a baby in the Spring of 2019. Their Royal Highnesses have appreciated all of the support they have received from people around the world since their wedding in May and are delighted to be able to share this happy news with the public."
Archie Harrison was born in May 2019
Throughout her pregnancy, Meghan Markle remained active, participating in royal events and standing alongside Prince Harry for official occasions. However, by the early spring of 2019, Markle began to take a step back in order to focus on preparing for the new baby.
Finally, on May 6, 2019, almost a year to the date after Markle and Prince Harry's wedding, baby Archie Harrison was born. The entire royal family spoke out about the birth, with Prince Charles, Prince Harry's father, noting that he was "delighted" with the arrival of his newest grandchild.
In the days following the arrival of Archie Harrison, the family of three remained mostly under the radar, emerging only once to show off their new bundle of joy before retreating to the privacy of their home to relax and enjoy each other. 
Meghan Markle and Prince Harry have insisted on privacy for their family
Many royal family supporters hoped to see more of Archie Harrison, but Meghan Markle and Prince Harry have been insistent on keeping their young son away from the spotlight as much as possible. They kept his baptism a private affair, and have never released the names of his godparents.
In the years since Archie was born, the couple has retreated even further from the spotlight, and since their exit from their roles as senior royals in early 2020, only a select few images of the toddler have been released.
These days, with a fourth family member now in the mix, Prince Harry and Meghan Markle have more reason than ever before to remain under the radar – and it is likely to be some time before they decide to release any official images of either Archie Harrison or Lilibet Diana.