'Harry Potter' Actor Bonnie Wright Felt So 'Strange' Kissing Daniel Radcliffe: He's 'Like a Brother'
Daniel Radcliffe and Bonnie Wright's first on-screen kiss as Harry Potter and Ginny Weasley is one of the Harry Potter film franchise's many memorable moments. The romance between the characters built up over time culminating in a sweet kiss in the Room of Requirement. While fans cheered for Ginny and Harry, the actors had an awkward time filming the scene. 
Bonnie Wright found out from friends about Daniel Radcliffe kiss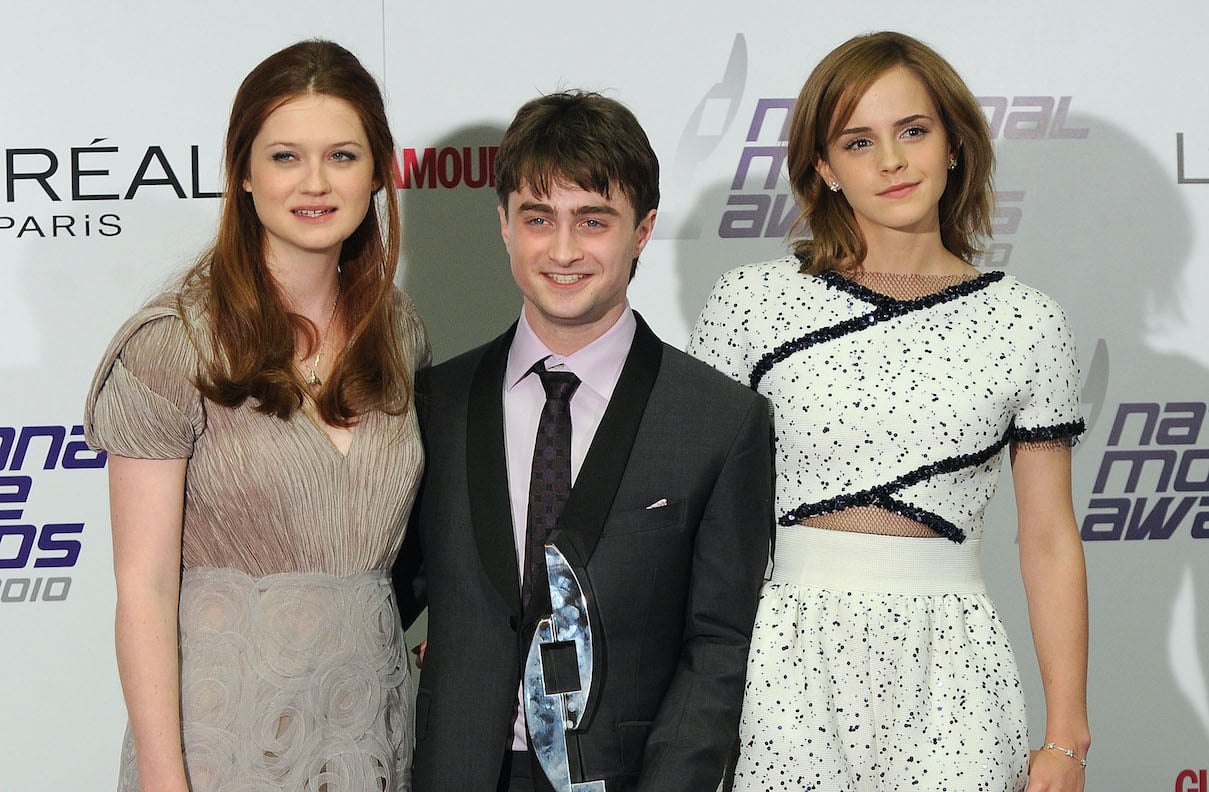 RELATED: 'Harry Potter': This Scene Took 95 Takes; 'It's The Film Equivalent of Actually Doing a Magic Trick'
In an interview with Insider, Wright confessed she found out from friends that she and Radcliffe would have an on-screen kiss.

"I do remember like friends reading the fifth book or like being further ahead in that moment and being like, 'Oh my god have you got to page 362?' Or whatever page it was and I was like, 'No, no what happened?'" she recalled.

"They didn't tell me but they were like, 'Wait till you get to this page,' as we're all reading it but they read it faster than me. And then obviously they got to the moment where they kissed so I was like, 'Oh,'" she said.
She found it 'strange' to kiss Daniel Radcliffe
Radcliffe and Wright first locked lips in Harry Potter and the Half-Blood Prince. As Wright described it, it was weird to fake a romantic moment with someone who was more like a sibling.
"I think it's strange when you know someone really well and you've had such a long experience with them that they've become this friend and kind of like a brother," she said. "And then strangely, suddenly, you have to do these very intimate scenes in quite a functional environment."
RELATED: J.K. Rowling's Harry Potter Books in Order
Her character, Ginny, had a crush on Harry for years before the Boy-Who-Lived realized he had feelings for her too. Wright made her first appearance as Ginny, the younger sister of Harry's best friend, Ron Weasley (Rupert Grint), in 2001's Harry Potter and the Sorcerer's Stone. 
Daniel Radcliffe felt 'weird' during the kissing scene too 
Wright isn't the only one who felt weird. Radcliffe did too. In 2009, the actor shared his own views on the Ginny-Harry kiss.
"The kiss was… fine," he told Access Hollywood. "It was slightly weird at first." 
"I think I've had enough practice over the years," he added with a laugh. 
He continued, echoing Wright's own comments.
"It was one of those things where it was slightly odd at first because I've known Bonnie since she was 9 and I was 11 … ultimately … you get on with it," he said. 
The actors had multiple on-screen kisses by the time the franchise ended in 2011. And they're not the only Harry Potter stars who felt awkward during their on-screen kisses. Emma Watson and Rupert Grint laughed their way through their characters' first kiss.
RELATED: Daniel Radcliffe's Net Worth and How Much He Made Playing Harry Potter