'Harry Potter' Cast: Which Member of the Golden Trio Has the Highest Net Worth in 2022, Daniel Radcliffe, Emma Watson, or Rupert Grint?
Harry Potter is celebrating two decades of magic with an HBO Max special called Harry Potter 20th Anniversary: Return to Hogwarts. The two-hour reunion sees familiar faces from the franchise discussing their work on the films. It's clear the cast has come a long way since Harry Potter and the Sorcerer's Stone came out. What are Daniel Radcliffe, Emma Watson, and Rupert Grint's net worths 20 years later?
Daniel Radcliffe and the 'Harry Potter' cast returned for HBO's reunion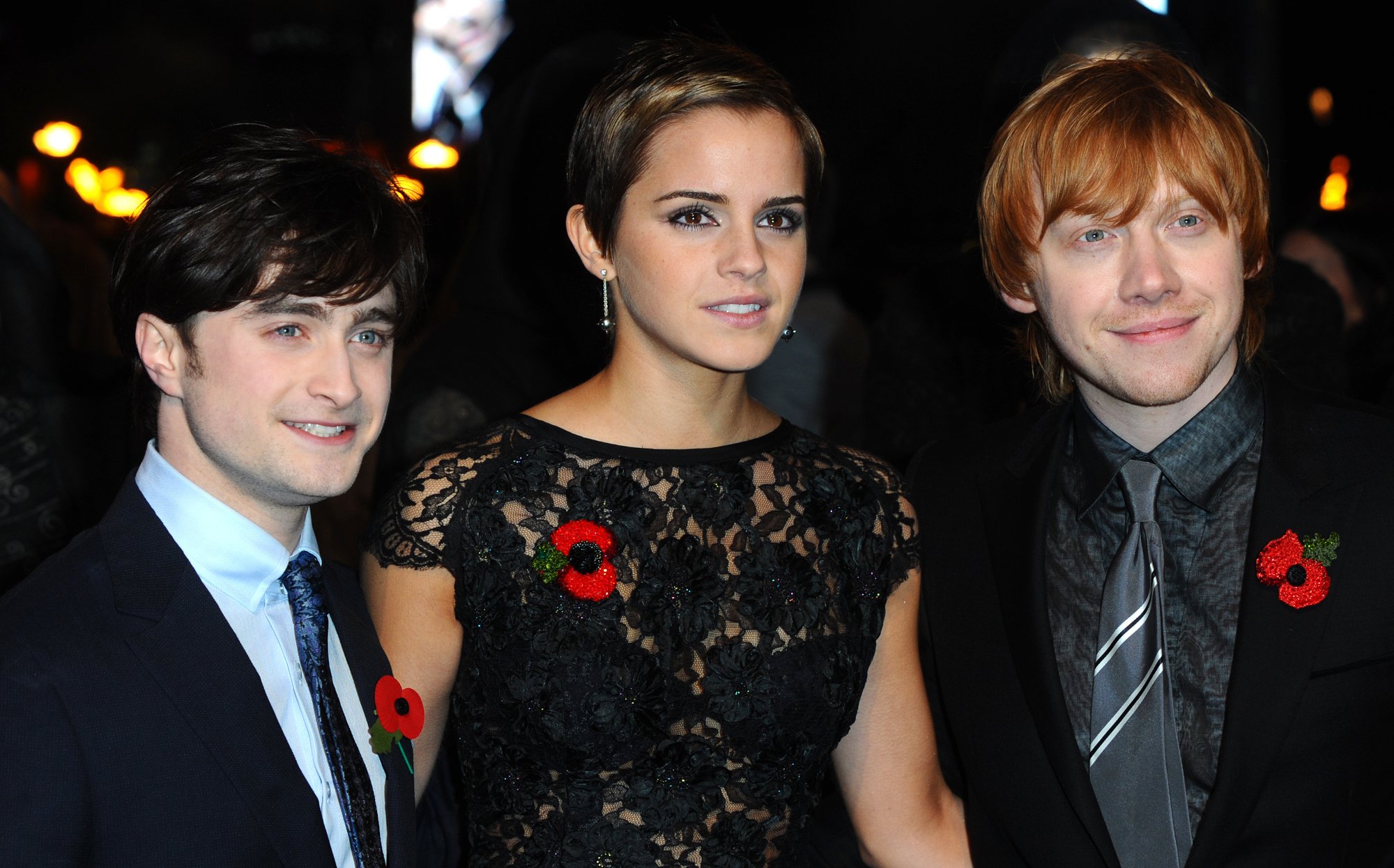 Much of the Harry Potter cast returned for HBO Max's reunion special, including the actors who played the Golden Trio. Daniel Radcliffe, Emma Watson, and Rupert Grint were front and center during the celebration. They were joined by Tom Felton, Matthew Lewis, Evanna Lynch, and a number of other stars.
Of course, many of the kids who grew up on the set of Harry Potter are still acting into their adulthood. Radcliffe, Watson, and Grint might be known for playing Harry, Hermione, and Ron, but they've built lucrative careers for themselves since.
Given how much they've done since Harry Potter ended, it's safe to assume all three actors are worth quite a bit. But of Daniel Radcliffe, Emma Watson, and Rupert Grint, who has the highest net worth in 2022?
What are the 'Harry Potter' stars' net worths in 2022?
Daniel Radcliffe played The Boy Who Lived, but he's gone on to increase his net worth with a slate of other films and series. Now You See Me and Miracle Workers have been some of his biggest post-Hogwarts projects. And he's even performed on Broadway. According to Celebrity Net Worth, Radcliffe is worth an estimated $110 million heading into 2022.
Radcliffe isn't the only one who's held noteworthy roles following his time in the Harry Potter cast. Emma Watson has significantly boosted her net worth over the years as well. She's played Belle in Disney's live-action Beauty in the Beast, starred in Greta Gerwig's Little Women, and portrayed Sam in the 2012 adaptation of Perks of Being a Wallflower.
Despite the name recognition of Watson's post-Potter projects, her net worth appears to be a bit less than Radcliffe's. Celebrity Net Worth places her at an estimated $85 million, just under the $100 million mark but impressive nonetheless.
Finally, Rupert Grint has probably been in the smallest amount of recognizable projects since Harry Potter ended, despite maintaining a steady acting career. His role on Apple TV+'s servant is likely the biggest he's taken on since, though he's also been in Sick Note, Snatch, and The ABC Murders. Perhaps it's no surprise, then, that Celebrity Net Worth estimates a net worth of $50 million for the actor.
Daniel Radcliffe has the highest net worth of the Golden Trio
Looking at the estimated net worths of the Harry Potter cast, it seems that Daniel Radcliffe has the highest of the trio, with Emma Watson in the middle and Rupert Grint coming in last.
Given Radcliffe's starring role in Harry Potter, he probably made slightly more from the films than his co-stars. In fact, Celebrity Net Worth indicates the actor's salary increased from movie to movie. That's true of Watson and Grint as well, but Radcliffe's base salary proved a bit higher by the time Harry Potter and the Deathly Hallows rolled around.
That head start could be responsible for Radcliffe's higher net worth. Of course, he's also appeared in several blockbusters since and dabbled in other entertainment mediums. Such things certainly helped get his net worth where it is today. And if he continues acting regularly, he'll likely see another boost.
Harry Potter 20th Anniversary: Return to Hogwarts is currently streaming on HBO Max.