'Harry Potter': Who Has The Higher Net Worth Between Daniel Radcliffe and Emma Watson?
Two of the most successful child stars, Emma Watson and Daniel Radcliffe grew up with their Harry Potter characters Hermione Granger and Harry Potter. Thanks to the success of the movie franchise based on the beloved, best-selling novels from author J. K. Rowling, they've both amassed impressive fortunes. Ahead, get a breakdown of their individual fortunes, who has the higher net worth, and learn what they've been doing in their post-Potter days.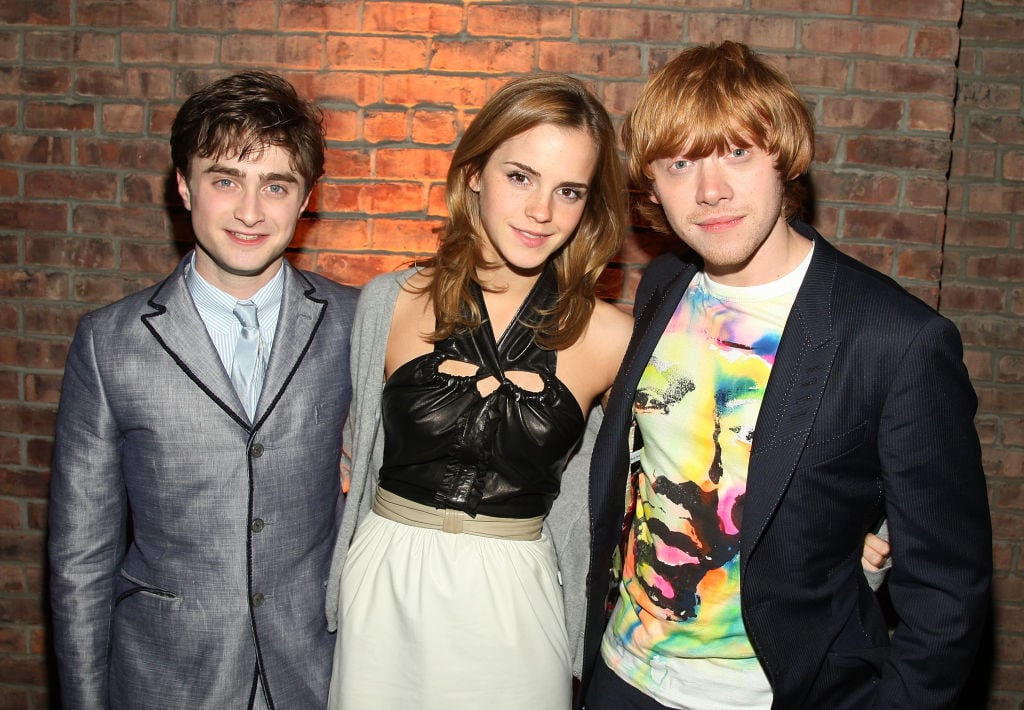 They both started 'Harry Potter' as kids
Spanning nearly a decade, the eight Harry Potter movies documented Watson and Radcliffe's coming of age with their on-screen counterparts in the wizarding world. Watson, now 30, had been only 11 years old when Harry Potter and the Sorcerer's Stone hit theaters in 2001. Meanwhile, Radcliffe had been 11 years old when he landed the role of the main character, Harry Potter. 
Both actors grew up on the set of the franchise and thanks to its blockbuster status they quickly became household names. By the time the last installment in the franchise debuted — Harry Potter and the Deathly Hallows: Part 2 had its theatrical release in July 2011, according to IMDb — Radcliffe and Watson had long since become major stars with the paychecks to prove it. 
Emma Watson has an estimated net worth of $80 million
One of the three main cast members in the Harry Potter movie franchise, Watson took home big bucks. She earned $60 million playing Hermione in eight films and, thanks to other acting gigs, she now has a net worth of $80 million. 
After Harry Potter ended, Watson appeared in films such as The Perks of Being a Wallflower (2012), The Bling Ring (2013), and The Circle (2017). In 2019, she found success playing the role of Meg March in Greta Gerwig's critically acclaimed film adaptation of Louisa May Alcott's novel, Little Women.
While it's unclear exactly how much money Watson made from the project, Little Women earned $108.1 million at box offices in the U.S. and $206 million worldwide, according to Deadline. Plus, it took home an Oscar after getting six nominations. Surely, due to the film being a hit with critics and audiences alike, Watson walked away with a big paycheck, increasing her net worth. 
Daniel Radcliffe's net worth is reportedly $112 million
Being the title character in the Harry Potter franchise, it's no surprise that Radcliffe would earn more for his part than Watson. Over the course of the eight films, Radcliffe's reported earnings totaled a whopping $96.5 million. Radcliffe has since taken his acting talents to the stage and tried his hand at a variety of film roles. Thanks to his continued work as an actor starring in films such as 2015's Victor Frankenstein and 2016's Now You See Me 2, according to IMDb, he's continued to grow his fortune. Radcliffe's net worth is said to be around $112 million. 
What's next for the actors? 
Both Watson and Radcliffe show no signs of slowing down with their acting careers. Radcliffe's next project to hit screens is Unbreakable Kimmy Schmidt: Kimmy vs. the Reverend, an interactive special from Netflix based on the comedy series, Unbreakable Kimmy Schmidt. As for Watson, her next acting gig following Little Women has yet to be announced.