'Harry Potter': How Much Are the Stars Worth Today?
It's hard to believe, but the premiere of the Harry Potter movies happened nearly two decades ago! Since then, the films have helped launch one of the most successful and far-reaching entertainment franchises in all of history.
With Harry Potter Day celebrated across the world, the characters have shown up everywhere from birthday parties to theme parks to video games. Author J.K. Rowling is now known as one of the richest authors in history thanks to her creation's success, but what about the stars from the films?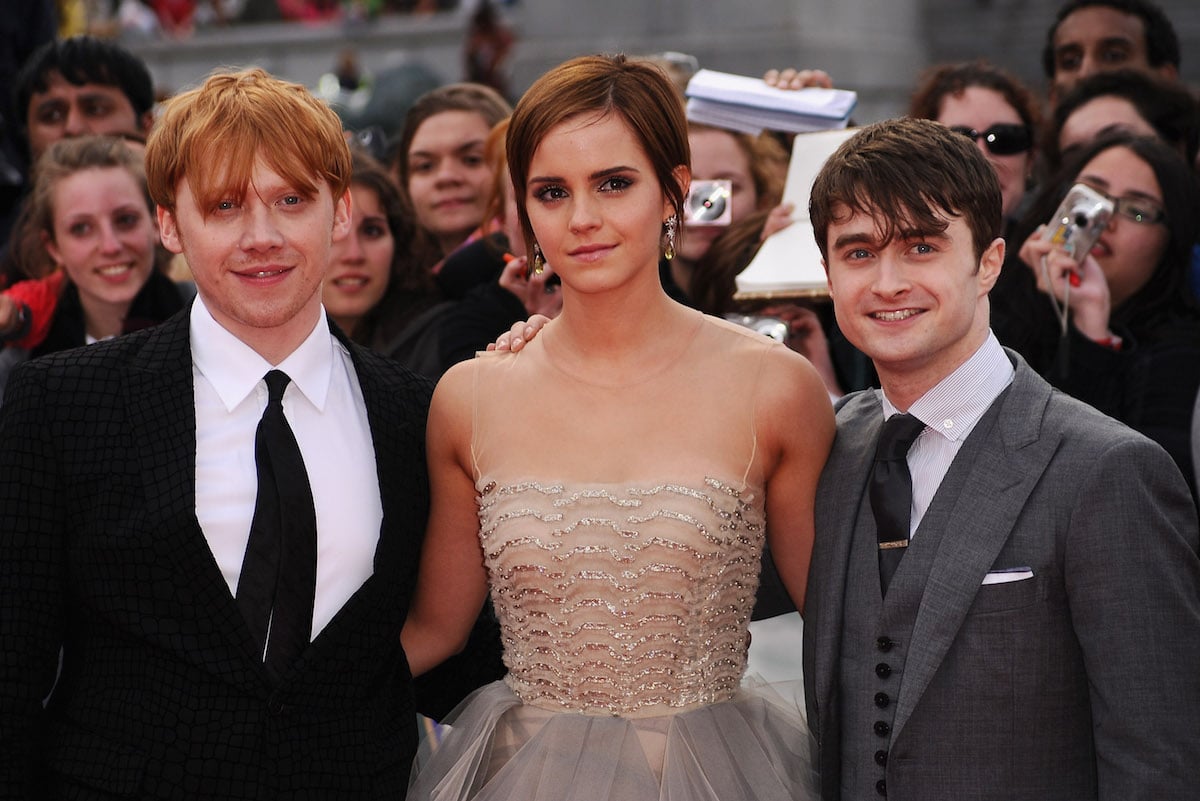 RELATED: J.K. Rowling Once Rejected Michael Jackson For a 'Harry Potter' Project
Daniel Radcliffe played Harry Potter
Without a doubt, the star who is most closely associated with the Harry Potter films is none other than Harry Potter himself: Daniel Radcliffe. Fans got to watch Radcliffe grow up through the films as he was just eleven years old when he took on the part for Harry Potter and the Sorcerer's Stone in 2001.
It wasn't until a decade later with Harry Potter and the Deathly Hallows: Part 2 that Radcliffe's time as the Boy Who Lived came to an end. Radcliffe has continued to act consistently and appeared in several films and television shows. Recently, he has appeared as Prince Chauncey in the television series Miracle Workers. 
Radcliffe reportedly made $95.6 million just from his appearances in the Harry Potter films. Overall, his net worth has climbed to an impressive $112 million.
Emma Watson portrayed Hermione Granger
Emma Watson has admitted to "overdoing" her portrayal of Hermione Granger, but fans don't seem to mind. The feisty character has become something of a poster child for nerdy girls who won't allow anyone to take advantage of them.
Her belief in both books and friendship tossed with the bravery and ferocity she develops throughout the series of films has made her a heroine for many. Since her time on Harry Potter came to an end, Watson has been incredibly successful. She went on to parts in The Perks of Being a Wallflower, the live-action Beauty and the Beast, and the latest iteration of Little Women. 
Watson earned approximately $60 million from the Harry Potter films, and her total net worth is now around $80 million.
Rupert Grint played Ron Weasley
Of course, the magical trio would not be complete without red-headed and mischievous Ron Weasley. By the end of the series, Ron had grown from a somewhat annoying little boy into a powerful wizard and fiercely loyal friend — as well as a significant love interest for Hermione.
Fans of Grint's performance enjoyed seeing him mature into the part, and some of the most iconic scenes from the films come from his interactions. Grint has not had quite the high profile success that Watson and Radcliffe have enjoyed since the films came to a close, but he has enjoyed a steady career in television with recurring roles on shows like Snatch, The ABC Murders, and Servant.
In exciting personal news, Grint recently revealed that he's going to be a dad! He has been with girlfriend Georgia Groome since 2011, and the pair are about to welcome their first child. 
Grint has a reported net worth of around $50 million, making him the least wealthy of the three actors from the films' starring roles, but that's still an impressive amount that dwarfs the overall net worths of several other Harry Potter alums including Tom Felton (who played villainous Draco Malfoy and is worth $35 million), Maggie Smith (who portrayed Minerva McGonagall and is worth $18 million), and Michael Gambon (who played Albus Dumbledore in six of the seven films and has a net worth of $15 million).