'Harry Potter': This Actor Thought They'd Be 'Set for Life' When the Series Ended
Harry Potter is nothing short of a global phenomenon. But, still, one actor overestimated what the movies would do for their career.
When it comes to global phenomenons, Harry Potter definitely makes the cut. Between the eight movies, seven books, and multiple theme parks, the franchise boasts millions of fans across the globe. The Harry Potter franchise is so incredibly successful that J.K. Rowling (who penned the books) has a staggering net worth of $1 billion. In fact, Rowling is one of the wealthiest private citizens in England, even beating out the Queen in personal wealth.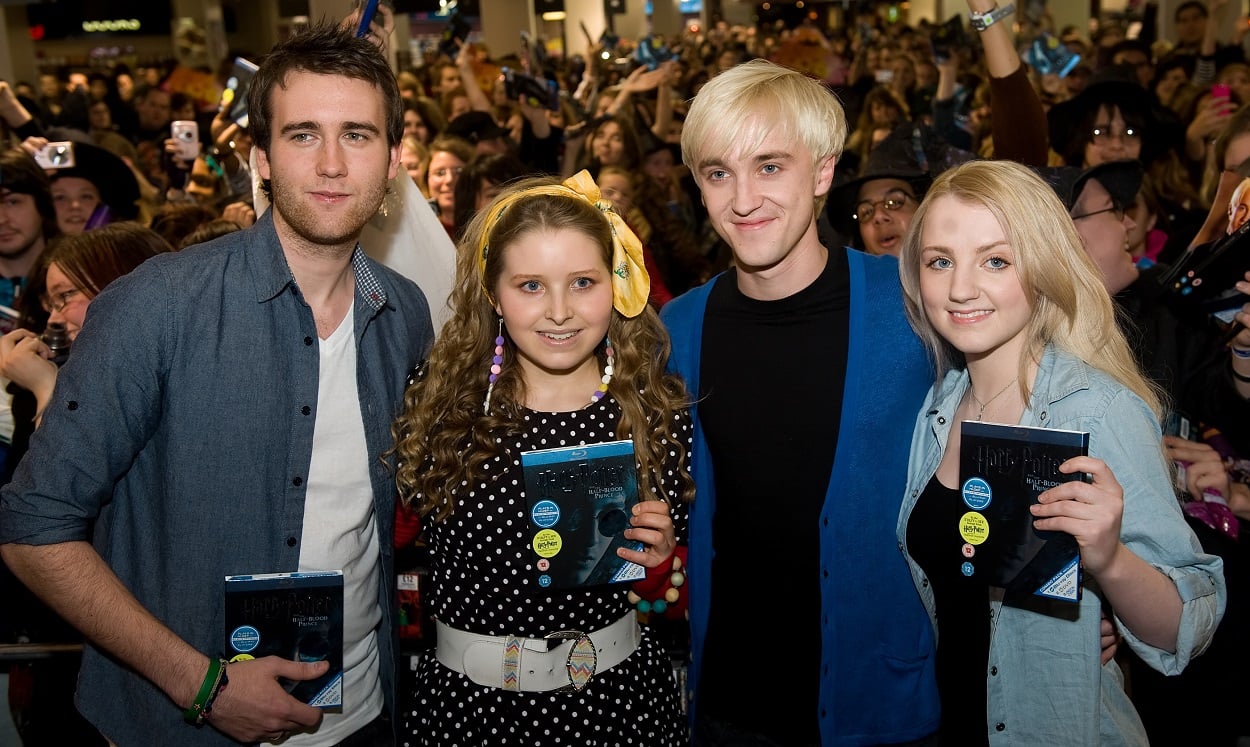 But, the Harry Potter franchise made more than Rowling rich and famous. Thanks to the eight movies, it launched the career of several young actors. Naturally, Daniel Radcliffe, Rupert Grint, and Emma Watson (who played the golden trio of Harry Potter, Ron Weasley, and Hermoine Granger respectively) accrued the most wealth and fame from the films. In fact, thanks to their participation in the films, they never have to work another day in their lives should they choose.
Evanna Lynch thought she'd be set for life after filming the 'Harry Potter' movies
Though Radcliffe, Grint, and Watson are set for life, that is hardly the case for many of the other actors who were in the Harry Potter movies. In fact, one actress recently admitted that she had overblown expectations for what the films would do for her career. In an interview with Talking Tastebuds, Evanna Lynch (who famously played Luna Lovegood) shared that she didn't realize how challenging her chosen career would be post Harry Potter.
"I think I overblew it, I think I thought, 'great this is me set for life', this is my career. I didn't think it would be as hard to be an actor as it actually is," Lynch shared. The Harry Potter alum also admitted that her fans seem to have unrealistic expectations about how easily she should be able to land new roles. In fact, they often question her about how when they can expect to see her in blockbuster films once more.
Lynch found out that the entertainment industry is more challenging than she expected
"I noticed a lot of fans have that same reaction to me. Sometimes I'll meet them at conventions and at plays, and I'll meet them after that and they'll be like, 'Why are not you doing blockbuster movies?' and I'm like, 'Yeah, why am I not? I don't know, I just didn't feel like it, that's all.' They have no concept of how cutthroat the industry is," Lynch shared, explaining how her fans don't understand that being in Harry Potter movies doesn't give her a free pass.
Lynch also shared that being in the Harry Potter movies forced her to confront herself in a new way. Prior to being cast as Luna, Lynch was a superfan of the franchise. In fact, she landed the role by writing to Rowling and forming a friendship. But, Lynch found that when she finally realized her dreams of being part of the franchise, she was left with a sort of identity crisis.
Lynch on meeting the 'Harry Potter' cast
"When I met Daniel, Rupert, and Emma, I knew everything about them, their pets' names, birthdays, I knew their parents' names. I had to pretend I didn't. It also meant I had nothing to say to them, I just adored them. I was suddenly confronted with who am I and when they asked me what I was interested in, I realized I didn't even know myself, I didn't know what to say," Lynch admitted. Clearly, being in the Harry Potter movies wasn't exactly as Lynch has pictured it. But, at least it provided her with a stepping stone to do what she loves.