'Harry Potter': Rupert Grint Thought His Heart 'Stopped Beating' During 1 Scene
Emma Watson revealed that her 'Harry Potter' castmate, Rupert Grint, thought his heart stopped beating while filming one scene.
From the outside looking in, movie-making can seem like a pretty glamorous business. This is especially true of blockbuster films, which boast outrageous budgets. But, in reality, even the most fun shoots take a lot of hard work and effort from the cast and crew. Certainly, Rupert Grint, Daniel Radcliffe, and Emma Watson had their fair share of challenges while filming the Harry Potter movies.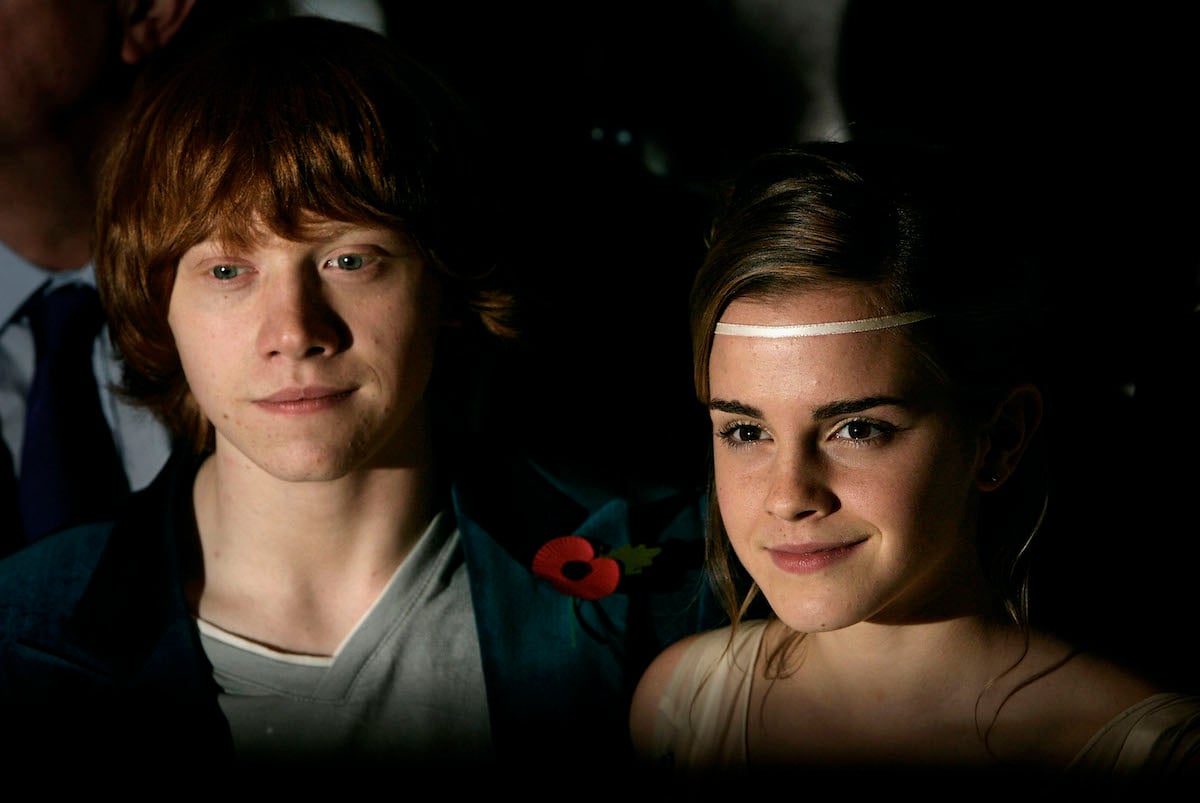 Filming the final two 'Harry Potter' movies was difficult for the cast
While all eight Harry Potter films presented the cast with unique challenges, the final two were especially difficult. Not only were the actors grappling with intense subject matter, but the films were also very physically demanding. There were tons of action sequences in the final two films. Furthermore, since Harry, Hermione, and Ron were on the run, Radcliffe, Watson, and Grint often had to brave the elements.
Why jumping off the dragon was so challenging for the actors
Watson hasn't been shy about just how taxing filming the last two Harry Potter movies was for her. In fact, the actor reckons that no movie will ever compete with the difficulty of Harry Potter and the Deathly Hallows. Citing long hours, intense weather conditions, and long night shoots, Watson shared that she spent the final two films cold and wet. But one scene, in particular, stands out to The Bling Ring actor as particularly intense.
Fans of the Harry Potter movies will recall that after the golden trio escapes from Gringotts, they jump off a dragon into a lake. While the scene was visually stunning, it was pretty miserable to film. Shot during the dead of winter in England, it was absolutely frigid for the cast. To make things even worse, the lake wasn't heated, so Grint, Radcliffe, and Watson basically took a bit of an ice bath.
Emma Watson reveals that Rupert Grint thought his heart stopped beating
"It was so cold," Watson recalled to JoBlo about filming the memorable Harry Potter scene. "I think Rupert thought at one point that his heart had stopped beating. I hate being cold more than anything, so that was my most memorable day. I was like, 'I can't wait for this to be over!'"
Watson had a little more clothing than her 'Harry Potter' co-stars
Continuing on, Watson shared that she had a bit more protection than Grint and Radcliffe. But still, the experience was pretty awful for her. "The lake wasn't heated, and because we had to get changed as part of the next scene, we couldn't wear anything underneath. I was lucky. I had my bottom half with some thermals on, but I was like, 'This must be a joke.'"
Fortunately, Grint, Watson, and Radcliffe completed the scene with their hearts intact. While it was challenging for them to film, they payoff was immense. Certainly, their performance during the aforementioned scene is a believable one.