Harry Styles Spills the Backstories of His Songs in His Tiny Desk Concert – 'You Know When You Like Someone?'
At the end of February, former One Direction singer, Harry Styles, snuck into National Public Radio's (NPR) Washington, D.C. offices to perform as part of their Tiny Desk Concert series.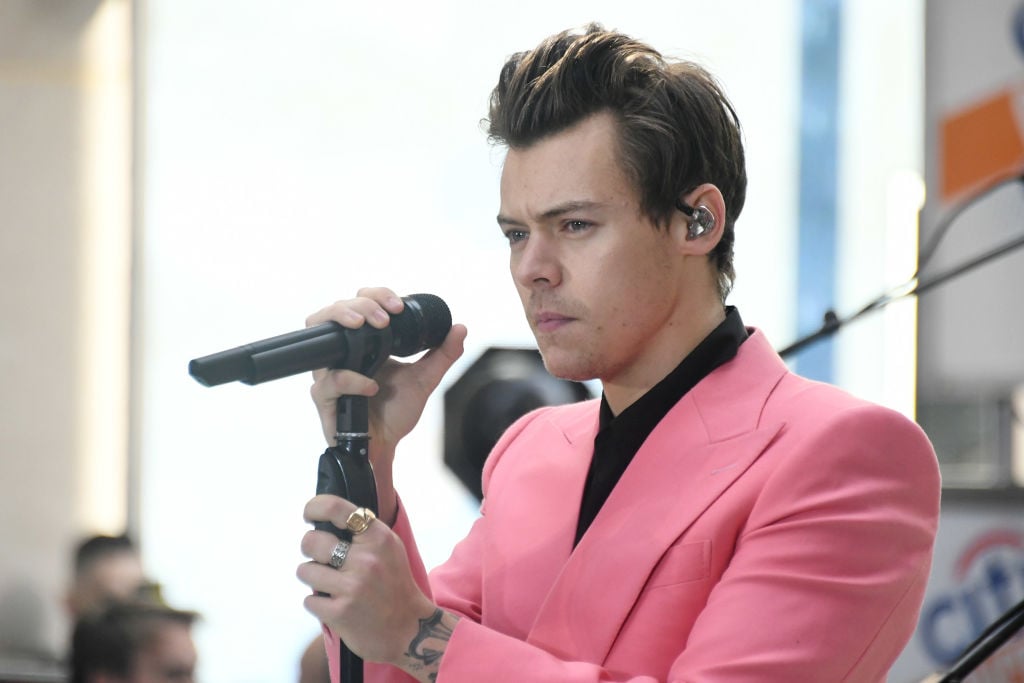 It's a fun performance idea, for which the media organization has invited Lizzo, Coldplay, Taylor Swift, Sheryl Crow, and more both well-known and rising stars to come and perform. The musicians then set up and perform, acoustically, for the most part, sitting at the cluttered office desk of Tiny Desk's host and creator, Bob Boilen.
The performances are fun to watch and Harry Styles' was no different.
Harry Styles performed four songs in his Tiny Desk concert
With his band behind him, the English artist was decked out in a playful light blue sweater with a baby chick on the front emerging from its egg.
He performed four songs from his second album, Fine Line: "Cherry," "Watermelon Sugar," "To Be So Lonely" and his big hit, "Adore You."
During his performance, the 26-year-old artist paused before starting each song to explain it a bit.
He said about "Watermelon Sugar," "I actually wrote [it] in 2017. . . I was with the guys I made the first album with. And we had this idea, this chorus melody and it was pretty repetitive."
"The Richard Brautigan book, In Watermelon Sugar, was on the table and I was like, 'That'll sound cool!' . . . It's probably the longest it's ever taken me to finish a song. Kind of liked it when we first had it, and then I really hated it for a long time. Then it kept coming back into the mix."
"It's kind of about that initial, I guess, euphoria, when you start seeing someone, . . . and you have that excitement, you know?"
"Or you know when you like someone?!"
The tiny crowd in the office concert clearly knew what he meant and laughed appreciatively.
Styles has a world tour in the works – unless it's canceled
The singer's kicking off a world tour in support of his new album and it's scheduled to start in England on Apr. 15. Time will tell, however, if he will get those first dates in, with everything from entire sports seasons to school years being canceled because of the coronavirus (COVID-19) pandemic.
It isn't clear, looking at his tour website, if any dates have been canceled. It will have to be a wait-and-see situation considering it is a global health crisis that has put normal life on hold.
He told Howard Stern earlier this month, "It's one of those things. Every two people you speak to, one of them says it's really scary and the other person says it's not that scary. But then people are dying so that is pretty scary."
"It's one of those things where it's kind of the simple stuff," Styles said. "You wash your hands all the time. I don't really know."
Styles' Twitter fans loved his Tiny Desk concert
If Twitter was any indication, the concert was very well-received, with tweets like, "harry styles' performance of cherry at his tiny desk show has officially destroyed my heart" and "In these trying times at least we have the new Harry Styles tiny desk."
Another tweet summed it up, reflecting the mood of so many during a particularly trying week, saying, "LOVE THIS TINY DESK! We needed this."