Has Blake Shelton Ever Won a Grammy?
Shelton has branched out and achieved cross-channel success by becoming one of the fan-favorite judges on the popular singing competition show The Voice.
Blake Shelton is one of the biggest country music stars of his generation. He has amassed millions of fans, released record-breaking songs, and is currently in a red-hot relationship with fellow artist Gwen Stefani.
Shelton has branched out and achieved cross-channel success by becoming one of the fan-favorite judges on the popular singing competition show The Voice, and through collaborations with other popular artists.
Keep reading to learn how Blake Shelton first became famous, his dramatic personal life, and whether or not he has ever won any Grammy Awards.
How did Blake Shelton become famous?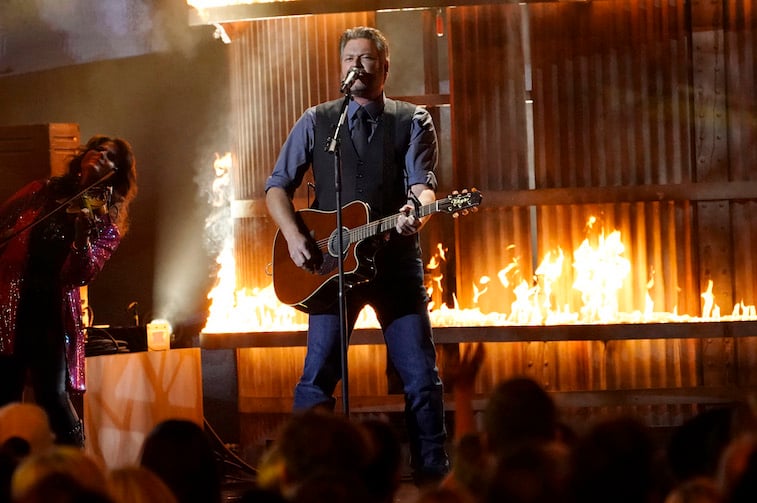 Blake Shelton was born in Ada, Oklahoma, in 1976. Neither of Shelton's parents were involved in the entertainment business but at a very young age, Shelton found himself drawn to the world of music and songwriting.
By the time he was a teenager, Shelton started writing songs, and after he graduated high school, he moved to Nashville Tennessee in order to pursue a career in music.
With his eyes set on stardom, Shelton scored a job at a music publishing company and started climbing the ladder of success.
Shelton started making a name for himself in the industry in the early 2000s with the release of the hit single "Austin." The plaintive song earned Shelton a score of positive critical reviews and led to the release of several more songs, including "Ol' Red" and "All Over Me."
From there, Shelton's rise to the top was swift, and over the next ten years, he just kept getting hotter and hotter. Shelton's other most popular songs include "Who Are You When I'm Not Looking," "Home," "Drink On It," "Boys Round Here," and "God's Country."
He has cemented his place as one of the true superstars of country music and was inducted into the Grand Ole Opry in 2010.
Blake Shelton's romantic history
In addition to Blake Shelton's impressive musical achievements, his personal life has also consistently been a hot topic among fans. From 2003 until 2006, Shelton was married to Kaynette Gern.
They split up after Shelton met Miranda Lambert, a fellow country artist also on the rise. Shelton and Lambert were married in 2010 after several years of dating. However, Shelton and Lambert announced their divorce in 2015, amidst reports of infidelity and strife in the marriage.
In late 2015, Shelton began dating his fellow The Voice judge Gwen Stefani. Since then, the two have been inseparable, and although rumors of an engagement or secret wedding have persisted, the two have not yet tied the knot.
However, Shelton has been open about how happy he is with Stefani, so it seems as though he has finally found some real peace in his personal life.
Does Blake Shelton have any Grammy Awards?
Blake Shelton has received a slew of awards, including 10 CMA Awards and nine CMT Music Awards. However, Shelton has not yet received a coveted Grammy Award.
He has been nominated nine times: the first time was in 2010, for Best Country Collaboration With Vocals in honor of his song "Hillbilly Bone," then twice in 2011, including Best Country Solo Performance for the song "Honey Bee," and Best Country Album for "Red River Blue." 
Shelton was also nominated in 2012, for Best Country Solo Performance for his song "Over," and twice again in 2013, for his album "Based on a True Story" and for the song "Mine Would Be You."
In 2015, Shelton was honored again with a nomination for the song "Lonely Tonight," and, most recently, in 2019, for his hit song "God's Country."
The 62nd Annual ceremony will take place on January 26, 2020, and if luck smiles on Blake Shelton, he could go home with his very first Grammy Award.