'Hawkeye': Clint Comes Face-to-Face With Katniss Everdeen in Hilarious New Clip From the Upcoming Show
Disney+ Day is here, and it's already thrilling for fans. To start the event, Jeremy Renner appeared on Good Morning America to share a new clip from his upcoming Disney+ Marvel series, 'Hawkeye.'
Disney+ Day is finally here, and it's off to a good start. A little less than two weeks before the premiere of Marvel's Hawkeye, the studio shared a new clip from the show featuring Jeremy Renner as Clint Barton and Hailee Steinfeld as Kate Bishop. And if comic book fans weren't looking forward to seeing this iconic duo's friendship blossom onscreen, then they should now.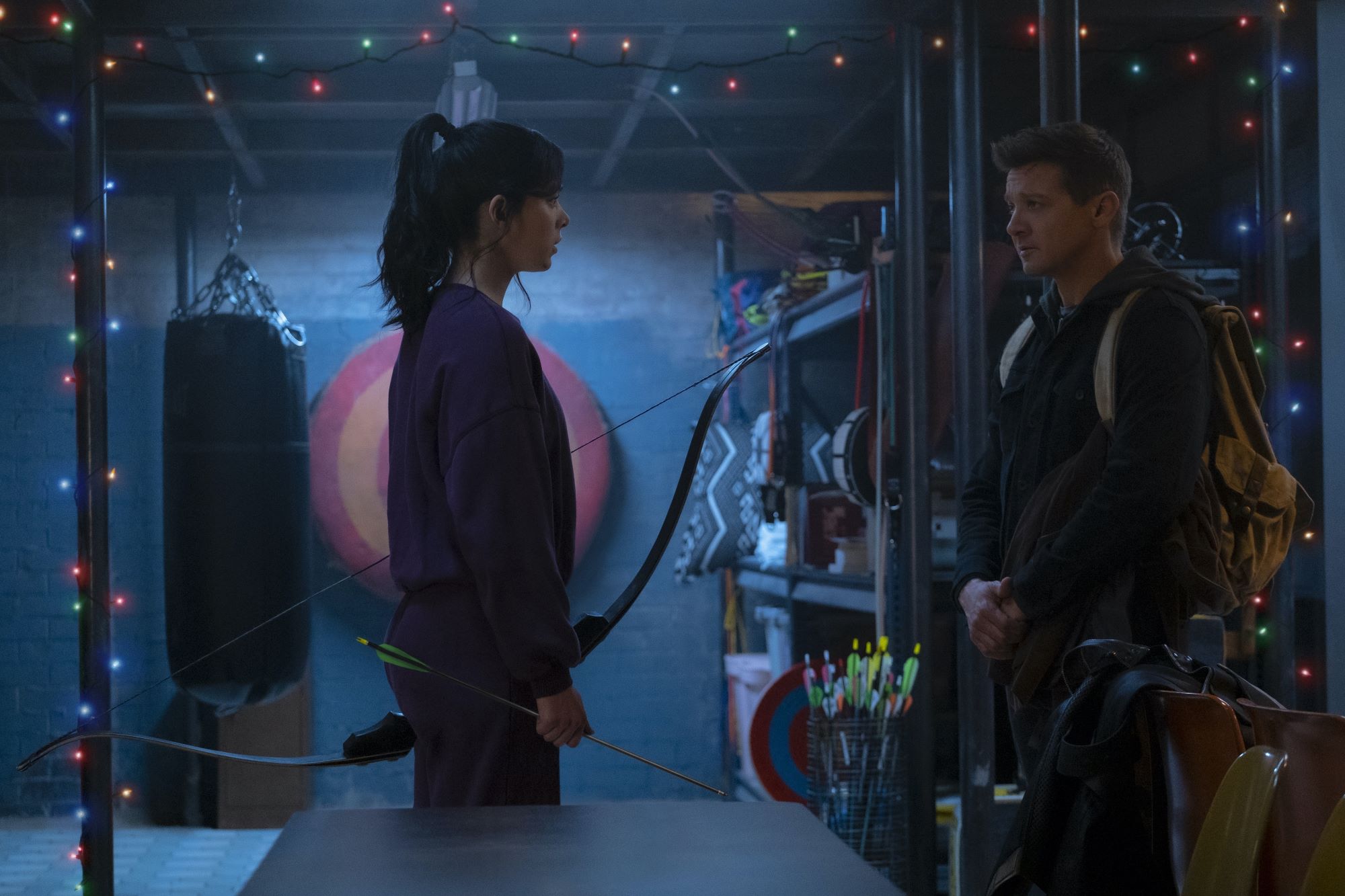 'Hawkeye' first clip shows Kate and Clint in Times Square
To kick off Disney+ Day, Jeremy Renner virtually appeared on Good Morning America to share an exclusive Hawkeye clip with the world. And now we know that The Hunger Games exists in the Marvel Cinematic Universe.
In the new Hawkeye clip, which seems to take place early in the show, Clint and Kate walk through Times Square in New York City. And for anyone who has been there, they know that many people dress up as superheroes and take pictures with tourists. And, in the video, art imitates life.
A kid excitedly tells his mother that he sees a superhero. Of course, Clint believes that he is talking about him, Hawkeye. But the kid runs past him and right up to people dressed up as the Avengers and one person as Katniss Everdeen. Poor Clint.
The Hawkeye clip also teases the relationship between Clint and Kate as she suggests to him that he has a branding problem. But Clint, stubborn as ever, informs her that she is his problem. Poor Kate.
Hailee Steinfeld and Jeremy Renner tease their characters' relationship in 'Hawkeye'
As seen in the new clip for Hawkeye, Clint and Kate are the stars of the upcoming Disney+ series. And before Hawkeye's release, Jeremy Renner and Hailee Steinfeld discussed the dynamic between their two characters.
Renner told Entertainment Weekly, "[Kate is] a 22-year-old kid, and she's a big Hawkeye fan. She has a wonderfully annoying and equally charming manner about her because she's such a fangirl of Hawkeye. The relationship grows from that, but the biggest problem for Clint is Kate Bishop and the onslaught of problems that she brings into his life."
During an interview with Entertainment Tonight, Steinfeld said, "[Kate] is a New York City girl who has looked at Hawkeye and idolized this person her whole life. And she finds herself in a very fun, crazy, possibly life-threatening situation, where she is face-to-face with her hero."
To summarize, Kate is in awe of Clint, and Clint just wants to make it home in time for the holidays. They sound like a match made in heaven.
'Hawkeye' premieres on Nov. 24
Hawkeye's synopsis reads, "While in New York City post-Blip, Clint Barton must work together with the young archer Kate Bishop to confront enemies from his past as Ronin in order to get back to his family in time for Christmas."
Hawkeye consists of six episodes, two of which will premiere on Wednesday, Nov. 24, on Disney+. We imagine that the new Hawkeye clip is from one of those first two episodes.
The finale will air on Dec. 22, just in time for Christmas.