'Hawkeye': Hailee Steinfeld Breaks Silence on Kingpin's Appearance in Episode 5, 'The Stakes Are Higher Than Ever'
The threat of Kingpin changes everything in 'Hawkeye,' and star Hailee Steinfeld reveals how his presence affects her character and teases the finale.
Kate Bishop is feeling all of the emotions after Hawkeye Episode 5. Thanks to a text from a certain Russian assassin, her entire world was turned upside down. And, now, Kate has to figure out what to do with this new information. Hawkeye star Hailee Steinfeld teased how the young archer feels after the penultimate episode and how Kingpin's presence factors into the finale.
[Spoiler alert: This article contains spoilers from Hawkeye Episode 5.]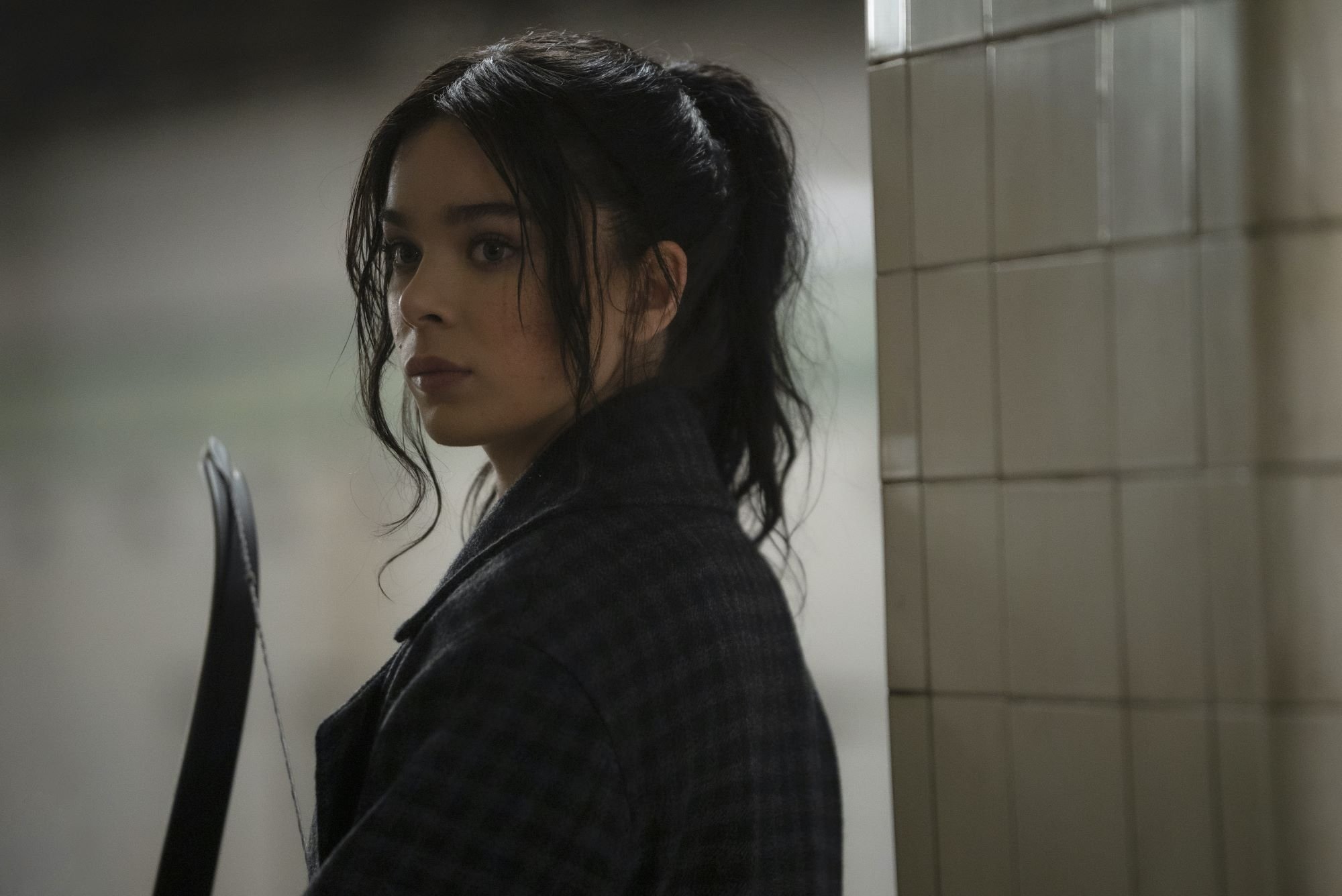 Eleanor Bishop is working with Kingpin
Many fans were waiting for Kingpin to show his face in Hawkeye, but seeing his picture pop up on Hailee Steinfeld's character Kate's phone was still shocking. The series teased Kingpin for a while, ever since it revealed that Maya had a mysterious uncle in charge of the Tracksuit Mafia. But then, Kate discovered that her mother was also involved with the criminal organization. And Eleanor was the one who hired Yelena to take out Clint.
Since the beginning of Hawkeye, Kate believed that Jack Duquesne, Eleanor's fiancé, was the shady one. However, it was her mother all along.
In episode 5, Kate told Eleanor about Jack's apparent involvement with the Tracksuit Mafia. Eleanor informed the police, and they arrested Jack. Now, it's safe to say that Eleanor framed Jack since she is obviously working with Wilson Fisk.
Hailee Steinfeld reacts to the twist in 'Hawkeye' Episode 5
During an interview with TVLine, Hailee Steinfeld revealed how Kate feels going into the Hawkeye finale and what Kingpin's arrival means for Kate and Clint.
"There's a lot of loose ends to tie up," Steinfeld said. "There's a lot of things yet to be revealed. The stakes couldn't be higher." As for how Kate reacts to the Kingpin of it all, the actor disclosed that her character "has no choice now but to really go to work."
Steinfeld added, "[Kate] has this realization. She's just completely broken and confused and absolutely lost. She doesn't know who to trust or who to look to."
But, according to Hailee Steinfeld, Kate will lean on Clint for support after the big reveal in Hawkeye Episode 5. She said, "Thank God because if it weren't for him, she would probably have a much harder time getting back up on her feet after this one."
Hailee Steinfeld teases the 'Hawkeye' finale
According to Hailee Steinfeld, Kate will do what must be done in the Hawkeye finale, even if that means going against her mother.
"The stakes are higher than ever, and the one person that she's been tirelessly trying to protect is now someone that she might need to be protected against," the actor explained. " She comes to her senses as quickly as she possibly can after learning this information and puts her head down and does what she has to do."
Steinfeld also teased that Kate and Clint's partnership will be stronger than ever in the finale.
"He feels a connection toward Kate. He wants to protect her," Steinfeld said. "I think that they get to a point where it's not a Kate thing, it's not a Clint thing, it's a Kate and Clint thing, and there's no going back, so they have no choice but to work together."
The Hawkeye finale, starring Hailee Steinfeld, premieres on Dec. 22 on Disney+.