'Hawkeye': Jeremy Renner Praises Hailee Steinfeld's MCU Debut, 'I'm Very Proud of Her'
There are now two expert archers in the Marvel Cinematic Universe, thanks to the introduction of Kate Bishop in Hawkeye. And although it is still unknown whether or not Kate will take over the mantle of Hawkeye from Clint Barton by the end of the show, we know that Jeremy Renner's relationship with Hailee Steinfeld mirrors their character's dynamic. During filming, Renner helped acclimate Steinfeld to the world of Marvel and served as a mentor to her.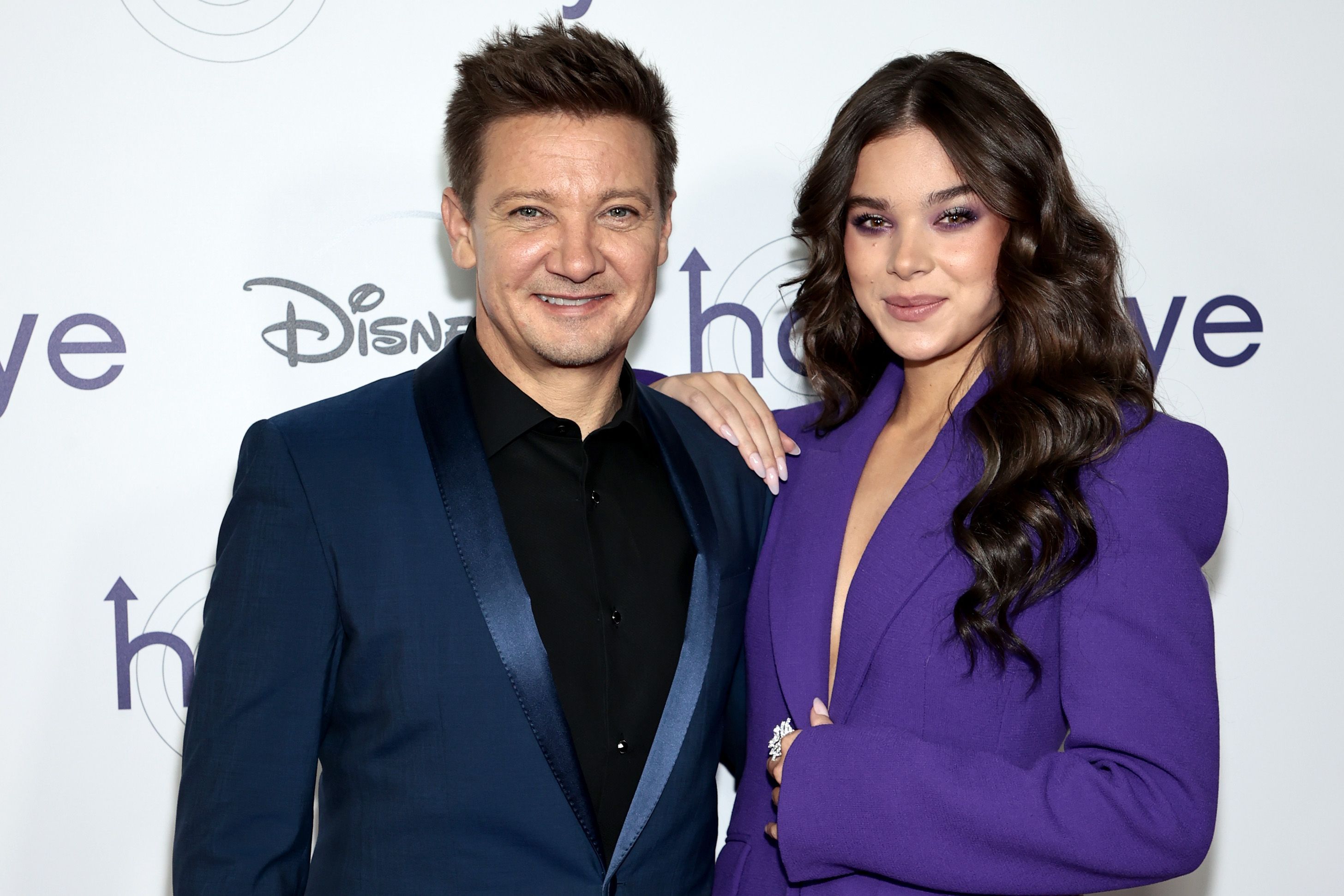 Jeremy Renner gave his co-star advice while filiming 'Hawkeye'
Many MCU fans are looking forward to the premiere of Marvel's new series Hawkeye, starring Jeremy Renner and Hailee Steinfeld on Disney+. From the trailers and sneak peeks of the show, it seems like Renner and Steinfeld are going to cement their place as one of the MCU's best duos.
The two co-stars have great chemistry, with Renner playing the grumpy old man to Steinfeld's bright-eyed young adult. In Hawkeye, Clint teaches Kate the ways of being a superhero, and behind-the-scenes, Renner helped Steinfeld navigate the world of Marvel.
During an interview with Good Morning America, Renner shared the advice he gave his co-star while filming Hawkeye.
"I did tell her to stretch and hydrate," he jokingly said. "I just wanted to be there for her because there's a lot of different things that happen in the big MCU, and there's a lot of things you cannot predict. You just have to be very, very fluid and just kind of go with it. It doesn't make any sense, but you're just going to have to do it. It's not unlike the movies are, you know? You just have to trust the process and go with it."
Judging from the trailers, it's clear that Hailee Steinfeld considered the advice Jeremy Renner gave her while filming Hawkeye.
Jeremy Renner commends Hailee Steinfeld for her work on 'Hawkeye'
After giving her advice, Jeremy Renner is quite happy with Hailee Steinfeld's performance in Hawkeye.
He told Good Morning America, "She did great. She came in very prepared and always willing. Yeah, she did really great. I'm very proud of her."
Renner also retweeted Steinfeld's post on Twitter regarding the show and said, "I'm so very proud of this one !!!" with a clapping emoji and a bow and arrow emoji.
It's wonderful to hear that Renner and Steinfeld had an excellent working relationship on the set of Hawkeye because that will probably translate to their characters' relationship in the show. Marvel fans have a lot to look forward to regarding Renner and Steinfeld's performance in the new Disney+ series.
Kate Bishop worships Clint Barton in the new Marvel Disney+ series
In Hawkeye, Hailee Steinfeld's character idolizes Jeremy Renner's character. Kate goes as far as dressing up as Clint's alter ego, Ronin, and taking to the streets to fight bad guys. Of course, when Clint catches Kate, he's more annoyed with her rather than flattered by her admiration.
Steinfeld spoke with Entertainment Tonight about her character and Kate's relationship with Clint. She said, "[Kate is] such an interesting and fun character. And it's been really so exciting bringing her to life. She is a New York City girl who has looked at Hawkeye and idolized this person her whole life."
"And she finds herself in a very fun, crazy, possibly life-threatening situation, where she is face-to-face with her hero," Steinfeld said. "And they embark on what ends up being a very wild journey right around Christmas time."
The first two episodes of Hawkeye, starring Jeremy Renner and Hailee Steinfeld, premiere on Disney+ on Nov. 24.