'Hawkeye': Kate Bishop Calls Herself 'The World's Greatest Archer' in New Trailer
Kate Bishop boasts about her archery skills in the new trailer for the upcoming Marvel Disney+ series 'Hawkeye,' which premieres on Nov. 24.
The premiere of Hawkeye on Disney+ is fast approaching, and Marvel has released more trailers for their upcoming series than we can keep up with. But in the newest trailer for Hawkeye, fans get to see more of the dynamic between Clint Barton and Kate Bishop. Plus, there's a scene in the trailer that we believe might start a debate over which character is the better archer.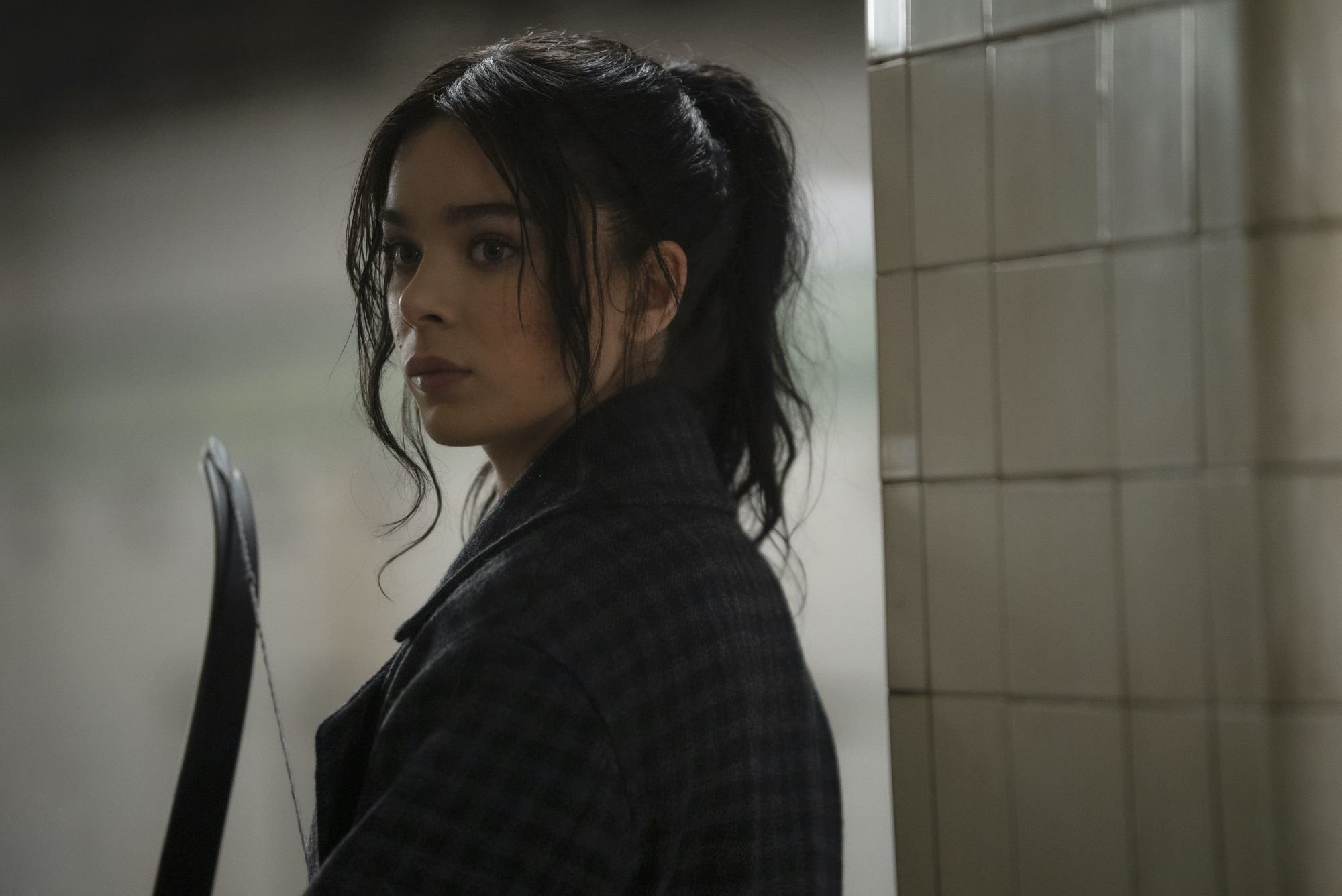 Kate Bishop shows off her archery skills in the new 'Hawkeye' trailer
Hailee Steinfeld's character is already a well-established archer when she meets Jeremy Renner's character in Hawkeye. Of course, since Kate is so young, Clint will undoubtedly impart some superhero wisdom onto her. But in the new Hawkeye trailer, it's clear that the two of them will engage in a healthy competition over who can shoot arrows the best.
Near the end of the video, Kate claims, "Some people have actually called me the world's greatest archer." Clint responds, "Are you one of those people?" And all Kate does is nod. But the young archer does show off her skills throughout the trailer. She might be giving Clint a run for his money in the Marvel Cinematic Universe.
Elsewhere in the Hawkeye trailer, fans get their first good look at Eleanor Bishop, played by Vera Farmiga. Eleanor, Kate's mom, asks Clint, "So, Kate is helping you with an Avengers-level threat?" Before he can respond, Kate tells her mom, "He's my partner." Of course, Clint is as stubborn as ever and says, "That's kind of a stretch."
Why producers picked Hailee Steinfeld for the Kate Bishop role
From watching the Hawkeye trailer, fans can see why Hailee Steinfeld is the perfect choice for Kate Bishop. And the producers couldn't agree more.
During an interview with Entertainment Weekly, Trinh Tran, an executive producer, said, "I remember the very first day when [executive producer Kevin Feige] and I sat with Hailee to talk about it. We were just like, 'This is Kate Bishop.'"
She continued, "When you read the comics, you get that energy from Kate — that wit and those smarts. And meeting Hailee, you see she's so incredibly talented. Just look at the body of work she's accomplished at such a young age. We knew having her be a part of the MCU one way or another would be very exciting, but when we started talking about this particular project and this character, she just became our go-to girl."
'Hawkeye' premieres on Nov. 24
The Hawkeye trailer only gave fans a taste of what's to come. The series will consist of six episodes, and its synopsis reads, "While in New York City post-Blip, Clint Barton must work together with the young archer Kate Bishop to confront enemies from his past as Ronin in order to get back to his family in time for Christmas."
The cast of Hawkeye includes Jeremy Renner as Clint Barton, Hailee Steinfeld as Kate Bishop, Vera Farmiga as Eleanor Bishop, Fra Fee as Kazi, Tony Dalton as Jack Duquesne, Zahn McClarnon as William Lopez, Brian d'Arcy James as an unknown character, Alaqua Cox as Maya Lopez/Echo, and Florence Pugh as Yelena Belova. Also, Linda Cardellini, Ava Russo, Ben Sakamoto, and Cade Woodward reprise their respective roles as Clint's wife and children.
The first two episodes of Hawkeye will premiere on Disney+ on Nov. 24. The finale will air on Dec. 22.