'Hawkeye': Are Kate Bishop and Clint Barton Related in the Marvel Disney+ Series?
Clint Barton is returning to the Marvel Cinematic Universe in the Disney+ series Hawkeye where he teams up with Kate Bishop to fight bad guys, but are the two related? Hawkeye features Hailee Steinfeld's MCU debut as Kate, so many fans do not know much about her character and why she's starring in the series alongside Jeremy Renner.
Thankfully, Hawkeye premieres on Nov. 24, and all questions will be answered. But, for now, we can look to Kate's history in the comic books to get a feel for her character.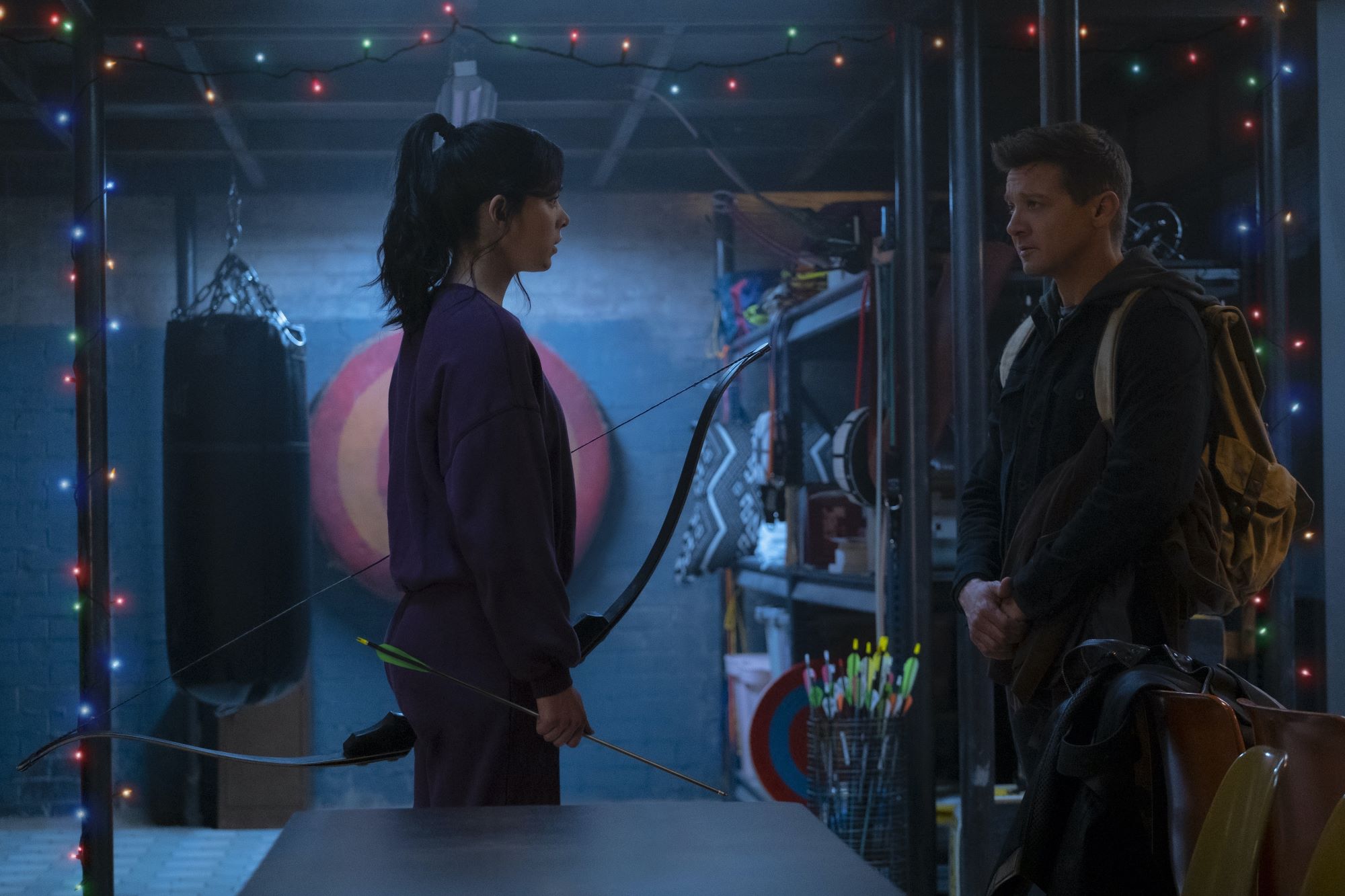 The relationship between Kate Bishop and Clint Barton in 'Hawkeye'
In the comic books, Kate Bishop and Clint Barton are not related, but they both pick up the Hawkeye mantel at some point in their lives. After Clint dies, Kate joins the Young Avengers. And, eventually, she adopts the Hawkeye name after Captain America gives her permission to use Clint's codename.
Kate plays a vital role in the Young Avengers, which is why some fans believe that Marvel Studios is planning a Young Avengers project. And since many fans are excited to see Steinfeld in Hawkeye, we have a feeling that this limited series won't be the last time we see Kate Bishop in the MCU.
The comics, later on, reveal that Clint is alive, and he acts as a mentor to Kate. This mentorship will undoubtedly play a key role in Hawkeye. And in the show, Kate idolizes Clint so much that she dresses up as Clint's alter ego, Ronin, to fight bad guys.
Kate Bishop's mom is played by Vera Farmiga in 'Hawkeye'
While Kate and Clint are not related in Hawkeye, Kate's mother, Eleanor Bishop, has a starring role in the show. Vera Farmiga portrays Eleanor.
Hailee Steinfeld recently sat down with Empire (via The Direct) to talk about Hawkeye. In regards to the dynamic between Kate and Eleanor, Steinfeld said, "Family is an interesting story to unpack. Mother-daughter relationships can be complicated in real life, and Kate is at an age where she's becoming her own person and disagrees with some of what her mom has to say. The dynamics are… interesting."
It sounds like Eleanor will probably not be too happy about Kate running off to fight bad guys with Clint in Hawkeye. But fans will just have to wait to see how the dynamics unfold in the show.
'Hawkeye' premieres on Nov. 24
Hawkeye consists of six episodes, and its premise reads, "While in New York City post-Blip, Clint Barton must work together with the young archer Kate Bishop to confront enemies from his past as Ronin in order to get back to his family in time for Christmas."
The cast of Hawkeye includes Jeremy Renner as Clint Barton, Hailee Steinfeld as Kate Bishop, Vera Farmiga as Eleanor Bishop, Fra Fee as Kazi, Tony Dalton as Jack Duquesne, Zahn McClarnon as William Lopez, Brian d'Arcy James as an unknown character, Alaqua Cox as Maya Lopez/Echo, and Florence Pugh as Yelena Belova. Also, Linda Cardellini, Ava Russo, Ben Sakamoto, and Cade Woodward reprise their respective roles as Clint's wife and children.
The first two episodes of Hawkeye will premiere on Disney+ on Nov. 24. And the finale will air on Dec. 22.