'Hawkeye': Kate Bishop Thrilled to Be 'Working With an Avenger' in New Trailer
Many fans are getting excited for Marvel's latest Disney+ series, Hawkeye. The show will introduce a new character to the Marvel Cinematic Universe, Kate Bishop, who teams up with Clint Barton to fight some bad guys. In a new Hawkeye trailer, fans can see more of Clint and Kate's dynamic, and the video also reveals some insight into Kate's personality.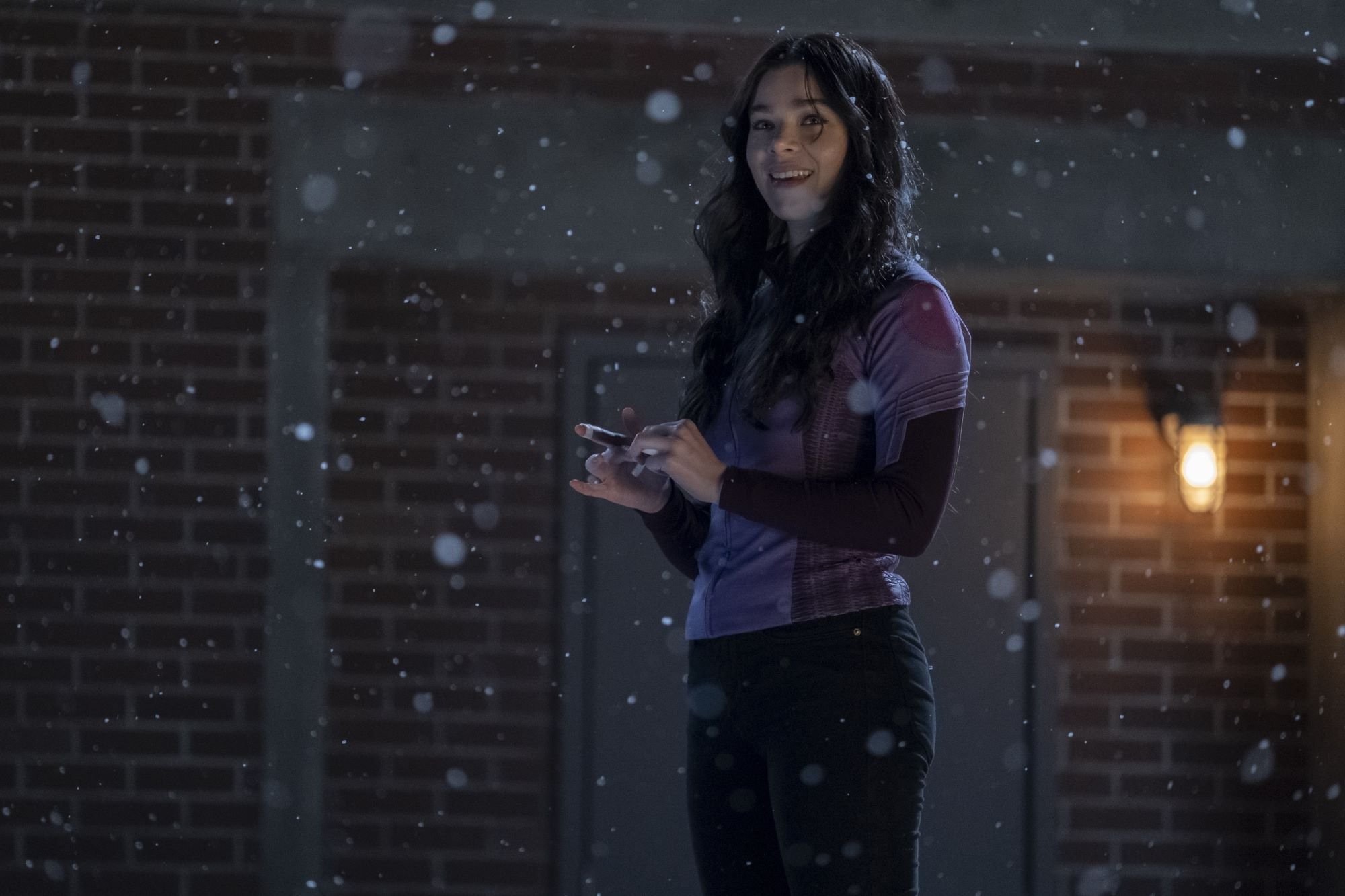 Who is Kate Bishop?
In the comic books, Kate Bishop takes on the mantle of Hawkeye after Clint Barton's death. She is a highly skilled archer and an expert in hand-to-hand combat. Fans can see some of these attributes in the new Hawkeye trailer.
In Hawkeye, Kate is 22 years old and played by Hailee Steinfeld. According to an Entertainment Weekly interview with Jeremy Renner, "she's a big Hawkeye fan." In the show, she gets Clint's attention when she masquerades as Ronin, which was Clint's alter ego in Avengers: Endgame. The two archers team up when enemies from Clint's time as Ronin resurface in New York City during the holidays.
When describing Kate, Renner also said, "She has a wonderfully annoying and equally charming manner about her, because she's such a fangirl of Hawkeye. The relationship grows from that, but the biggest problem for Clint is Kate Bishop and the onslaught of problems that she brings into his life."
From the Hawkeye trailer, it's clear that Clint and Kate share an interesting dynamic that will be fun to watch.
New 'Hawkeye' trailer shows more action and more Kate Bishop
Marvel released a new trailer for Hawkeye recently that features a few never-before-seen shots from the show. These small flashes of the series reinforce the statement that Kate Bishop is a big fan of Hawkeye. But the trailer also portrays her as the comedic relief of the series. The video begins with Kate speaking to an unknown person in an elevator. She excitedly tells them, "Can I tell you a secret? I'm working with an Avenger."
Of course, there are many action sequences in the trailer featuring Clint and Kate. At one point, Clint is kidnapped by bad guys and tied to a chair. Kate crashes into the room via the glass ceiling to save him. But she lands, not so gracefully, on her face in front of Clint. The bad guys turn their weapons on her, and she says, "Didn't realize we were supposed to bring guns."
Near the end of the new Hawkeye trailer, Clint is recovering from a fight, and Lucky the Pizza Dog is lying on the couch. Kate looks at them as declares, "We're saving the holidays."
Everything we know about 'Hawkeye'
Apart from the information the trailer gave us regarding what fans can expect in Hawkeye, we also know the synopsis and the cast for the new Marvel Disney+ series.
Hawkeye consists of six episodes, and its premise reads, "While in New York City post-Blip, Clint Barton must work together with the young archer Kate Bishop to confront enemies from his past as Ronin in order to get back to his family in time for Christmas."
The cast of Hawkeye includes Jeremy Renner as Clint Barton, Hailee Steinfeld as Kate Bishop, Vera Farmiga as Eleanor Bishop, Fra Fee as Kazi, Tony Dalton as Jack Duquesne, Zahn McClarnon as William Lopez, Brian d'Arcy James as an unknown character, Alaqua Cox as Maya Lopez/Echo, and Florence Pugh as Yelena Belova. Also, Linda Cardellini, Ava Russo, Ben Sakamoto, and Cade Woodward reprise their respective roles as Clint's wife and children.
The first two episodes of Hawkeye will premiere on Disney+ on Nov. 24. The finale will air on Dec. 22. In the meantime, fans can get their Hawkeye fix by rewatching the trailer a million times.