'Hawkeye' Star Alaqua Cox Reveals Jeremy Renner and Hailee Steinfeld Learned Basic ASL to Welcome Her on Set
Jeremy Renner and Hailee Steinfeld warmly welcomed their co-star Alaqua Cox to the 'Hawkeye' set by learning a few basic words in American Sign Language.
The Marvel Cinematic Universe is expanding its representation of the deaf and hard of hearing community. Hawkeye reveals Clint Barton's time around loud explosions as an Avenger led to some hearing loss. As a result, he has to wear a hearing aid.
Also, Hawkeye introduces another deaf character to the MCU, played by Alaqua Cox. The actor revealed that Jeremy Renner and Hailee Steinfeld learned some ASL (American Sign Language) for her.
[Spoiler alert: This article contains spoilers from Hawkeye.]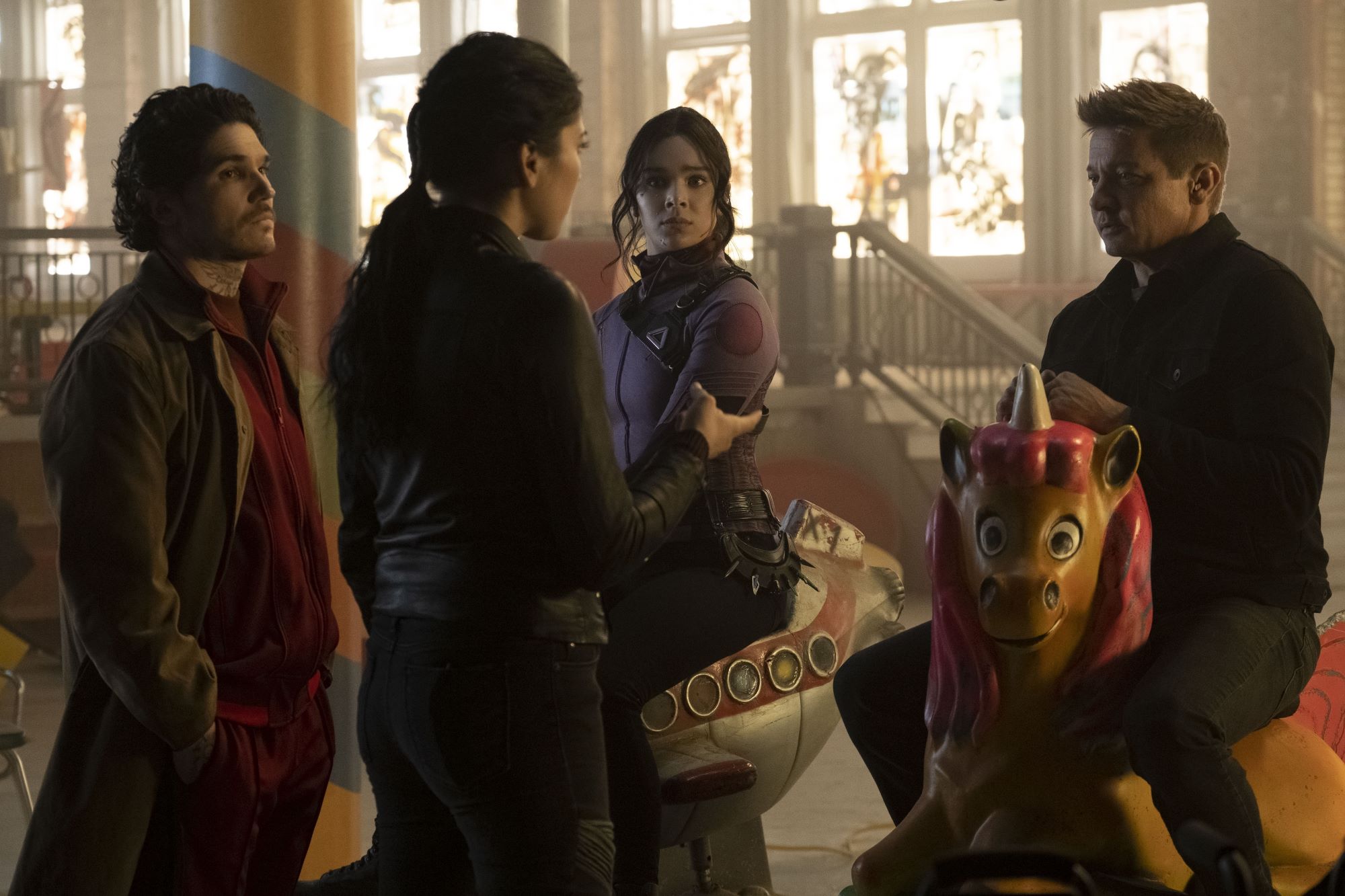 Alaqua Cox plays Echo in 'Hawkeye'
Hawkeye stars Alaqua Cox as Maya Lopez, aka Echo. Cox was born deaf and raised on the Menominee Indian Reservation in Wisconsin.
Echo comes from the Marvel comic books; the character is Native American and deaf. Echo typically appears with Daredevil because she is the adoptive daughter of Kingpin, one of Daredevil's most notorious enemies. Kingpin raised Echo as his daughter after he killed her biological father. Later in the comics, Echo falls in love with Daredevil and betrays Kingpin.
Hawkeye introduced Echo at the end of episode 2 and dived deeper into her backstory in episode 3. Ronin killed her father a few years before the series. Echo took over her father's place as the leader of the Tracksuit Mafia, determined to track down Ronin. This led her to Kate Bishop and Clint Barton.
Hawkeye is Alaqua Cox's first acting role, and she shared her appreciation for her co-stars for easing her nerves on her first day on the set.
'Hawkeye' star Alaqua Cox says Jeremy Renner and Hailee Steinfeld learned a few words in ASL for her
In the Winter 2021 issue of Disney's D23 Magazine (via The Direct), Alaqua Cox discussed her experience working with Jeremy Renner and Hailee Steinfeld in Hawkeye.
"It was such an honor to work with them both. I think they are spectacular actors, and I have learned a lot from watching them work behind the scenes," Cox said. "I remember meeting Jeremy on my first day of work on-set, I was a nervous wreck, as this was my very first acting job."
She continued, "He then complimented me in American Sign Language (ASL), which comforted me. Hailee also spelled out her name to me in ASL at the studio where we were doing our stunt training sessions. I thought it was sweet of them putting in efforts to learn basic ASL to communicate with me. It means a lot to me as a Deaf person."
Echo is getting her own Marvel Disney+ spinoff
Marvel Studios must have loved Alaqua Cox's portrayal of Echo in Hawkeye. In March 2021, eight months before the premiere of Hawkeye, Marvel Studios announced plans for an Echo spinoff series on Disney+.
In Nov. 2021, on Disney+ Day, the studio confirmed Echo's development. Marion Dayre will serve as the head writer of the spinoff and will executive produce the series.
Hawkeye, starring Alaqua Cox, airs Wednesdays on Disney+.