Hayden Christensen Reveals the Piece of 'Star Wars' Memorabilia He Uses 'All the Time'
Hayden Christensen's return to 'Star Wars' helped us learn which piece of practical memorabilia he uses all the time.
Several perks come from being a famous actor. Swag bags from award shows. On-location shooting around the world. For Star Wars actors, one of the side benefits is the endless stream of related merchandise sent your way. Hayden Christensen's return to his iconic role of Darth Vader in Obi-Wan Kenobi has him making the press rounds, and during one session, he revealed the practical piece of Star Wars memorabilia he uses all the time.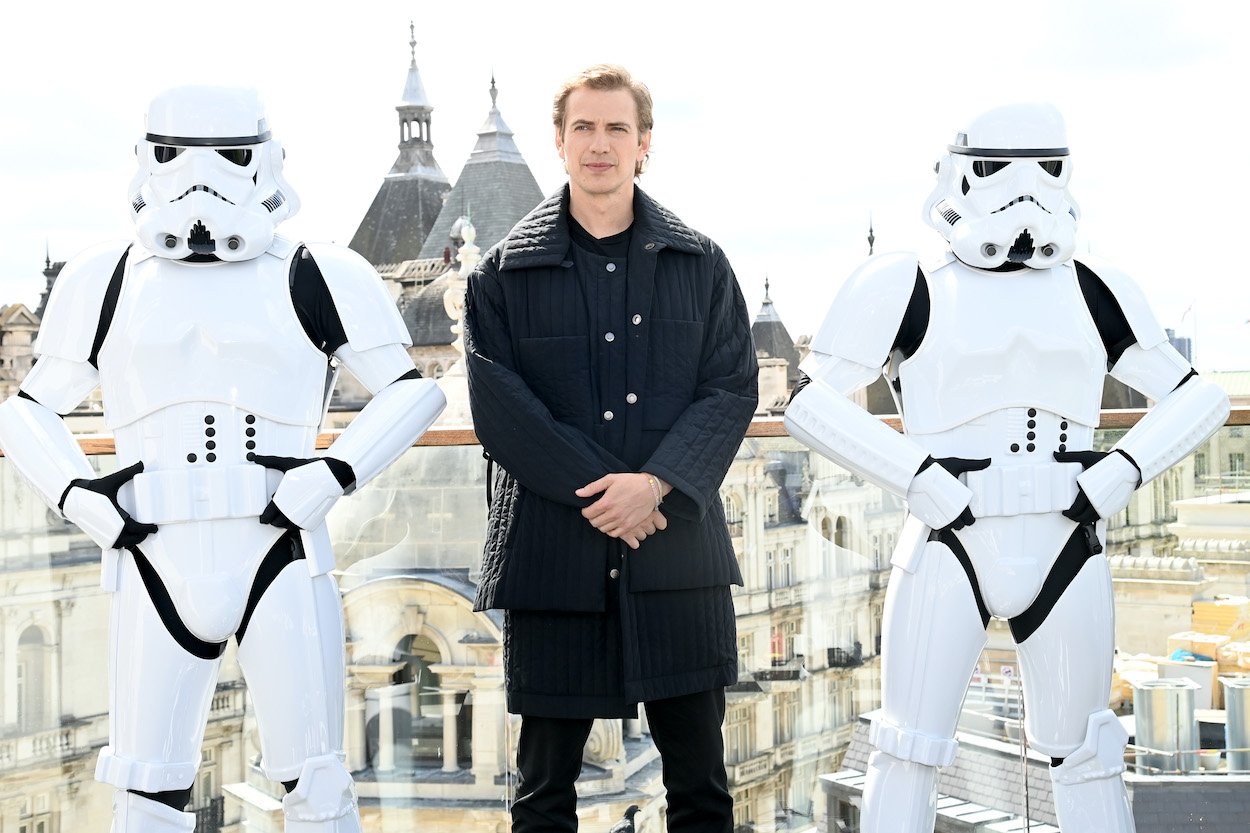 Christensen didn't quit acting after the 'Star Wars' prequel trilogy, he was just more selective
Christensen never quit acting. His subsequent roles couldn't match playing Anakin Skywalker and (briefly) Darth Vader in the prequel trilogy, but he never quit.
Christensen starred in Jumper (2008) three years after Revenge of the Sith. He was top-billed in the Takers cast in 2010, but he shared the screen with Paul Walker, Idris Elba, Matt Dillon, and others. Christensen also starred in the drama 90 Minutes in Heaven alongside Kate Bosworth.
Rather than act in every movie that came his way, Christensen became more selective about his roles in his post-Star Wars career. He also devoted time to his farming hobby. 
Now that he's back in the Star Wars universe (and publicly stating he's pleased to play Darth Vader again), Christensen is making the press rounds to promote Obi-Wan Kenobi. During one appearance, he revealed one practical piece of Star Wars merchandise he uses all the time.
A spatula is the 'Star Wars' merchandise Hayden Christensen uses all the time
The original Star Wars trilogy was a cultural phenomenon for many reasons. One of them was merchandising around the movies. The action figures, lunch boxes, and other memorabilia set the trend for blockbuster movies to come.
These days, fans can buy Lego sets, coffee mugs, remote-controlled vehicles, sunglasses, and lots more Star Wars merchandise. The actors in the movies usually get items for free. Christensen has a healthy collection of items, but there's one he uses frequently.
"I do have a nice collection of Star Wars memorabilia. Back when we were doing the prequels, they used to, like, send me — I'm sure you too [motions to Ewan McGregor] — one of each of the toys or whatever was coming out. But I've got a few kicking around the house. I've got a nice Darth Vader spatula that I use all the time."

Hayden Christensen on his favorite piece of Star Wars memorabilia
Some Star Wars memorabilia — the rare or pristine items — can sell for $3 million, but Christensen's Darth Vader spatula probably isn't on that list. When it comes to flipping pancakes, though, it might be a priceless item for him.
Now is the right time for Christensen's 'Star Wars' return
The beginning of the prequel trilogy came nearly 25 years ago in 1999, and some of the originally harsh opinions for the movies have softened over time. The newfound appreciation for the prequels helped Christensen realize it was a perfect time to return to Star Wars.
In Obi-Wan Kenobi, Christensen reunites with Ewan McGregor. The two formed a strong bond working closely together on Attack of the Clones and Revenge of the Sith, and their relationship didn't suffer despite years apart. Christensen revealed his bond with McGregor is as strong as ever.
After the six episodes of Obi-Wan Kenobi, we'll see Christensen continue in the role of Darth Vader in the Disney+ series Ahsoka. We'll have to find out what memorabilia Christensen gets from his return to Star Wars, but he'll always have the spatula.