Heath Ledger Once Stopped the Oscars from Poking Fun at 'Brokeback Mountain'
Jake Gyllenhaal just shared a story about how his 'Brokeback Mountain' co-star Heath Ledger stood up for the film at the Academy Awards.
In the pantheon of great Oscar missteps, few are as egregious as the 2006 Academy Awards. That evening, Crash won Best Picture and went on to be one of the most divisive picks in Oscar history. The film many agree should have walked away with the night's top prize? Brokeback Mountain.
Ang Lee's romantic drama centers on a love story behind cowboys Ennis (Heath Ledger) and Jack (Jake Gyllenhaal). Brokeback Mountain did win three Oscars, including Best Director for Lee. But the academy was still apparently willing to take some cheap shots at the movie, a plan Ledger put a stop to.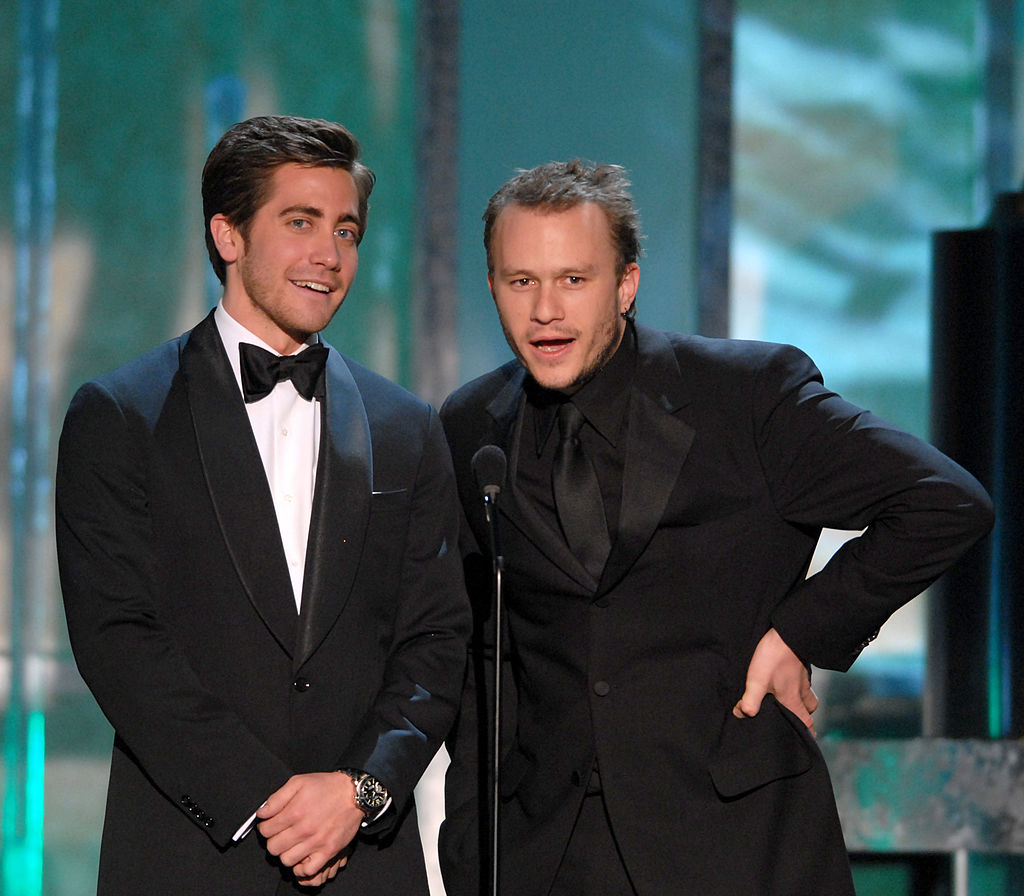 'Brokeback Mountain' was a game-changer for Hollywood in 2005
Nowadays, the LGBT community has taken huge strides. Same-sex marriage is widely recognized, and LGBT characters and storylines are slowly permeating the mainstream. But in 2005, Brokeback Mountain was a bold effort at telling a forbidden love story between two men, especially within a traditionally hyper-masculine genre like the Western.
In many ways, Lee's film proved Hollywood could tackle these subjects in an earnest, heartfelt way. More than just a hit with critics, Brokeback Mountain earned a worldwide total of $178 million. Remarkably, the $14 million production earned roughly half of that from its domestic release.
Brokeback Mountain also elevated the careers of Ledger, Gyllenhaal, and Michelle Williams. All three stars were already firmly on the rise to A-list status, but their Oscar-nominated turns in Lee's film legitimized them as dramatic leads. Ledger, of course, went on to win a posthumous Oscar for The Dark Knight, while his co-stars have gone on to acclaimed careers.
Jake Gyllenhaal reflects on making the 'mystery' of making the movie
Apparently, making the movie turned out to be as impactful as watching it was for Oscar voters in 2005. In a recent interview with Another Man magazine, Gyllenhaal said he still hasn't been able to go back and watch it. Despite the fond memories behind the scenes, Brokeback Mountain feels like a singular experience for the actor.
"There are things you're chosen for — a quality, an essence — and Ang did that," Gyllenhaal told Another Man. "And it's still a mystery to me. And something that Heath and I shared: that it was a mystery to us at the time."
For both Ledger and Gyllenhaal, Brokeback Mountain proved to be a creative challenge. Yet, the actors committed wholeheartedly to the work, and the finished product speaks for itself. But back in 2005, the movie was limited by the less evolved mindset toward stories about the LGBT community.
The actor also revealed how Heath Ledger once defended the film
In some circles, Brokeback Mountain became reductively known as "the gay cowboy movie." But those involved knew they were working on something special, a powerful story that transcended this glib description of its central romance. In fact, in the midst of awards season, Ledger was forced to step up and defend the film.
"I mean, I remember they wanted to do an opening for the Academy Awards that year that was sort of joking about [the movie]," Gyllenhaal told Another Man. "And Heath refused. I was sort of at the time, 'Oh, okay… whatever.' I'm always like; it's all in good fun. And Heath said, 'It's not a joke to me — I don't want to make any jokes about it.'"
Looking back, Gyllenhaal recognizes just how right Ledger was in taking such a stance. In the years since Brokeback Mountain hit theaters, culture has certainly started to catch up to such sensitivities, particularly regarding the LGBT community. So fans of Brokeback Mountain and Ledger's work no doubt will be happy to hear the late actor took so much pride in the film.