The Hells Angels Visited George Harrison but They Didn't Want to Leave
George Harrison had friends in strange places. He was friends with Formula One race car drivers and the comedians in Monty Python. It just proves how charismatic George was. But another group welcomed George that many fans probably don't know about, the Hells Angels. Can you picture George Harrison hanging out with one of the most intimidating biker gangs?
However, George was friendly with them and told them to visit him if they ever visited England. He probably didn't expect to be taken up on the offer. He also probably didn't think the gang would set up camp at Apple Records either.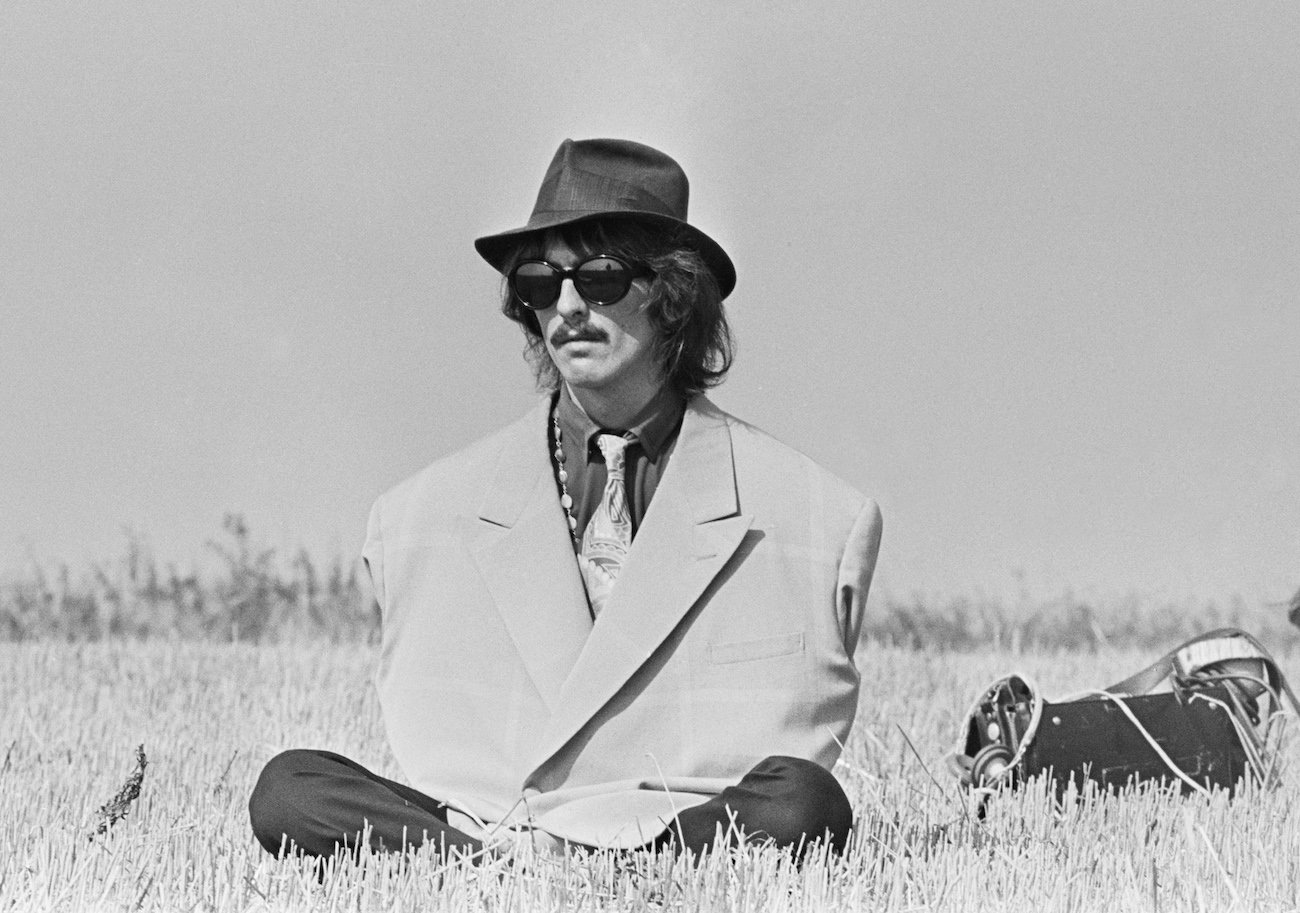 George Harrison met the Hells Angels in 1968
During a trip to San Francisco in 1968, George met the Hells Angels. In The Beatles Anthology documentary, Neil Aspinall, later Apple Corps president, explained that George had told the gang that if they ever came to England, "look us up."
After George met the gang, Rolling Stone writes that the staff at The Beatles' Apple Records headquarters in London "received a puzzling memo." It read:
"Hells Angels will be in London within the next week, on the way to straighten out Czechoslovakia [a reference to the current political upheaval]. There will be 12 in number complete with black leather jackets and motorcycles. They will undoubtedly arrive at Apple and I have heard they may try to make full use of Apple's facilities. They may look as though they are going to do you in but are very straight and do good things, so don't fear them or up-tight them. Try to assist them without neglecting your Apple business and without letting them take control of Savile Row. – George Harrison"
Richard DiLello, Apple's "house hippie," was not surprised. "Not a day went by that there was not some totally tripped-out crisis and/or triumph to deal with," he told Mojo in 2004.
RELATED: George Harrison Was the First Beatle to Visit America
The Hells Angels set up camp at Apple Records
The way Aspinall tells it, the Hells Angels showed up randomly and said, "Well, George said it was OK," and ended up "living at Apple and terrifying everybody."
George explained, "[Press officer] Derek [Taylor] got a phone call one morning from Customs and Excise saying, 'Is this right: we've got 17 Harley Davidsons that you're going to pay the freight duty on?'" That's when George sent his letter of warning. Luckily, most of the gang couldn't secure visas due to pending criminal charges or prison probation. Only two arrived: Frisco Pete and Billy Tumbleweed.
In his memoir The Love You Make, Apple Records executive Peter Brown wrote that the gang's arrival "stopped all activity dead at Apple. The employees gathered in doorways and corners and tried not to stare as the contingent marched up the green-carpeted stairs, past the vulnerable gold records on the walls, and into the press office, where I waited with Derek Taylor. After a slightly horrified pause, I extended my hand to Frisco Pete and said as pleasantly as possible, 'It's a pleasure to make your acquaintance, I'm sure,' and promptly left the room."
In Anthology, Taylor said, "I would arrive and find the Hells Angels sitting around on the floor doing those physical things they did – a lot of scratching and farting and generally being awful," he said. The staff referred to them as "the California Pleasure Crew."
RELATED: George Harrison Wrote a Heart-Breaking Song About Breaking up With Pattie Boyd
The aftermath of Apple Records' Christmas party forced George to kick them out
There was a lush Christmas party during the gang's stay that promised a banquet of food, including a 43-pound turkey. However, in the middle of the festivities, Frisco Pete yelled, "There's a 43-pound turkey in that kitchen and I want some of it now!"
When they brought the turkey out, Frisco Pete pounced. "It was about 10 yards from the door to the table where they were going to put the turkey down, but it never made it. The Hells Angels just went 'Woof!' and everything disappeared: arms, legs, breast, everything. By the time it got to the table there was nothing there. They ripped the turkey to pieces, trampling young children underfoot to get to it. I've never seen anything like it," Aspinall said.
George didn't even attend the party because he knew there was going to be trouble. Following the turkey incident, Aspinall told them to leave, but it didn't work. They said, "Well, you didn't invite us, so you can't ask us to leave." Meaning George invited them, so George had to uninvite them.
"Well, are you moving all of your stuff out of here tonight?" he asked the gang. Confused silence followed until one said, "Hey, man, I just wanna ask you one question: Do you dig us or don't you?" George answered, "Yin and yang, heads and tails, yes and no." More confused silence followed, so Aspinall said, "You know – 'Bugger off!' And they said, 'Well, if you put it that way, George, of course,' and left."
George meant well by extending an invitation to the gang to visit, but he probably didn't expect them to take him up on it. He certainly couldn't have expected that they'd move in. George could have used the Hells Angels when he was almost fatally stabbed in 1999.