Here Are Some of Suga's Best Raps in Group BTS Songs
Each of the BTS members are talented performers. However, when it comes to Min Yoongi, also known as Suga, this rapper has a unique style that even caught Halsey's attention. 
Here are some fan-favorite Suga verses in group BTS songs.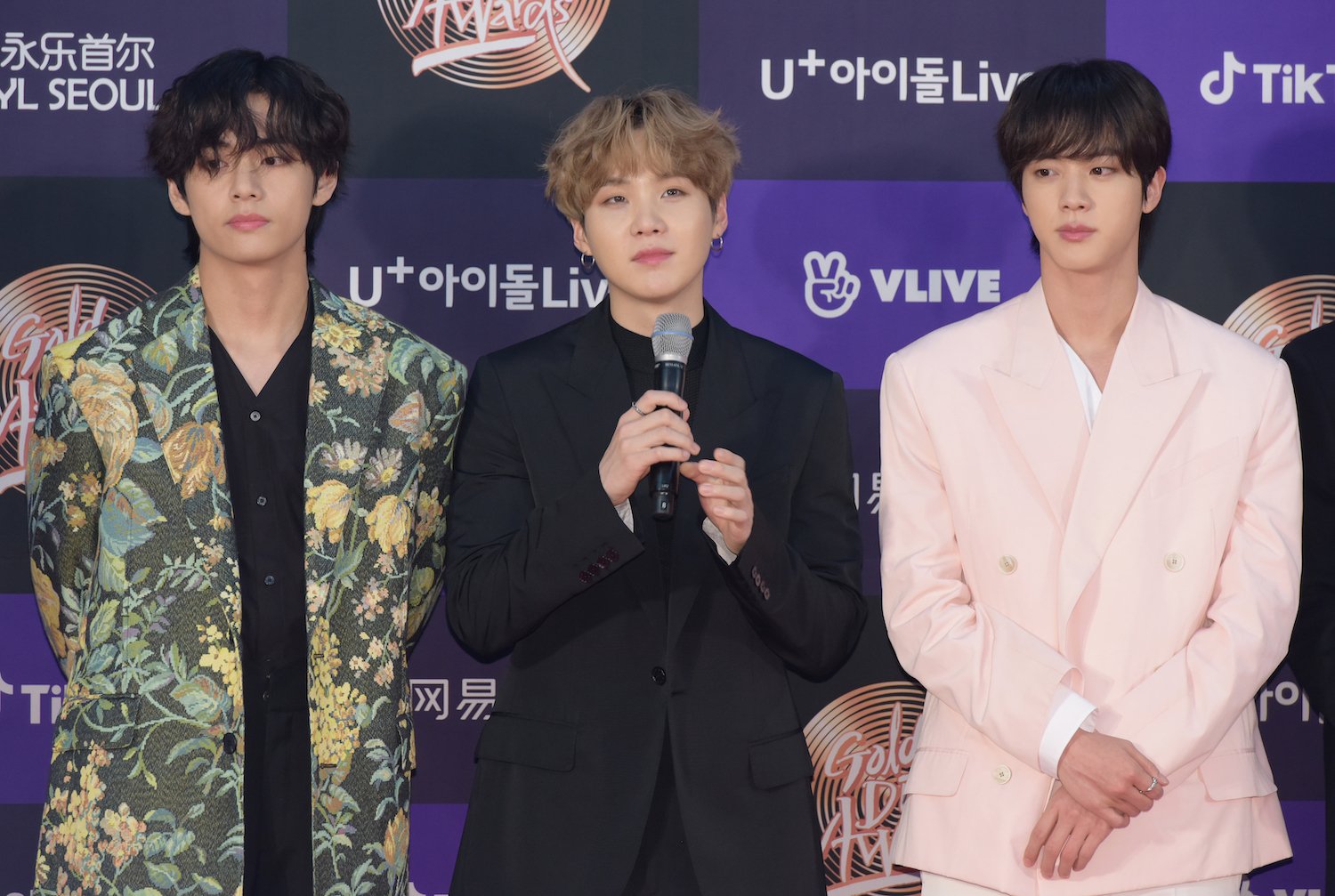 'Cypher PT.3: KILLER (Feat. Supreme Boi)' from 'Dark & Wild'
Technically, this song isn't a group song — it's performed by RM, J-Hope, and Suga, as are the other songs in the "Cypher" series. (That hasn't stopped V from living out his dream of performing it onstage, though.) As one of the group's "diss" tracks, Suga's fast rapping fits "Cypher PT.3: KILLER" perfectly. 
'Magic Shop' from 'Love Yourself: Tear'
A rap deemed "underrated" by many BTS fans, Suga has his own verse in this song off of the album, Love Yourself: Tear. The group performed this song several times live, even naming their fifth "Muster" after "Magic Shop."
'Make It Right' from 'Map of the Soul: Persona'
As one of BTS' 2019 releases, "Make It Right" features all seven members of the K-pop group, with one adaptation also including the musician Lauv. Although Suga's verse may be short, his rap in this song is a favorite among some fans.
BTS performed this song several times while overseas. That includes The Late Show with Stephen Colbert and even Dick Clark's New Year's Rockin' Eve With Ryan Seacrest 2020. Both times the group also performed their song "Boy With Luv" off of the same album. 
'Dynamite,' released in 2020, from 'Be (Deluxe Edition)'
With the coronavirus (COVID-19) pandemic impacting both the BTS members and their fans, the group wanted to release an upbeat and uplifting song during the summer of 2020.
As a result, "Dynamite," featuring all-English lyrics and a verse from Suga, debuted, earning millions of plays on music platforms like Spotify. "Dynamite" is also a record-breaking song for BTS, earning them their first No. 1 song on the Billboard Hot 100.
The single is also nominated for a Grammy, for the Best Pop Duo/Group Performance category. Although they previously presented an award at the ceremony and even performed alongside Lil Nas X, this is BTS' first Grammy nomination.
When he's not performing with BTS, Suga also releases solo music under the name Agust D. It's as this new persona he gets to explore other avenues of rapping. In 2020, he premiered the music video for "Daechwita," along with his mixtape. He was also featured on Halsey's 2020 release, Manic. 
The "Life Goes On" music video is now available on YouTube. Music by BTS, including their recently released album, Map of the Soul: 7, is available for streaming on Spotify, Apple Music, and most major platforms.