Here's How to Make Valerie Bertinelli's Cherry-Coconut Scuffins: 'They Are So Darn Cute'
Just before the start of her Food Network career on her popular program Valerie's Home Cooking, actor Valerie Bertinelli happened upon a new creation in the kitchen. As with many good things, it came about by accident. The Emmy Award winner dubbed it the "scuffin," and here's what it is.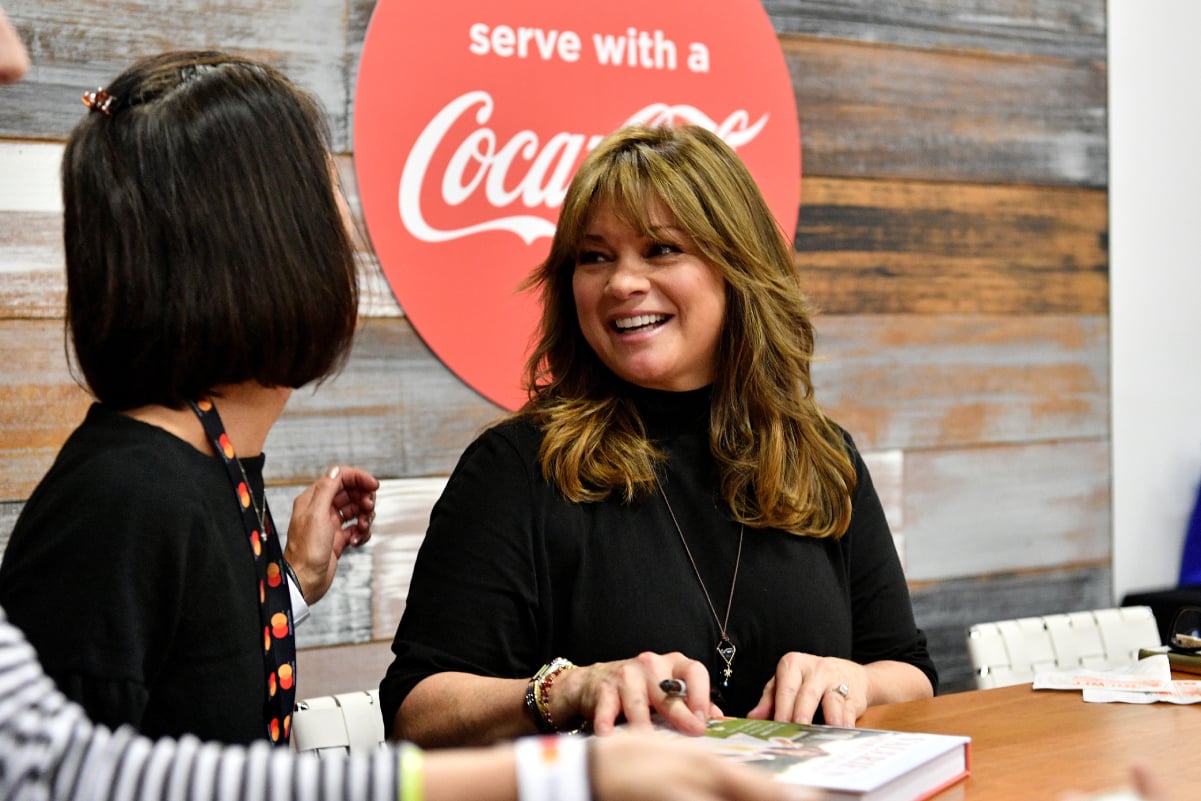 What's this 'scuffin' that Bertinelli invented?
Bertinelli, who's been hosting her Food Network show Valerie's Home Cooking since 2015, shared in her cookbook by the same name about the initial discomfort she felt as a non-trained cook joining the crew of accomplished chefs on the culinary channel. She also explained what a scuffin is and how she created this baked good.
"Before the first season of my cooking show, I was in the Food Network test kitchen, trying to invent a recipe," Bertinelli wrote. "I had in mind something that was both healthy and decadent. Nearby, several notable chefs were working on their own creations. As an actor with a passion for cooking, I was a trifle insecure, until everybody tasted my dish and gave it rave reviews.
"A woman I admire said, 'Not quite a muffin. But so good!' Another chef said, 'It tastes like a scone, but kind of like a muffin, too.' Suddenly I lit up. 'Oh, it's a scuffin!' And so the scuffin was born. They are so darn cute."
How to make Bertinelli's Cherry-Coconut Scuffins
As the former One Day at a Time star said of the recipe, "I love the coconut and cherries for their chewiness, and when I was originally working on this recipe, the yogurt was one of the healthier ingredients. In retrospect, this is not necessarily low in calories, but like many accidental concoctions, that's now beside the point."
To get started on Bertinelli's cherry and coconut scuffins (ingredient quantities, reviews, and video can be found on the Food Network site), you'll need to combine flour, baking powder, baking soda, and salt in a bowl. Then, in the bowl of a stand mixer, the coconut sugar and coconut oil are mixed until they are "very light and fluffy." The eggs are added one at a time, followed by fat-free plain yogurt and almond extract. Keeping the mixer at a lower speed, the flour mixture is slowly blended in just until combined. Now, the cherries and shredded coconut can be folded in with a spatula.
Place the batter in muffin tray cups and add shredded coconut to the top of each scuffin before baking in a preheated 350-degree F oven for 15 minutes.
Bertinelli's fans loved the baked good with the odd name
Reviewers on the Food Network site gave the cook's not-too-sweet treat high praise.
"Absolutely delicious and fun to make. Definitely would recommend using the cookie scooper to drop these babies into the muffin pans. I made the recipe exactly as listed and it made enough to last us almost 2 weeks (refrigerated). Great anytime snack. Family LOVED them," said one home cook.
Another reviewer added, "Just made these little bites of heaven. So easy and quick, perfect for brunch or any time of day!  Love all of Valerie's recipes."
RELATED: Valerie Bertinelli Reflects on Her Diet Spokesperson Days: 'I Was Part of the Problem'