Here's What a 'Star Wars Rebels' Sequel Series Could Look Like
'Star Wars' is nothing without its animated series. Now, there are rumors that a 'Star Wars Rebels' sequel series is in development.
Star Wars is known for its movies. The original trilogy is still a beloved arc and there are fans of the prequels and sequels everywhere. The massive franchise was originated on the backs of the films, but it also created a space for other media too. The animated series allow for the universe to expand on itself and create even more endearing characters. One of these, Star Wars Rebels, has a rumored sequel series coming fans' way. But what could that look like, and how likely is it to happen?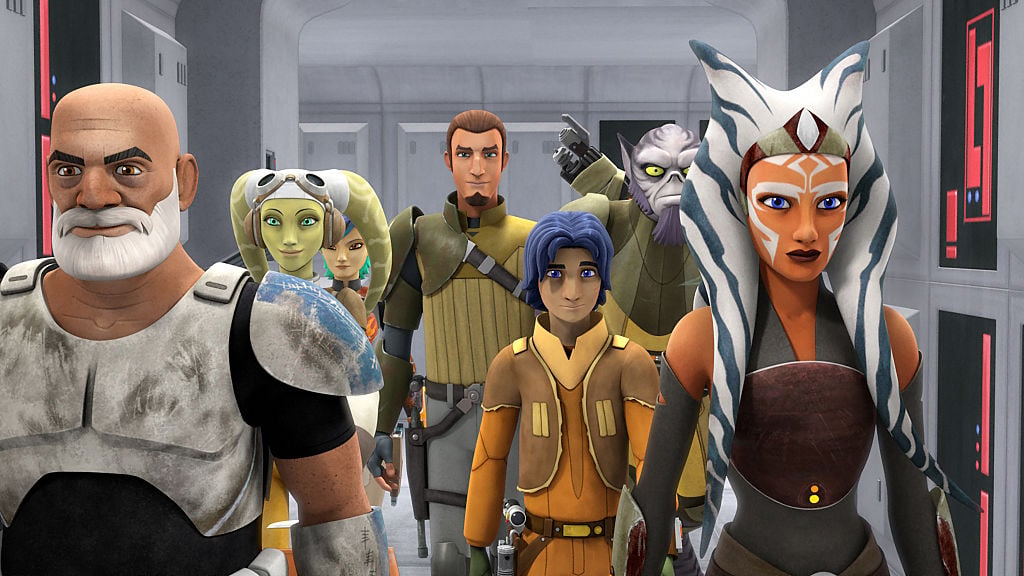 Rumors are circling of a sequel series to 'Star Wars Rebels'
According to the YouTube channel Kessel Run Transmissions' sources, they report that Lucasfilm is creating a sequel series to Star Wars Rebels, which originally aired on DisneyXD from 2014-2018. They said their sources report that the show is already in development, tentatively set for a 2020 release date. It'll have a different name; this isn't a Season 5 of Rebels, but a whole new show set after the first series. The animation is also reportedly going to be different; whether that means it'll look like The Clone Wars Season 7 or something else is unknown. 
To be clear: these are all rumors. Other than Kessel Run Transmissions' "sources," no one official has even hinted at the show happening. And nothing from Lucasfilm or Disney has come out either. Plus, it wasn't included in the new Disney+ 2020 promo video the studio released on New Year's Day. Now, of course, if they're trying to keep it a secret since they haven't announced it yet, that's why it wouldn't be in the video. They could pull a Netflix and drop the promo trailer only a month or so before it premieres. But The Clone Wars Season 7 was announced more than a year before its release, so who knows. 
Where did 'Star Wars Rebels' leave off on?
Regardless of the rumors' lack of official sources, it only makes sense for a sequel series to happen eventually. Star Wars Rebels left off with some finality for characters like Hera, Zeb, and Kallus. The Epilogue shows that the war ended and Lothal, Ezra's home planet, was left in a pretty good state. Hera, who fought in the Battle of Endor, had her and Kanan's child, Jacen. It's alluded that he'll be a great pilot, and possible Jedi, someday. Zeb took Kallus to the planet Lira San for reconciliation and to show they accepted Kallus after his crimes as a former ISB Agent.
The two characters that really warrant this spin-off series are Ahsoka Tano and Sabine Wren. There's still the mystery of Ezra's whereabouts; he disappeared into hyperspace with Grand Admiral Thrawn. He was locked in a fight with Thrawn and a purrgil, and in order to make the Imperial Admiral leave Lothal, Ezra went with him into hyperspace. Ezra and Thrawn are still very much alive, but his sacrifice separated him from the Ghost crew for the rest of the war. Sabine is seen meeting back up with Ahsoka five years after Ezra went into hyperspace, set on finding him.
It would be the perfect way to tell more of Ahsoka and Sabine's (and maybe Ezra's) stories
With that all said, it's a no-brainer that this story should be continued somehow. On top of the fact that Ahsoka Tano is a massive fan-favorite in the Star Wars universe, this hanging mystery seems like something Dave Filoni and the studio would want to elaborate on. It would be in the gap between Return of the Jedi and The Force Awakens. Right now, we just have The Mandalorian in that spot.
Speaking of, there are also rumors that Ahsoka could cameo in Season 2 of The Mandalorian. This would obviously deviate from the animated shows because it would be her first live-action appearance. However, the storylines could definitely overlap here. Imagine: Ahsoka and Sabine looking for clues to where Ezra ended up, and instead coming across Mando and Baby Yoda (who Ahsoka would recognize since she knew Yoda). What a concept!
Even though nothing is officially happening, a Star Wars Rebels sequel series sounds like the right way to go.