Here's Why Anakin Comes Back For 1 Moment In Ahsoka and Darth Vader's Duel in 'Star Wars Rebels'
Ahsoka and Darth Vader's scenes in 'Star Wars Rebels' hits hard for fans of the two. Considering Anakin was once her master, is that really him peaking through in the scene?
A lot of fans of Star Wars responded to the animated show The Clone Wars better than a lot of the trilogies. It introduced rich storylines for Anakin Skywalker and Obi-Wan Kenobi during the war against the Republic and Separatists, and it even gave the Clones personalities. It also introduced Ahsoka Tano into the universe, and she's gone on to gain a ton of fans all on her own. Voiced by Ashley Eckstein, Ahsoka is one of the most well-developed characters and is seen later on in Star Wars Rebels. 
While Rebels isn't as loved overall like The Clone Wars is, it does deliver some amazing moments. The inclusion of Darth Vader and his standoff with Ahsoka in Season 2 is one of those high points. While some think it's all Vader in those moments, Anakin does peek through, making it one of the most heartwrenching as well.
Darth Vader doesn't have any empathy for Ahsoka in 'Star Wars Rebels'
In an interview with the Rebel Force Radio podcast in March, showrunner Dave Filoni talked about Ahsoka and Darth Vader's duel in Rebels. Filoni is behind-the-scenes of a lot that goes on in the Star Wars animated shows and is even attached to The Mandalorian as well. He understands the Force and the lore of this universe better than most people, aside from George Lucas himself. 
Filoni shared that he alone storyboarded this climactic meetup and had "been planning this moment in Rebels for years." When you watch it, you can see why. Ahsoka doesn't know that her master Anakin turned into a Sith Lord, or at least she doesn't want to accept that he has. So when she's fighting Vader, and slashes his mask to see her master's eye, it's a shock. But then he recognizes her, which makes it worse. 
"When he calls out to her after the dramatic moment… there's catastrophe happening all around," Filoni said. "I believe that it is a brief moment of clarity for Anakin Skywalker. Not because he feels empathy for Ahsoka. Not because he has any thought of turning away from the Dark Side. But in this moment of shock, that he's been struck and falls… inside, deep within, is still Anakin Skywalker, that's undeniable. And he sees what looks like Ahsoka across from him. And he says her name." 
Anakin does actually come through
If you're in your feelings already, just wait. Filoni explains that Anakin is sort of conscious that she's there, but Vader is still the more powerful version of Skywalker. Now that he's face-to-face with her, Anakin retreats, and Vader comes back in full force. Vader is determined to destroy every last bit of Anakin's life and existence, including Ahsoka. 
"Because Ahsoka Tano to Darth Vader represents everything that maybe perhaps he was wrong about, and Anakin right," Filoni explained. "[Anakin] trained Ahsoka, he put all of his knowledge into her hands.  She became a Jedi very much in the way that he was going to be a Jedi. She reminds him of Padmé, she reminds him of Obi-Wan, she reminds him of growing up in the temple. And Darth Vader wants to destroy that." 
Filoni also states that seeing Ahsoka isn't like when Vader comes in contact with Luke in Return of the Jedi. There's no bringing her in or trying to turn her to the Dark Side. Emperor Palpatine would have destroyed her just the same.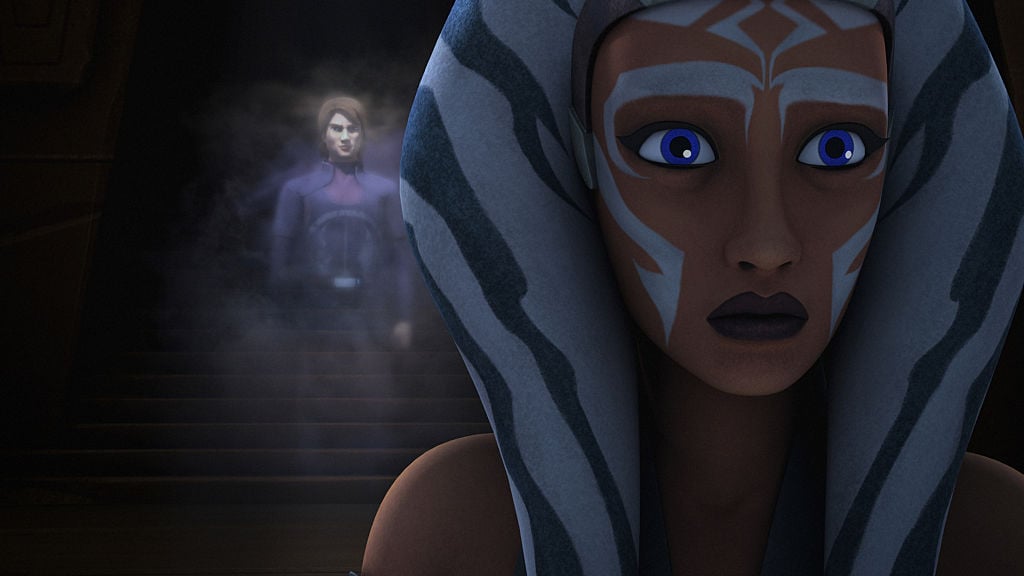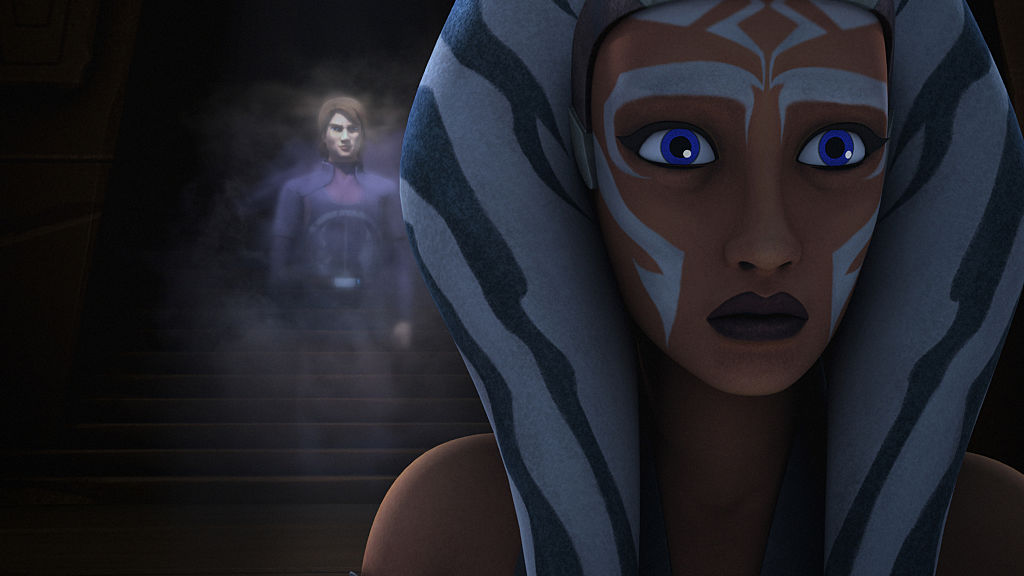 Ahsoka was never able to turn Anakin to the Light Side
Unfortunately, there also was never any hope that Ahsoka could bring Anakin back either. Filoni said that Vader needed "to destroy her" and even though Anakin came back in a moment of recognition, he wasn't going to stay, like in Episode VI. That would have robbed Luke's storyline in Return of the Jedi, and it wasn't in her power to do so. Ahsoka has a hold on Anakin as a lasting memory of when he was still a Skywalker. However, she can't pull him out of that. As Filoni stated, "Luke and Leia were the only possibilities for their father's redemption."
So in the end, there was no empathy for Ahsoka. It was just Vader or Anakin looking upon her as a horrible memory. And once again, we're reminded how tragic Anakin's story is.