Here's Why John and Sherry Petersik From Young House Love Had to Quit Blogging for Awhile
John and Sherry Petersik are like that cool couple next door you wish you knew. Or at least, like the ones you secretly envy.
The founders of one of the most popular DIY blogs on the internet, Young House Love, have been blogging about their adventures in renovating, decorating, and raising a family since 2007, in an era before Pinterest, Instagram, Twitter, and 'social media influencers' ever existed. They started the blog because they wanted to share their passion for DIY, not because they wanted to become millionaires.
Though now if they haven't reached that status (the internet is scant on those details, though blog followers know they paid off their Richmond colonial in full), at least they are home design celebrities with a successful blog, furniture line, books, a podcast, and legions of devoted followers who eagerly watch their every move.
Here's how they did it and why they had to take a break for a while so they didn't go crazy.
Who are John and Sherry Petersik of Young House Love?
In many ways, John and Sherry Petersik are like the couple next door simply because they're regular folks who stumbled across their hidden talents at the right time. They got into the DIY world long before the popularity of shows such as Fixer Upper dominated the HGTV landscape—the Petersiks are home grown, and they just happen to have a true skill for making slightly outdated things look beautiful.
Sherry Petersik used to work in advertising before leaving to pursue the blogger life full time. According to The Cut, the blog Young House Love made $10.59 the first month and it took a full year for her to make up for her full-time salary.
Young House Love was a huge hit
But now? Things are looking up, with the Petersiks raking in cash from their book sales, blog views, podcast ad revenue, plus their undeniable popularity. They share posts with a combination of sarcasm, self-deprecation, and off-the-wall dorky humor that deeply resonates with readers. "I am fully aware that I'm obnoxiously enthusiastic," Sherry wrote in a 2012 post. "I'm the less cool version of that adorkable Zooey Deschanel."
John Petersik is the other half of this husband/wife team, contributing at least half the work and plenty of blog posts alongside his wife. Their quirky dynamic is part of what makes them so appealing—like the blogging equivalent of Chip and Joanna, but with less shiplap.
Part of the Petersiks brilliance is their accessibility. While some decorating bloggers show off $5,000 sofas that most people could never afford, John and Sherry are just as likely to incorporate Target accessories and secondhand finds. They're also happy to share where they purchased every single item in their room down to the rugs, curtain rods, and throw pillows. Want to have a Petersik house? You can create one with an amazingly realistic budget.
What are the Petersiks doing now?
Over their 11 years of blogging, the Petersiks have provided step by step instructions on literally thousands of projects plus documented personal renovations in three of their family homes.
Now that their main residence is "done" and they've no plans on moving, the couple has been sharing beach house renovations in a getaway they bought in Cape Charles and lovingly restored. They also purchased an income property duplex at the beach and gutted it down to the studs, blogging all the way.
The couple took a much-needed break from blogging a few years ago once they realized how much it was taking over their lives.
"For a long time, we thought we were doing okay if we could duplicate our salaries from our old advertising jobs; then it got to the point where we could bring in much more," says Sherry. "But I kept saying, 'I don't want more money, I want more time.'"
Sherry recalls feeling torn between responding to followers and paying attention to her kids. "I felt like any day where I was being a great blogger, I was being a bad mom and vice versa," Sherry told The Cut.
People are still obsessed with the blog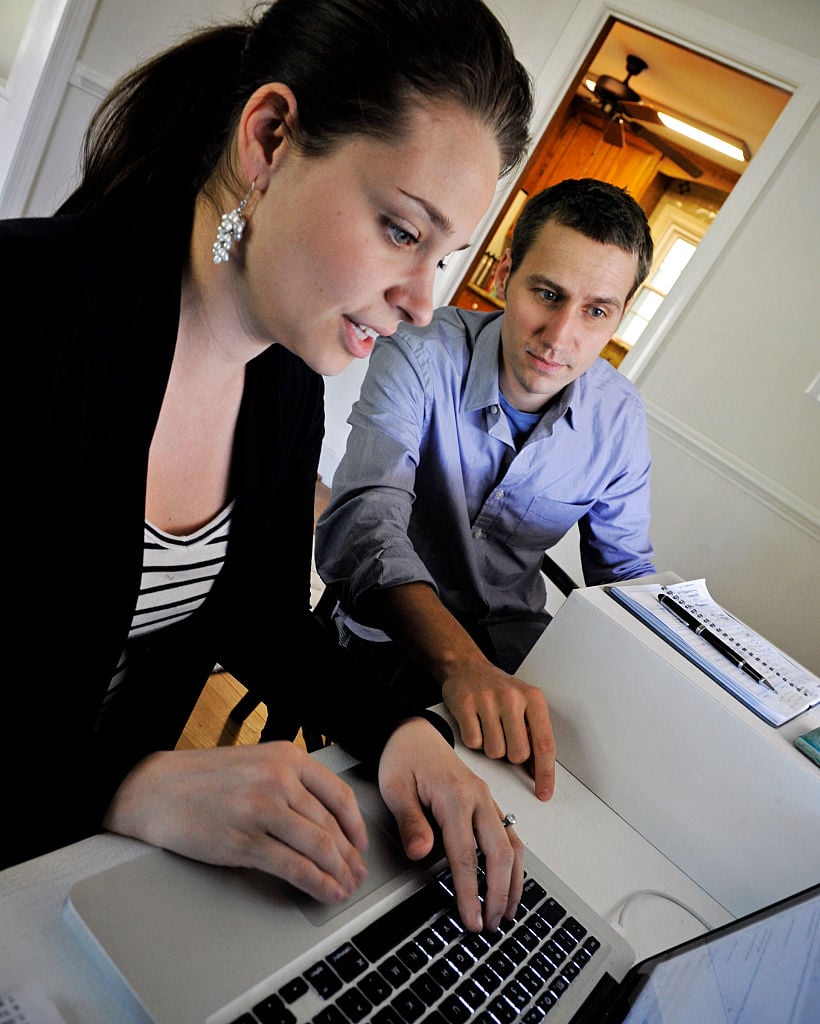 In 2011, Young House Love was averaging 5 million pageviews per month but the Petersiks weren't exactly happy. They stepped back from daily blogging in 2016 and ever since, they've been content to share updates on their own terms rather than worrying about the backlash they'd receive from taking a blogging break.
The couple just won Best Renovation Blog in the Domino Design Blog Awards. These days you can find the Petersiks blogging (when they can), doing their podcast, and enjoying life in their picture-perfect house.