Here's Why that 'Star Wars: The Rise of Skywalker' Ending Leaves Out These Characters
Star Wars fans may not be able to hear that iconic theme music blasting in their local theater for a while. After all, the latest installment in the saga brought an end to the ongoing story of Skywalker. So hopefully audiences are satisfied with that Star Wars: The Rise of Skywalker ending.
Star Naomi Ackie previously revealed the film would not answer all the questions fans might have. But the final scene of The Rise of Skywalker has fans scratching their heads over one particular detail. Want to find out what we mean? Well, since the new Star Wars is still playing in theaters, let's dig into it after the requisite spoiler warning.
[Spoiler alert: This article contains MAJOR spoilers for Star Wars: The Rise of Skywalker. Read at your own risk.]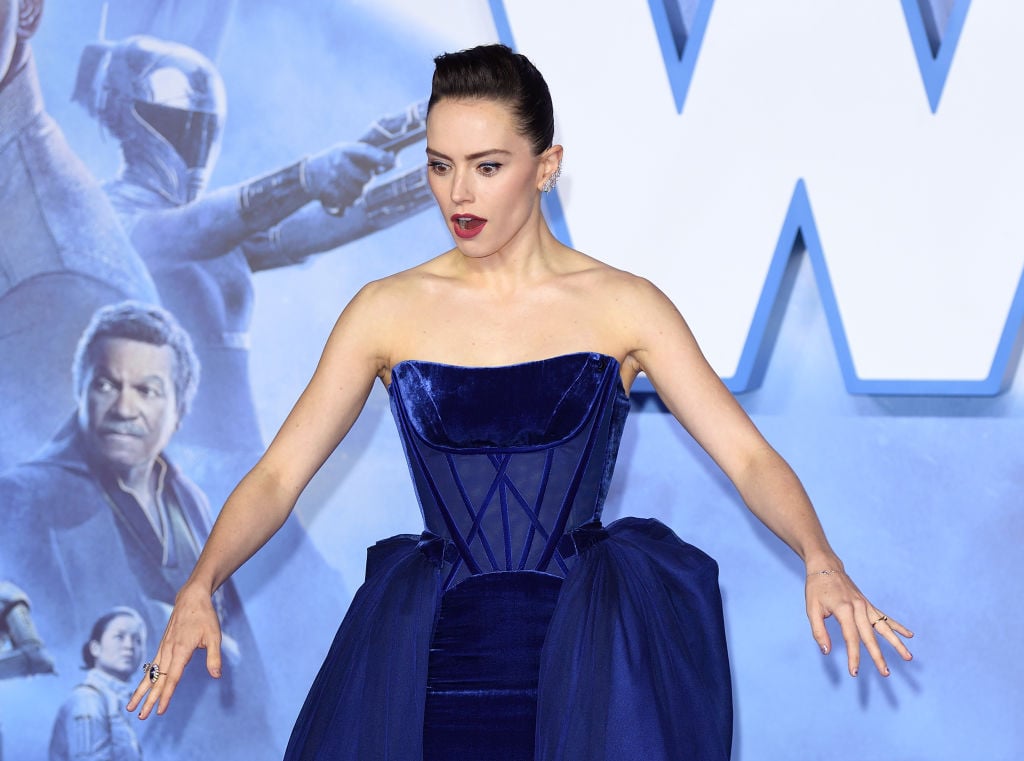 How 'Star Wars' comes full circle
After Kylo Ren (Adam Driver) sacrifices himself so that she may live, Rey (Daisy Ridley) returns to a planet very familiar to fans: Tatooine. She buries both Luke's and Leia's lightsabers near the Lars homestead where the former once lived. Whether she intends to stay, this action is symbolic of Rey — and the Star Wars fandom — finally letting the past go.
The Skywalker saga ends where it began. Rey is ready to move forward with her golden-hued lightsaber in hand. Then an old woman approaches Rey to ask for her name. After introducing herself just by her first name, Rey looks up to see the grinning ghosts of Luke (Mark Hamill) and Leia (Carrie Fisher) watching over her.
"Rey Skywalker," she tells the woman of her full name. It's a moment that has divided fans with regard to what it says about Rey's ongoing struggle for identity. After discovering she is a Palpatine, Rey could have rejected all lineage whatsoever to remain independent, some argue. Yet, there's another big question about the ending which has puzzled moviegoers.
Why only Luke and Leia appear
Since the film is presumably the last we'll see of the Skywalker clan, fans have been wondering why only Luke and Leia appear as Force ghosts. After all, Ben Solo and/or Anakin Skywalker (Hayden Christensen) easily could have been there as well. The Hollywood Reporter recently asked co-writer Chris Terrio about this aspect of the Star Wars: The Rise of Skywalker ending.
We absolutely discussed who would be there at the end. It's not as though those Force ghosts will never appear to Rey now that she really is the first of the new Jedi. I think she has all of those Jedi behind her. [director J.J. Abrams] was pretty clear about the idea that he didn't want to take away from the moment of Leia finally appearing as a Force ghost and the twins finally being together.
Since Alderaan was destroyed in A New Hope, Tatooine became the most obvious place to bid farewell to the Skywalker twins. But more than just bringing closure to the Skywalker family saga, The Rise of Skywalker owed a debt to Leia.
Why the 'Star Wars: The Rise of Skywalker' ending is so crucial
Prior to Fisher's death, Star Wars: The Rise of Skywalker was meant to highlight Leia. So Terrio and Abrams needed to find a way to push her story forward with only the limited footage they had. In many ways, the film was reverse-engineered to allow Leia to emerge a full-fledged Jedi, Terrio told THR.
[The Rise of Skywalker] has to put Leia into the Jedi pantheon. … That way, by the end of the film, Leia could join Luke as a Force Ghost and spiritually join her father and all the other Jedi. While you only see the twins in that moment, we thought that would give Leia more centrality, and you would really feel the strength of seeing Leia in the Jedi afterlife for the first time.
Thematically, it makes sense for the final scene to highlight Leia's journey then. As The Rise of Skywalker reveals, Luke and Leia were both Rey's masters. Terrio explained this distinction — being trained by two Skywalkers — sets Rey apart and enables her to defeat Palpatine in the end. To be fair, she is wielding both Luke's and Leia's lightsabers in that scene.
Sure, it might have been a fun bit of fan service to have a complete Skywalker family reunion on Tatooine. But this approach also could have been overwhelming and diluted from the focus on Luke's and especially Leia's final swan song. Thematically, it's hard to argue with the impact of seeing Luke and Leia reunited one last time.