'He's All That's Tanner Buchanan Didn't Know Who Co-Star Addison Rae Was Before the Film
Many of us may are familiar with Addison Rae's work before 'He's All That,' but the same can't be said for her co-star Tanner Buchanan who didn't even know she existed prior to working together.
Social media influencer Addison Rae was a household name long before the 2021 Netflix film He's All That. Still, some people didn't know she existed until just recently — including her co-star Tanner Buchanan. In a recent interview, the Cobra Kai star opened up about his and Rae's new movie, sharing that he had no knowledge of the TikTok star's fame before signing on the do the romantic comedy.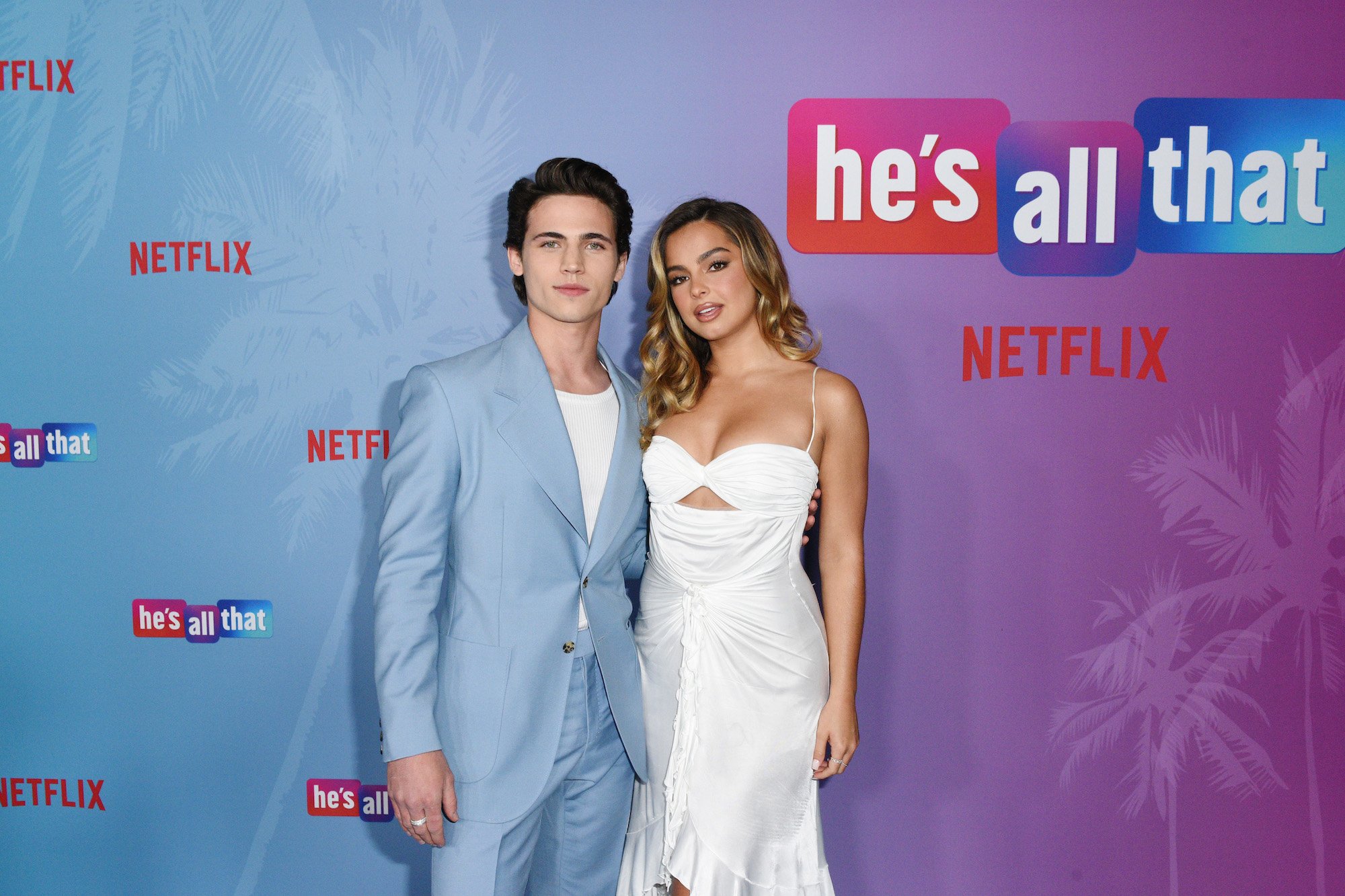 Tanner Buchanan says he didn't have TikTok before 'He's All That'
Many people today are very familiar with Addison Rae.
The social media influencer broke through mainstream stardom in 2020 after posting a mix of dance videos, lip-syncs, trends, and comedy skits to the video-sharing app TikTok. It wasn't long before Rae's popularity grew substantially, with her becoming the most-followed person on the app behind Charli D'Amelio and Khaby Lame.
Since then, Rae's fame has only increased. Now, she's one of the most famous social media stars in the world, with millions of followers on her social media channels and plenty of A-list friends (aka Kourtney Kardashian).
But despite Rae being one of the most well-known TikTok stars out there, her He's All That co-star Tanner Buchanan hadn't heard of her prior to working together.
During a recent interview with Variety to promote their new Netflix film, Buchanan revealed that he did not know anything about Rae before signing on to star in the movie.
RELATED: 'He's All That' Brought Some of the Original Team Back for the Netflix Remake
"The funny thing is when I was going out for [He's All That], I met with the producers, Jennifer and Andrew, and they told me that Addison was cast and I didn't have TikTok and I didn't know who she was," Buchanan shared.
Though he is on social media, Buchanan admitted that he isn't consumed by it, which is why he hadn't been introduced to Rae before meeting her.
"I have a presence on social media, but, you know, it's not my job, so I post what I like to post," he continued. "I actually didn't know who she was until I met her."
Tanner Buchanan didn't research Addison Rae before meeting her
While most people do an extensive online search of those they will be working closely with prior to meeting them, Tanner Buchanan says he didn't do that after learning he would be starring in He's All That with Addison Rae.
"I didn't even research her or anything" the actor told Variety. "I'm very big about not trying to research people sometimes if I know I'm going to talk to them or work with them because I want to get a feel for who they are as a human being face-to-face."
Rather than finding out things about Rae from the internet, Buchanan waited to get to know her in person so that he wouldn't have any assumptions about her going into the film.
"If there's something bad on the internet or great things and then they end up not being great, you never know," the Cobra Kai actor explained. "So, I like to make that opinion for myself."
Tanner Buchanan thinks Addison Rae did an 'amazing job' in her 'He's All That' role
When it was announced that Addison Rae was cast as the female lead in He's All That, many speculated that she landed the role because of her social media fame.
However, Tanner Buchanan says that's further from the truth, telling Variety that Rae put in a ton of work to be cast in her role.
"She put in the work. She did audition for this," Buchanan said. "She had to send them her self-tapes and everything. Everybody had to be OK with her, and she did an amazing job."
Buchanan added that Rae also worked with an acting coach leading up to her onscreen debut and was a natural in front of the camera.
"I'm really big about my lines, but I screw up a lot," he said. "She knew her lines way better than I knew mine. She was on top of it the entire time. That's what I keep telling people is you would think that she's [been acting] for years."