Hey Demigods: 'Percy Jackson' is Getting a 'Faithful' Reboot at Disney+
It's finally official: 'Percy Jackson and the Olympians' is getting a reboot. Rick Riordan confirmed he'll have more creative control, unlike with the 2010 movie.
Well, it finally happened: Percy Jackson and the Olympians is getting a proper reboot at Disney+. After two lackluster films and years of fan campaigns to redo the book series, Rick Riordan's story about demigods at Camp Half-Blood is coming back. The author said the new version of Percy Jackson will be closer to the books.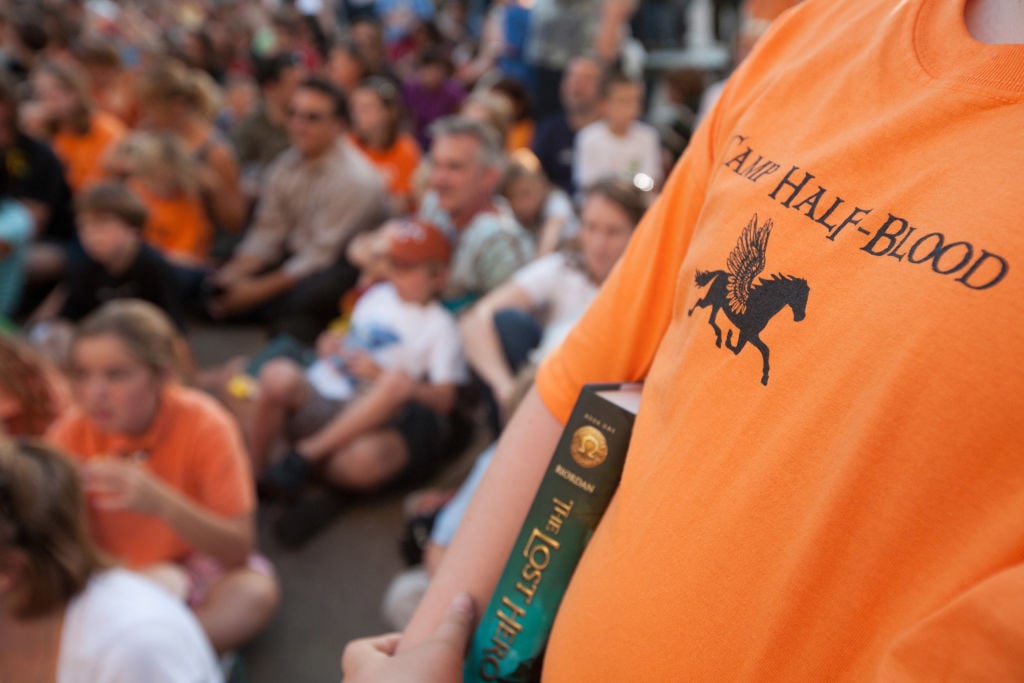 Author Rick Riordan just announced a Disney+ reboot of 'Percy Jackson' that will be 'faithful' to the books
On May 14, after a few days of hinting to fans on his Twitter, Riordan and his wife, Becky, revealed the news in a video. 
"After a lot of hard work and a lot of support from you guys, 'Percy Jackson' is coming to Disney+," Riordan said. He also said he'd have more later, and elaborated on the series on Instagram. 
"Hey Percy Jackson fans, for the past decade, you've worked hard to champion a faithful on-screen adaptation of Percy Jackson's world," he wrote. "Some of you have even suggested it would be a great series for Disney+. We couldn't agree more!"
Riordan wrote that they don't have much else to say right now. But he did reveal that it'll be a "live-action series of the highest quality." It'll follow all five books in the series, "starting with The Lightning Thief" in the first season. 
And unlike with the 2010 movie adaptation, he wrote that he and Becky are going to be involved in "every aspect of the show."
He closed out his post, hyping fans up for what's to come. "There will be much more news in the future, but for now, we have a lot of work to do! Buckle up, demigods. It's going to be a fantastic, exciting ride!"
Riordan has been trying to get it picked up by Disney for a while
This, of course, isn't the first time Riordan has talked candidly with fans about redoing Percy Jackson. Back on Dec. 10, #DisneyAdaptPercyJackson trended on Twitter. Riordan thanked fans and awed at the fact that he didn't have to "prompt" the trend. He shared that he was in LA at that moment, talking to "the powers-that-be" about adapting it. 
Then on Dec. 12, Riordan shared that he had "some good meetings at Disney."
"Way too early to know what if anything might happen, but I will keep at it!" the author wrote. "At least they knew me by name at the security gates! (zoom in on my nametag to see what I mean)."
And even as recently as March 16, Riordan had an update for fans. "I am working to get a good adaptation off the ground and have been meeting with folks at Disney in LA for months now," he shared. "I have no details because nothing has been decided yet, but I'm trying! #askrick."
The 2010 film wasn't well-received by fans of the series, and they campaigned for a redo
The 2010 adaptation of Percy Jackson starring Logan Lerman didn't quite live up to expectations. Percy was much older and it skimmed over many key events. For example, there's no prophecy, which holds a big significance in the series. And the second film, Sea of Monsters skipped many more aspects of the book.
In a blog post on his site in 2018, Riordan explained that he wasn't consulted on the movies, and had little input. 
"As I've said many times, once I saw the final script and saw what they were doing on the set, I realized I had to step away for my own peace of mind," Riordan wrote. 
The fans are fully behind a proper reboot and have been for years. The fact that Riordan wrote, with confidence, that he'll have way more creative control on this reboot, means it'll most likely live up to fans' expectations.