'Hocus Pocus' Actor Reveals He Had Real Moths in His Mouth: 'I Could Feel The Flutter of Them'
As we all know, Disney is working on a Hocus Pocus 2 with original cast members Bette Midler, Sarah Jessica Parker, and Kathy Najimy. There should be noticeable differences between the original and the sequel, like CGI effects. Take Hocus Pocus' Billy, (aka the zombie) for example. The moths that emerge from his mouth were not a special effect—they were real.
Doug Jones played the funny zombie. In an interview, he revealed that he had moths fluttering in his mouth. So here is Winnie Sanderson's word of the wise —"Makes me sick!"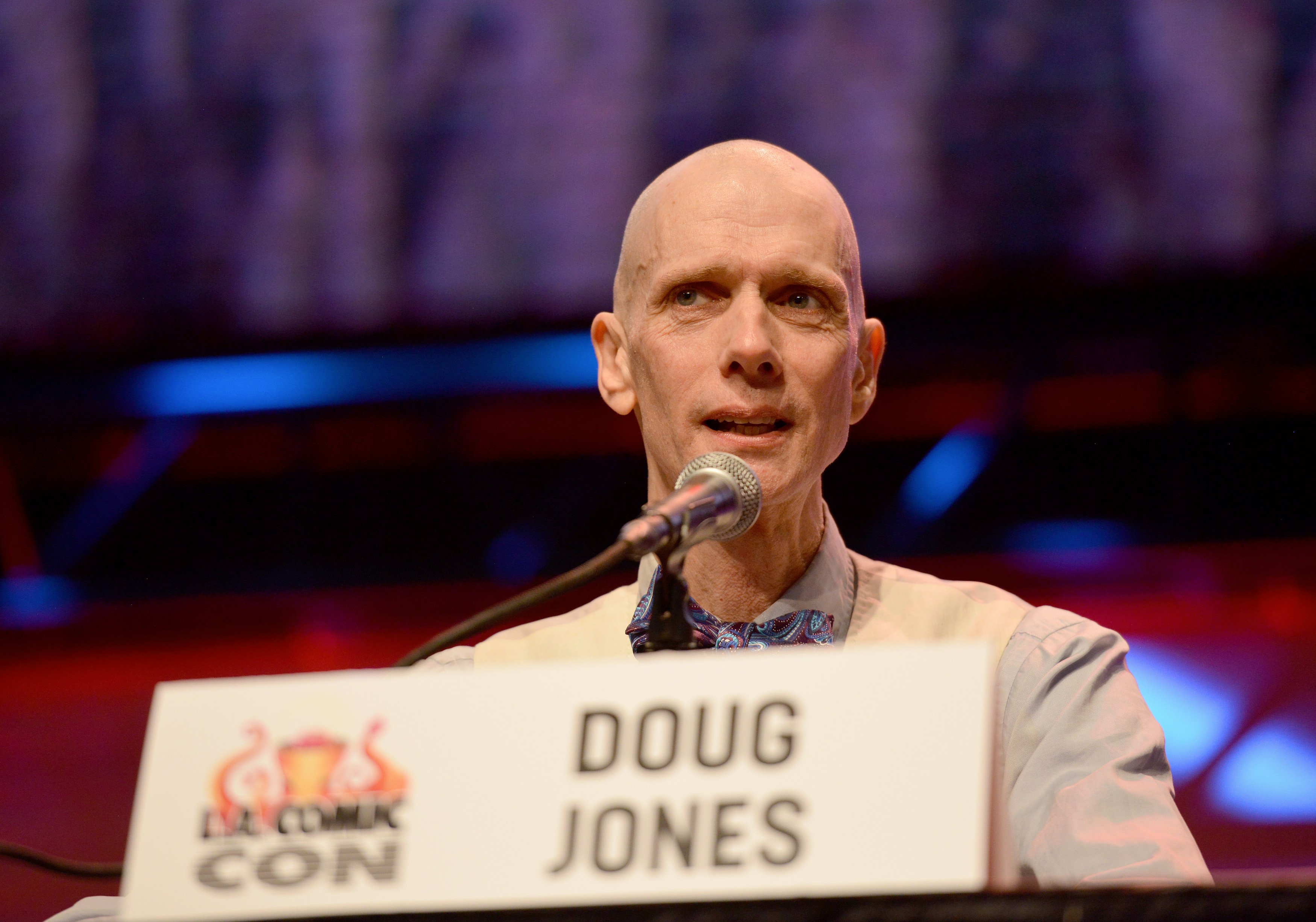 Who is Billy in Hocus Pocus?
To recap who Billy Butcherson is from Hocus Pocus—The Sandersons resurrect Billy (Winnifred's former lover) from the grave. His mouth is sewn shut, but that doesn't stop him from giving Winnie a piece of his mind. His annoyance sprinkles more comedy into the movie.
Billy eventually cuts his mouth open and insults Winnie. Then, he helps Max, Dani, Allison, and Binx in their quest to stop the witches. In the end, he returns to his grave and rests in peace.
Although he isn't a principal character, Billy diversifies the Hocus Pocus characters. The audience only sees witches, ghosts, and a black cat until Billy awakens.
Doug Jones played the funny, sassy zombie. The actor's career spans a few decades. In case anyone missed him in recent years, Jones played the ghoul Marcus in Ouiji: Origin of Evil in 2016. He also appeared in Crimson Peak, The Bye Bye Man, and played "The Amphibian Man" in The Shape of Water.
What did the actor say about his scene?
According to E! News, the cast of Hocus Pocus revealed several behind-the-scenes secrets. And Doug Jones didn't hold back. He described how he executed Billy's moth-mouth stunt.
"This is before the days of CG as we know it. So that meant if moths and dust have to fly out of my mouth, then we have to put moths and dust in my mouth to start with. So they had an upper and lower retainer with a latex sheath that kind of protected my mouth from whatever was going into it. And I could feel this little, the flutter of them, and it was like harrowing. The first take, they get it all set in there, cameras were rolling, and a light burns out. I cut my mouth open and out comes mud, and the moths are kind of going [downward spiral noise]."
After the interview, fans watched the Hocus Pocus scene with a different mindset. Hopefully, Hocus Pocus 2 will include CGI if an actor has to inhale, spit, or chew any bugs.
There was another bug-related stunt a 'Hocus Pocus' cast member had to do
In 2018, Freeform hosted the 25th anniversary of the Hocus Pocus cast. Vanessa Hudgens hosted the Halloween Bash consisting of performances and cast interviews.
Sarah Jessica Parker appeared along with her former castmates. And she had a startling revelation for the audience.
Fans might recall the moment when Sarah Sanderson (Parker) chews on a spider. Although it could have been an edible prop, the actor revealed she actually ate that spider, per Better Homes & Gardens. So whatever it was, the actor still had to bite the creepy crawler.
It seems the Hocus Pocus zombie wasn't the only one who had a mouthful of bugs.
RELATED: 'Hocus Pocus': Leonardo DiCaprio Was Offered 'More Money Than [He] Ever Dreamed of' for the Disney Halloween Movie