'Hocus Pocus': Bette Midler Once Admitted It'd Been '20 Years' Since She Watched the Film: 'I Loved It'
For some watching Hocus Pocus is a Halloween tradition. But Hocus Pocus star, Bette Midler, isn't one of them. The award-winning actor once confessed she hadn't watched the 1993 Disney film in "at least 20 years" before finally sitting down for a rewatch. And, in what may come as no surprise to fans of the cult classic Halloween movie, she "loved it."
Bette Midler played 1 of the Sanderson sisters in 'Hocus Pocus'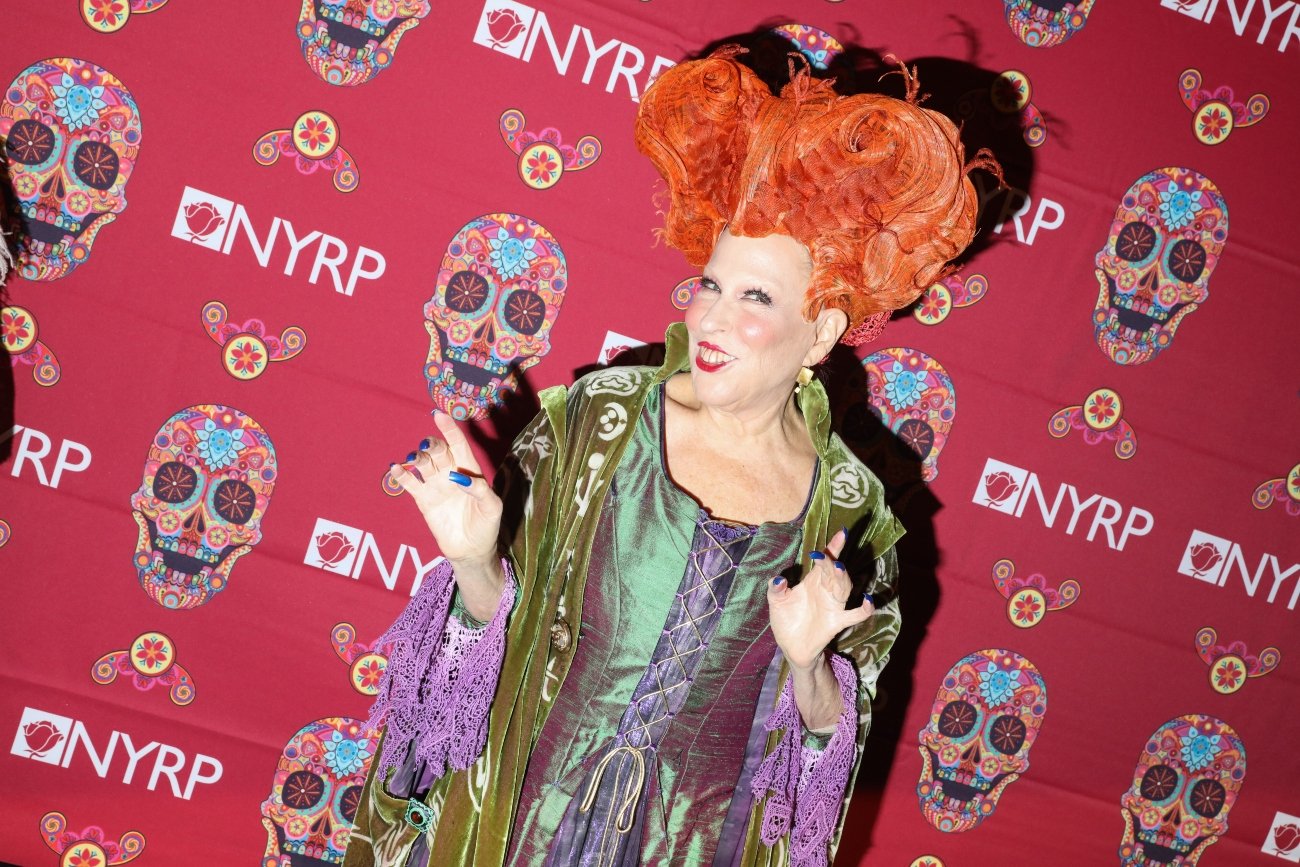 Originally a bedtime story, Hocus Pocus premiered in July — yes, the middle of summer — in 1993. Midler portrayed Winifred Sanderson, one of three Sanderson sisters who were brought back to life when Max Dennison (Omri Katz) lit the black flame candle. Among her fellow Hocus Pocus cast members were Sarah Jessica Parker and Kathy Najimy. A pre-Sex and the City role for Parker, she played the blonde, boy-obsessed Sarah opposite Najimy's more humorous Mary.
Together, the three Sanderson sisters attempted to suck the life out of all of the children in Salem, Mass., before sunrise. Despite their race against time — and Max, his sister Dani (Thora Burch), and Allison (Vinessa Shaw) — there was still time for a performance of "I Put a Spell on You" and some quotable lines.
The 'Hocus Pocus' star hadn't seen the movie for 'at least 20 years' before rewatching it in 2018
Before hosting her annual Hulaween charity event in October 2018 Midler confessed she'd recently watched Hocus Pocus for the first time in decades.
"I do not watch it regularly. In fact, I had not seen it in at least 20 years," Midler told People at the time. "I watched it the other night, the night before the [25th] anniversary, because I said, 'You know what, I better look at this again.' So I watched it, and I loved it! I loved it!"
"I thought it was so funny!" she added. "The first time I watched it I was only watching myself. But this time I saw everybody. And I tell ya, those girls in the back — they were going full blast! They were giving me a run for my money. The kids were great, everybody was great!"
As Hocus Pocus' 30-year anniversary nears, chances are Midler will sit down for another October viewing of the film.
Midler's reprising her role as Winifred Sanderson in Disney's 'Hocus Pocus 2'
The Sanderson sisters are back. Has another virgin lit the black flame candle? Fans will have to wait until Hocus Pocus 2 premieres in 2022 to see what's in store for Winifred, Mary, and Sarah. Midler, Najimy, and Parker are among the original Hocus Pocus cast members returning for the sequel. At the time of publication, they're the only OGs to have signed on for the project. Midler's previously said fans are going to love Hocus Pocus 2. Until the movie premieres on Disney+, there's always streaming the original or checking out photos from the set of the sequel.
RELATED: 'Hocus Pocus': Where Is the Cast Now? Plus, How Much Are They Worth?