'Home Economics' Season 3 Premiere Date Scheduled for September 2022
ABC just unveiled its fall premiere dates, with its slate set to air over three weeks in late September into early October. And luckily for fans of the sitcom Home Economics, new episodes are on the way. The Home Economics Season 3 premiere date has been confirmed as part of the network's fall release schedule.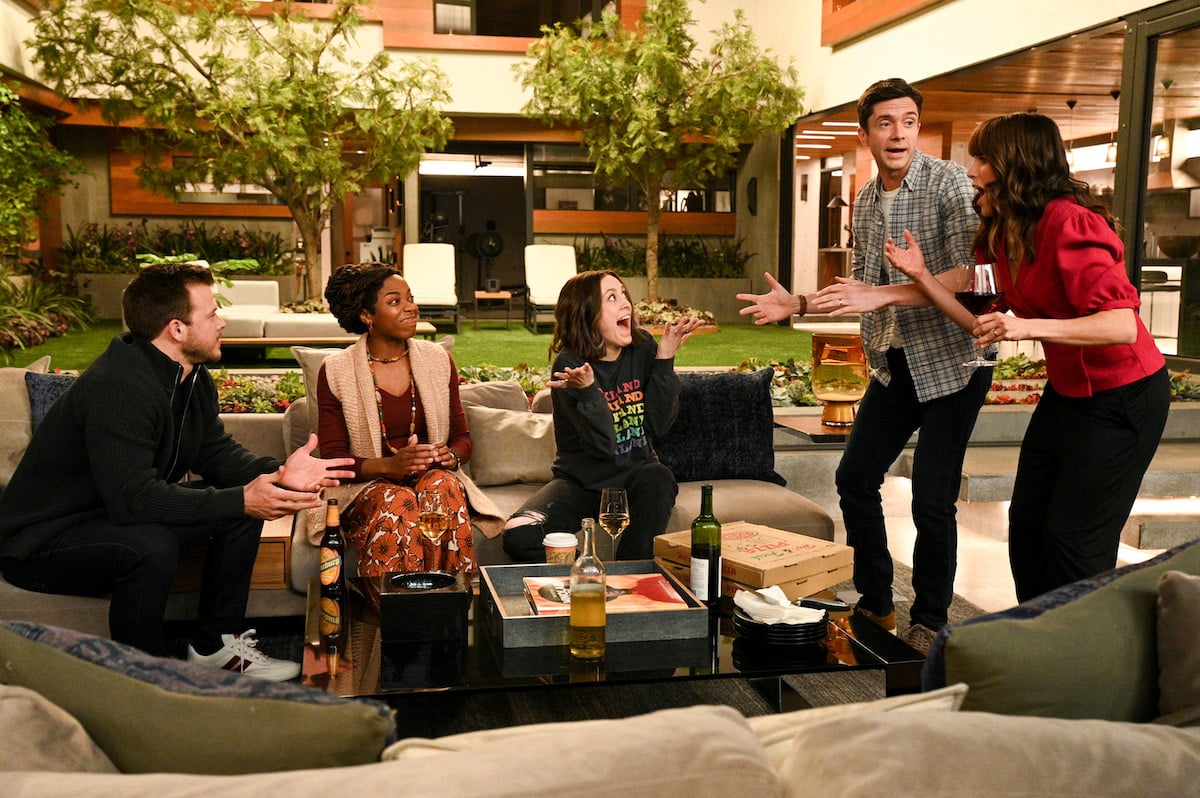 What is 'Home Economics' about?
Created by Michael Colton and John Aboud, Home Economics premiered in early 2021. It tells the ups and downs of the relationships among three adult siblings: Tom, Sarah, and Connor Hayworth.
The eldest sibling, Tom, is played by That '70s Show alum Topher Grace. Tom, a husband and father of three, is a struggling author. Tom has an uneasy relationship with his two younger siblings: Sarah, a child therapist played by Caitlin McGee, and Connor, a wealthy private equity firm exec played by Jimmy Tatro.
After Connor reveals to his siblings that his wife left him and their daughter, Tom and Sarah's families move in with Connor. He openly welcomes the opportunity to live together under one roof after realizing his brother and sister aren't exactly well off.
Each has a different relationship with money, meaning there's bound to be endless drama and some serious tension among the Hayworth siblings. But through it all, Sarah, Connor, and Tom are able to put aside their differences for family, love, and friendship.
What happened at the end of 'Home Economics' Season 2?
The Home Economics Season 2 finale, "Ticket to Space, $1 million," aired on May 18, 2022. The episode sees Tom attempting to keep Connor down to Earth (literally) after he announces his plans to travel to space following a rough breakup. Both of his siblings are vehemently against his plans. 
Meanwhile, Tom suffers a major setback in publishing his novel. But Connor secretly helps out, thanks to him owning the Dutch media firm responsible for Tom's book release. It's safe to say Connor's actions could be a big point of contention in season 3. Tom's wife, Marina, also gives a little help of her own. She creates a thoughtful writing space for her husband in the newly found attic of their home.
Sarah and her wife, Denise, experience a setback of their own when Denise finds out she's unable to get pregnant. Sarah, who was initially hesitant about the idea of having a baby, has been warming to it. And in this episode, she volunteers to carry the baby. It's a big step for Sarah and plays into the overall emotional core of the show.
The Home Economics Season 3 premiere is expected to pick up where audiences left off in season 2.
ABC announces the 'Home Economics' Season 3 premiere date
Although plot specifics remain scarce, fans can officially start getting excited for Home Economics Season 3.
Per TVLine, ABC has announced that Home Economics Season 3 premieres at 9:30 p.m. ET on Wednesday, Sept. 21, right after the TV comedy sensation Abbott Elementary and right before the newest episode of Big Sky. 
Audiences can also stream new episodes via the ABC app. Episodes are typically added the day after they air on TV. 
'Home Economics' cast: Which characters are returning for season 3
Home Economics was initially renewed for season 3 back in May. And it will presumably see most, if not all, of the cast reprising their roles.
Both Topher Grace and Caitlin McGee were quick to celebrate the happy news on social media, implying that fans are likely to see them returning to the show. Other key cast members anticipated to reprise their roles are Karla Souza as Marina, Sasheer Zamata as Denise, Shiloh Bearman as Gretchen, Jordyn Curet as Shamiah, and more.
RELATED: 'Home Economics': Topher Grace's Role Wouldn't Be the Same if He Weren't a Father Himself