'Hometown': TvN's Upcoming Thriller Takes Small Town Murder Back to 1999
Korean drama fans can look forward to a new chilling crime thriller. TvN's new television show, Hometown releases Sept.22 and pique fans' interest with its mystery murder storyline. The K-drama centers around a series of murders in 1999 with ties to a terrorist. Veteran actor Yoo Jae-Myung plays the leading role of detective Choi Hyung-In alongside Han Ye-Ri as Jo Jung-Hyun. The characters start to unravel the thread of who is behind the murder in a small rural town and how it connects to their hurtful pasts. Fans can expect a complex network of relationships and clues between the Hometown characters.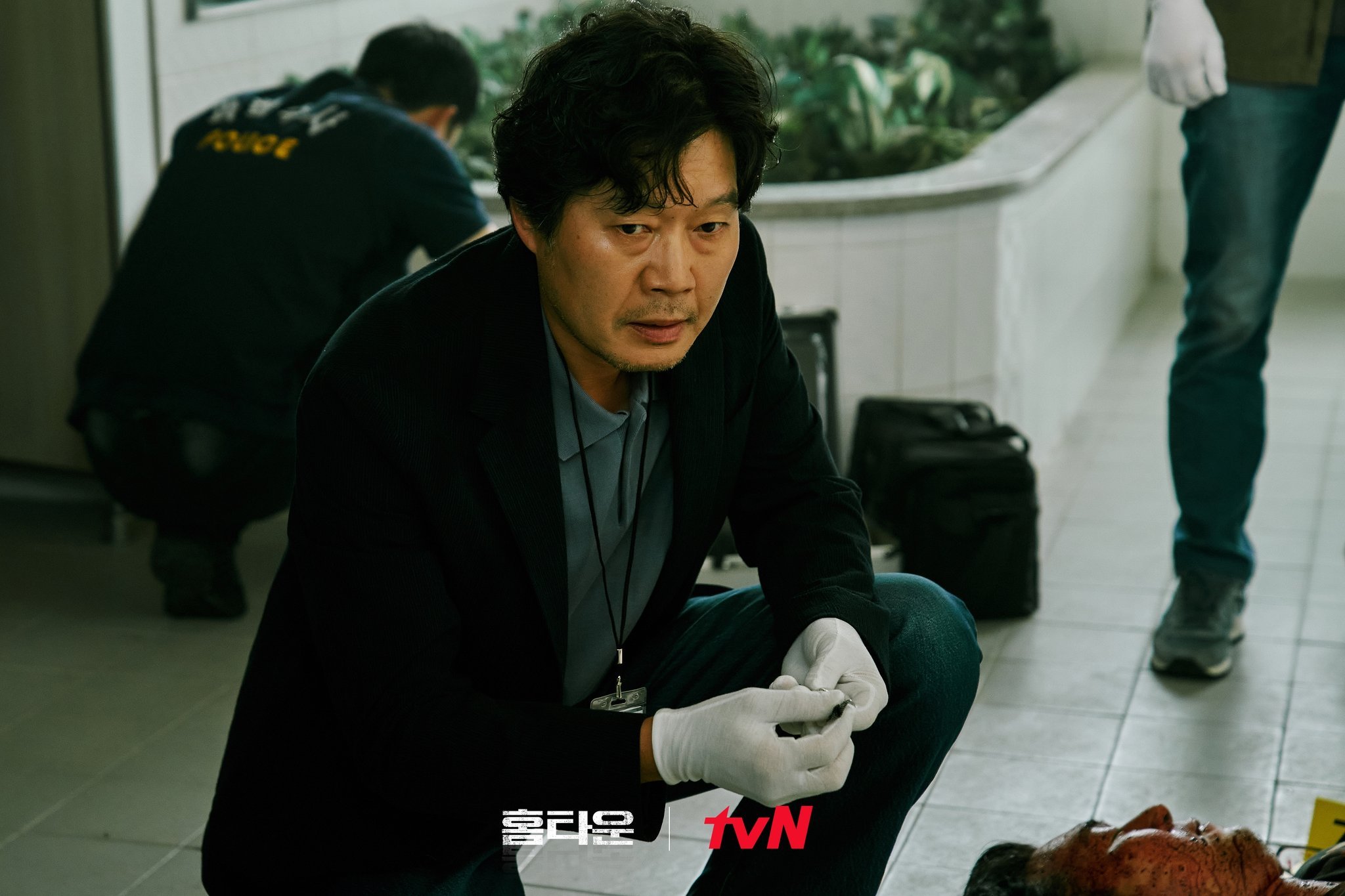 The two main characters loose their loved ones because of a terrorist in 'Hometown'
Hometown takes place in the rural town of Saju. The peaceful town becomes the target of a terrorist attack. In 1987, a gas incident at the train station caused the death of Hyung-In's wife. Years later, Hyung-In still feels guilty over what happened. Ten years later, in 1999, he starts to investigate a bizarre string of murders connected to the terrorist attack and leads him to an even more significant threat than he ever imagined. The attack had a lasting effect on another individual.
In 1987, Jung-Hyun's brother was arrested as the culprit of the attacks and sentenced to life in prison. Jung-Hyun turns her life around by devoting herself to raising her niece. Fast forward to 1999, Jung-Hyun finds herself back in turmoil when her niece is kidnapped. Jung-Hyun will go to any lengths to find her. As Hyung-In and Jung-Hyun search for the truth, they cross paths with an evil terrorist, Jo Kyung-Ho, played by Um Tae-Goo.
Director Park Hyun-Suk calls 'Hometown' a different kind of thriller K-drama
RELATED: 'My Name': Netflix Releases Debut Date for Crime K-Drama Starring Han So-Hee
Viewers can expect a lot of twists and turns with the upcoming K-drama. According to Soompi, Hometown has a complex narrative with intricate connections between the characters. TvN released a character chart for the K-drama and how each person connects to the other. Jung-Hyun is at the center with lines connecting to her brother, niece, and mother. Her niece's schoolmates are connected somehow, as the chart reveals Jung-Hun's former classmates as well.
Hyung-In is connected to his deceased wife, father-in-law, and colleagues. The chart also includes the victims of the mother-daughter murder case Hyung-In is investigating. The connections between the main characters make for a thrilling crime K-drama. The official teaser for the K-drama astounded fans for its eery and chilling horror storyline. According to Soompi, director Park Hyun-Suk does not call Hometown typical horror. "Although actual images from the drama were used in the teaser clip, 'Hometown' honestly isn't a scary horror genre. It's a drama that's of a different type of horror with chilling tension," said Park.
The tension-filled teaser shows Jung-Hyun's severe nightmares of a man in a prison uniform who transforms into a ghoulish character. The male inmate is Kyung-Ho, who looks straight at the viewers with an intense stare while flipping a rusty Zippo lighter. The K-drama's teaser poster adds to the mystery and haunting vibe of its storyline. The three main characters are barely recognizable as they stand far away on a lonely street of town. The poster is bathed in the deep black-blue hue of nighttime. Behind the characters is a window illuminated by a red light.
Actor Yoo Jae-Myung will enthrall fans as detective Choi Hyung-In
RELATED: 'The Witch's Diner' and 3 K-Dramas With Short Seasons
Yoo has a long list of accolades from movies to television and is well-known for some hit K-dramas. His most recognized work is in Reply 1988, Strong Woman Do Bong-soon, and Prison Playbook. In 2020 and 2021, he had a main role in Park Seo-Joon's Itaewon Class and the hit Netflix K-drama, Vincenzo. The actor has an incredible range that makes him so popular throughout multiple television genres.
In Hometown, Yoo brings to life the story of Hyung-In, who will stop at nothing to investigate a case and seek the truth about his wife's death. New stills of the K-drama show the character trudging through the forest in the rain to look at a crime scene. According to Soompi, the drama's production team praises the actor in his new crime-mystery role.
"Yoo Jae Myung is an actor whose very existence implies trust. Through him, the character of Choi Hyung In is more impactful and three-dimensional. Please look forward to another iconic role from Yoo Jae Myung as Choi Hyung In, a detective who hunts for the shocking truth behind his wife's death," said the production team. K-drama fans can look forward to a new spine-chilling mystery following the main characters as they unearth the dark truth.
Hometown will air on tvN on Sept.22