How 'House of Gucci' Stars Lady Gaga and Adam Driver 'Winged It' For Their Animalistic Sex Scene
House of Gucci boasts a huge cast with Lady Gaga and Adam Driver at the forefront of it. The Ridley Scott-directed crime drama has it all: fashion, marital drama, criminal dealings over wealth and power, and one intense sex scene shared between the two leads. Their chemistry is one of the primary highlights in the movie. Driver recently addressed that intimate, yet aggressive sequence with Gaga and how they "winged it."
What is the 'House of Gucci' movie about?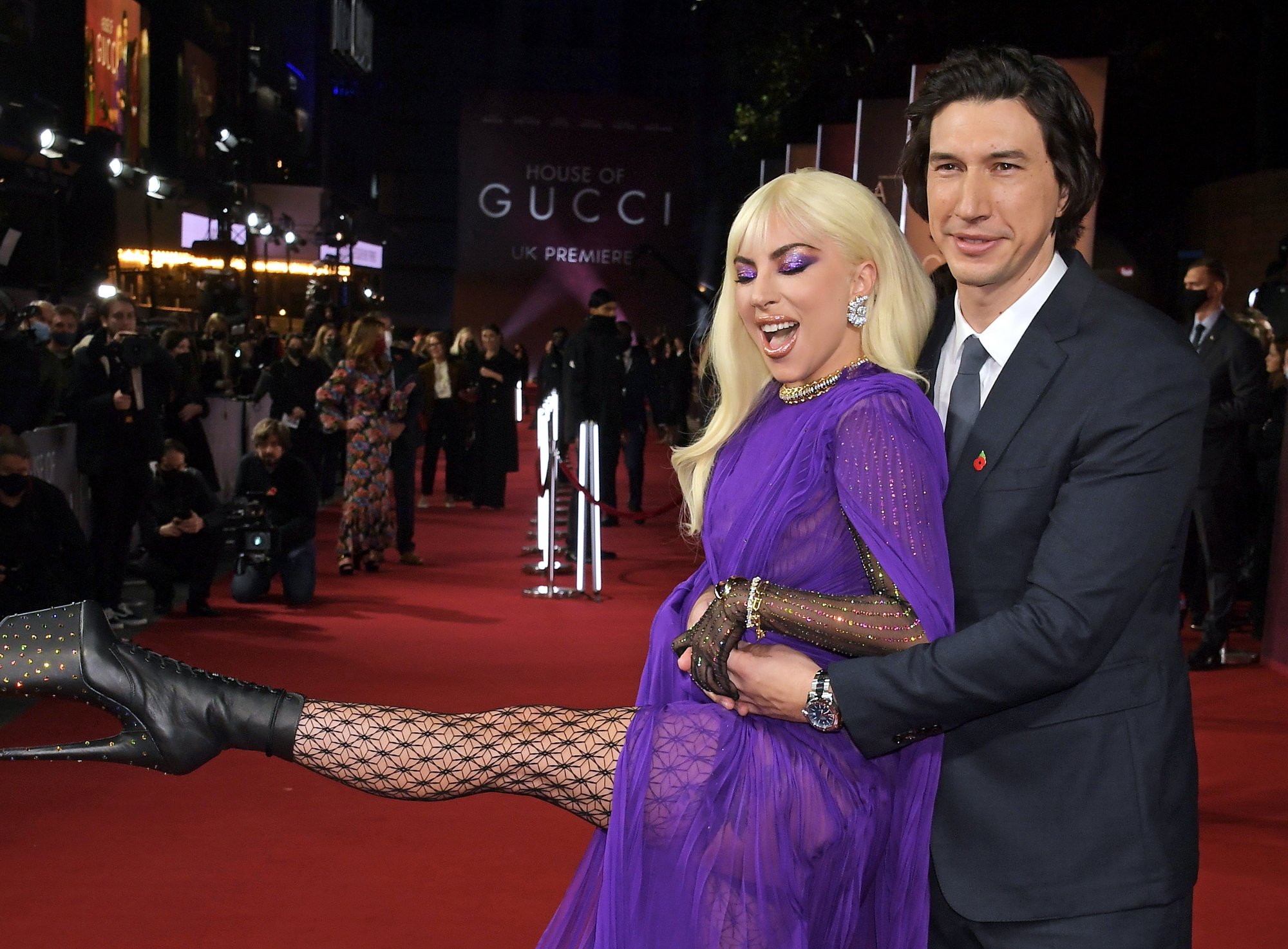 House of Gucci is based on a true story written for the screen by Becky Johnston and Roberto Bentivegna. Patrizia Reggiani (Gaga) meets Maurizio Gucci (Driver) and they quickly fall in love. She comes from humble beginnings but is thrown into a totally different world after marrying into the Gucci family. Nevertheless, their love seemingly binds them together.
Patrizia and Maurizio's love is tested when ambition creates conflict for the happy couple. Their troubles soon become an issue for the Gucci family's legacy. Greed and power ultimately corrupt all those involved in a tale about betrayal, decadence, revenge, and a murder that will change the fate of the Gucci family forever.
The rest of the cast is filled out with Jared Leto, Al Pacino, Salma Hayek, and Jeremy Irons.
Adam Driver and Lady Gaga 'winged it' in their big 'House of Gucci' sex scene
Adam Driver talked with Entertainment Weekly about House of Gucci and the connection between Patrizia and Maurizio. He first explained the purpose of the sex scene in the movie for the characters and the path that their relationship sets them on.
Driver said, "[Patrizia] very much uses sex as a tool, and I feel like it kind of physically embodies what's going on between them; he comes from this not necessarily emotionally vapid, but [his life is] not as passionate, and that's what she brought."
He added how they prepared very little for the wild sex scene. Rather, they allowed their chemistry to drive the moment, given that they have been working together for a while at this point.
"We blocked it out as we would any fight or any scene, then we just kind of ran it maybe once or twice, and that was it!," Driver said. "We were feeling it, so to speak! Everything I say sounds like a double entendre, but, we winged it!"
Driver concluded: "I will say also, at that point, we had been shooting for a month, so we felt very comfortable to go where we needed to go."
'House of Gucci' Oscar buzz
House of Gucci is getting some Oscar buzz, particularly for Janty Yates' costume design and the powerful performances. Gaga's Patrizia is getting the majority of the awards talk, although Driver and Pacino are also getting some chatter. The 2022 Academy Awards takes place on March 27, which is quickly approaching. Audiences will have to wait to hear about the movie's staying power for voting Academy members.
However, Gaga has serious competition with Kristen Stewart's knock-out performance in Spencer. Her performance as Princess Diana currently leads the Oscar buzz. However, that could change in the coming months.
House of Gucci hits theaters Nov. 24, which is just in time to join this tense family for the Thanksgiving holiday.
RELATED: 'Spencer': Here's Why It's Time for Kristen Stewart to Win an Oscar