'House of the Dragon': Who Is The Sea Snake Actor, Steve Toussaint in the 'Game of Thrones' Prequel?
Steve Toussaint is playing The Sea Snake on 'House of Dragon'. Learn more about the character and the actor who is playing the role.
A Game of Thrones prequel is finally in production. House of the Dragon has a cast ready to go, and one picture is getting a lot of feedback from fans. A photo was released of Steve Toussaint as The Sea Snake, and here are some things to know about the actor and his character.
The Sea Snake for 'House of the Dragon' was revealed
House of the Dragon takes place 300 years before the events in Game of Thrones. It will show the civil war between House Targaryen, known as the "Dance of the Dragons."
It is expected to premiere in 2022. The show's Twitter account revealed some of the photos of the cast on Twitter on May 5. Toussaint is seen standing on a rocky landscape by a large body of water. The picture is captioned with "The Sea Snake. #HouseoftheDragon."
The Sea Snake's real name is Corlys Velaryon, according to Ice and Fire. He is the head of House Velaryon and his family is an ancient one in Westeros. His family rules over a large island called Driftmark. 
House Velaryon is an ally to the Targaryens, and some members are in their inner circles. They are also of Valyrian descent, which explains the silver hair. Corlys is married to a Targaryen named Rhaenys.
Eve Best will play Rhaenys, who is a dragon rider in the books. Fans will see how the powerful married couple interacts with the rest of the Targaryens.
Steve Toussaint had many roles before The Sea Snake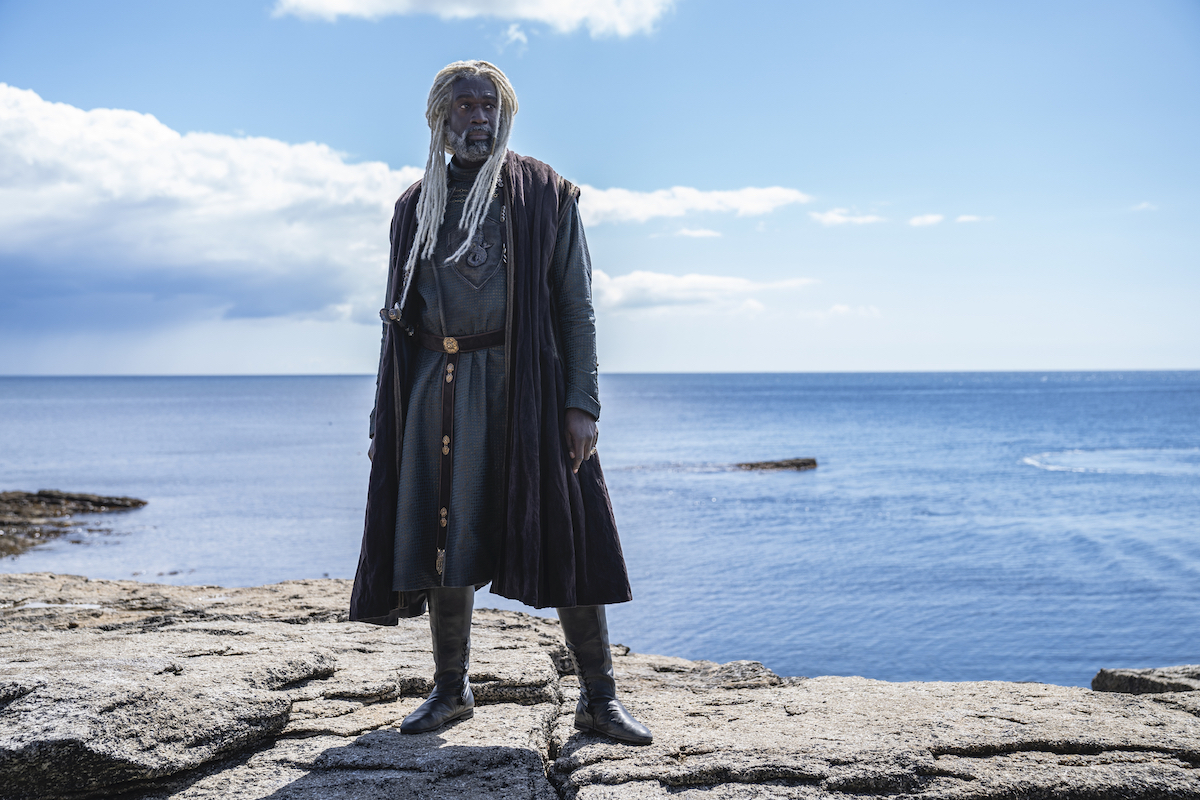 Toussaint is playing the character, who is appearing in all 10 episodes, according to IMDb. The actor is from the U.K. and has been working for a long time.
He was in big movies like Prince of Persia: The Sands of Time and Judge Dredd. Toussaint has recently been working more on television. He's played Charles Lander in In The Long Run, Adam in Deep Water, and Ethan James in Pine Gap more recently. The actor has also done some voice acting for video games like Jurassic World Evolution and World of Warcraft: Battle of Azeroth.
The actor's family comes from Barbados. He studied politics at Sussex University. Toussaint then did a play while studying, and that's how he fell into acting, according to London Theatre 1. There is still a lot more to learn about The Sea Snake and the series. Toussaint hasn't said anything about his big role yet, which isn't surprising.
It was announced on April 26 that the production of House of the Dragon started. It will be available on HBO Max in 2022.