How a Conspiracy Theory About 'The Blacklist' Star Harry Lennix Changed the Way Fans View the Show
In 2013 — the same year The Blacklist premiered — a politically-charged conspiracy theory regarding star, Harry Lennix, surfaced. Lennix plays Assistant Director of Counter-terrorism, Harold Cooper, in the NBC series. Some say the character bears a startling resemblance to a political figure. Here's the scoop.
What is the conspiracy theory about 'The Blacklist' star Harry Lennix?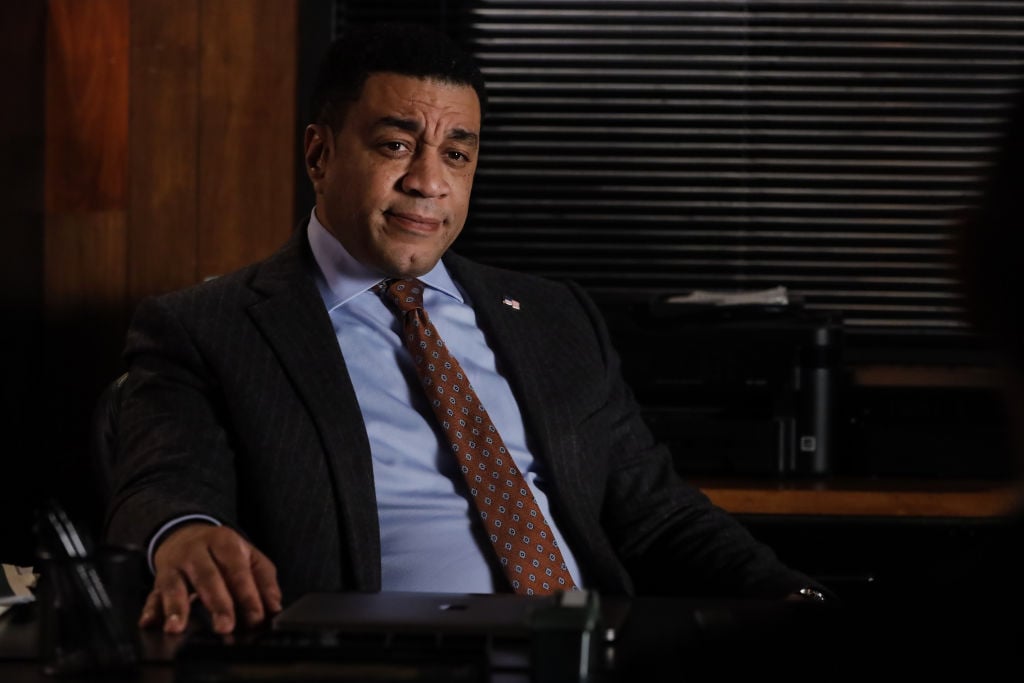 Controversy is a part of The Blacklist's plot but that doesn't mean stars of the show are expected to experience the same in their real lives. During the show's premiere season, a curious theory circulated that involved Lennix by the way he portrays his character, Harold Cooper.
It all began when Chicago radio host, Eric "Mancow" Muller — known in the industry as a "shock jock — appeared on a show hosted by another politically controversial figure, Alex Jones. In the interview, Muller claimed that Lennix had been hired to coach former president, Barack Obama, to appear more "presidential."
"He was the actor hired to teach Obama to be Harry Lennix — watch The Blacklist and you can see Obama — this is an actor that we hired in our president," Muller said.
Furthermore, Muller claimed that when Lennix saw a cardboard cutout of the former president, Lennix allegedly said, in part: "He mimicked me, he followed me for years, and they wanted me to train him."
The Blacklist star grew up in Chicago, like Obama. The actor played roles in ABC's Commander in Chief in 2005 and as Obama in HBO's 2008 TV series, Little Britain. Muller knew Obama before he became president, while Lennix became acquainted with him around 1992.
Is there any truth to the claim?
There are definitive similarities between Obama and Lennix's role in The Blacklist, but that doesn't make the theory true. Lennix denied any truth to the notion he taught Obama how to speak and move.
Though the radio host's producer claimed he heard the conversation, Lennix made his position clear.
"Those are not my words," Lennix said at an event. He explained he heard about the interview, but didn't hear the interview himself. "I knew [Obama] a long time. I have no idea what he did," he added.
However, if you search any number of Lennix's interviews, he's been outspoken with his political views against the former president.
"I don't like Barack Obama or his policies but I never said I trained him or anything of the kind," Lennix said.
Now that the story is out there, fans can't shake Lennix and Obama's similarities.
"On The Blacklist, does Obama do a good job playing agent Cooper, or does Harry Lennix do a good job playing Obama?" one person tweeted.
"Harry Lennix even sounds like Obama. Geesh. #TheBlacklist" another said.
The tweets go on and on. Some can't differentiate whether Lennix is acting or whether he'd make a great presidential figure in real life.
Politics aside, Lennix to make a 'Justice League' cameo
It's been seven years since the original conspiracy theory about Lennix circulated. Since then, he's made headlines for other reasons such as the Snyder Cut of Justice League, due out on HBO Max in 2021.
"Re: Justice League and the Snyder cut… Things don't Just happen — things happen Just," Lennix tweeted in May.
In Man of Steel and Batman v Superman, Lennix played General Swanwick (aka J'onn J'onzz — The Martian Manhunter, as revealed by director, Zack Snyder).
"Harry Lennix is pretending to be a human being but does a great job, but has this relationship with Lois that started in Man of Steel if you kind of track their relationship," Snyder said via The Wrap. "Harry understands there's a relationship between Lois and Clark, who he knows, of course, is Superman."
Whether fans flock to the TV for Lennix's Snyder Cut cameo or tune into The Blacklist when season 8 premieres (eventually), the accomplished actor would likely you remember him for anything other than that conspiracy theory.