How 'And Just Like That…' Created an Unexpected New Community Among 'Sex and the City' Fans
'And Just Like That…' – the highly anticipated new chapter of 'Sex and the City – created a new fan community that Carrie Bradshaw never say coming.
ARTICLE HIGHLIGHTS
Most Sex and the City fans had high hopes for the reboot And Just Like That…
The return of Carrie Bradshaw, Miranda Hobbes, and Charlotte York lit up social media.
But it turns out And Just Like That… actually created a very unexpected new fan community.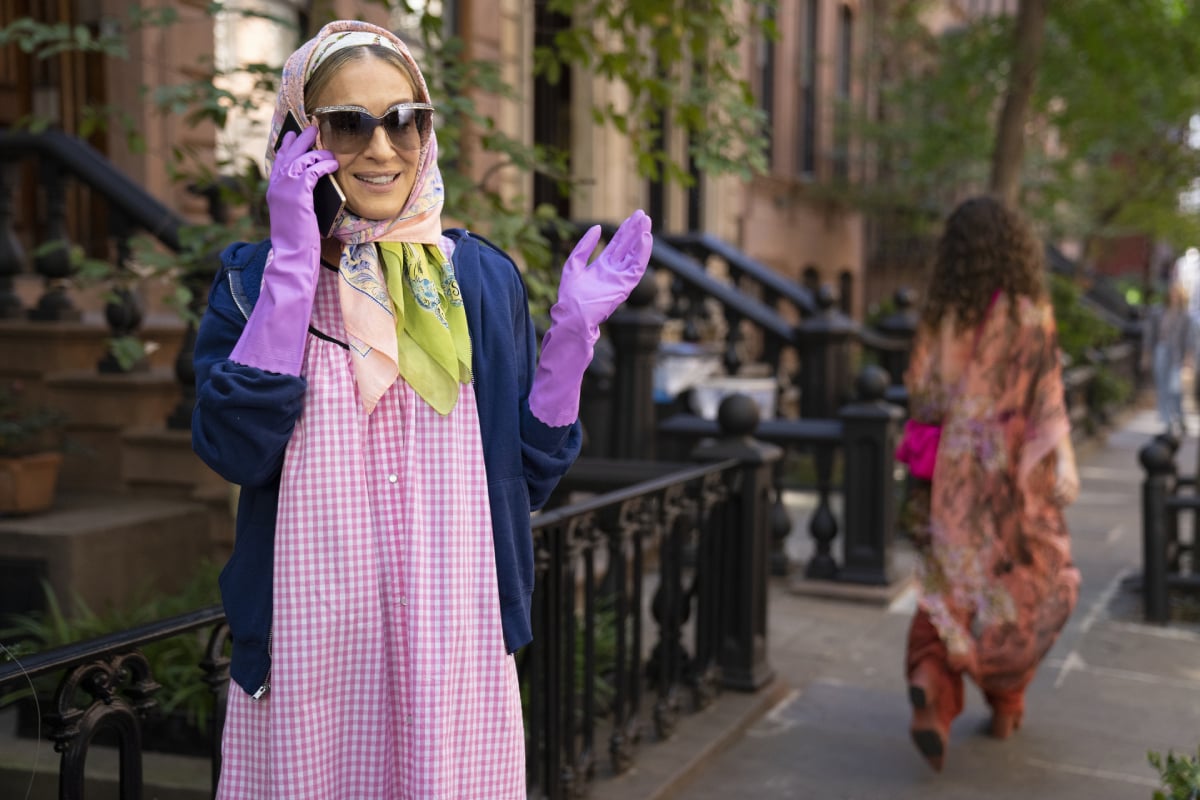 And Just Like That…— the reboot of Sex and the City — premiered on HBO Max in December. And it immediately had fans talking. The highly anticipated return of Carrie Bradshaw (Sarah Jessica Parker), Miranda Hobbes (Cynthia Nixon), and Charlotte York (Kristin Davis) lit up social media. And by episode 3, a new fan community had emerged. But what brought this diverse group together was quite unexpected.
Many 'Sex and the City' fans had high hopes for 'And Just Like That…'
Most fans couldn't wait to check in with these beloved Sex and the City characters at a new time in their lives. Despite the absence of Samantha Jones (Kim Cattrall), everyone wanted to see what was going on in Carrie, Miranda, and Charlotte's lives now that they were in their mid-50s.
But by episode 2, it was already clear to many longtime Sex and the City fans that this reboot was not what they had hoped for. In fact, many thought it was absolutely terrible.
After watching the first two episodes, Jen from the Real Housewives Recaps YouTube channel decided she had to share her disappointment — even if her take wasn't a popular one. What happened next was quite unexpected.
Some fans are not happy with the reboot
When Jen made her first video about the reboot and posted it on December 9, she told her 4,000 followers that she was obsessed with Sex and the City and was excited to see And Just Like That… However, she admitted she was disappointed after watching the premiere.
That video got 33,000 views, which was quite the uptick for her channel. But the next day — when she posted about episode 2 and added the title "And Just Like That is Awful" — the video scored 160,000 views.
"It was episode 2 that did it for me, I realized it was bad and I told my husband 'I have to tell the truth I have to say how bad this is,'" Jen told Showbiz Cheat Sheet.
'And Just Like That…' has created an unexpected new community of fans
"Then I told him people are probably going to hate me for this. And at first I did get some hate because I wrote on my thumbnail And Just Like That is Awful — Here's Why. By doing that, all these people found me and started agreeing with me. We grew from there and things took off."
As season 1 of the reboot has played out on HBO Max, the Real Housewives Recaps channel has ditched all things Bravo. Now, the channel is laser-focused on all of the disappointing details of And Just Like That….
As a result of this "lightning rod," the subscriber number has tripled to nearly 15,000. Jen's content also earned her a Twitter follow from Sex and the City creator Candace Bushnell.
Numerous YouTube channels have brought the community together
Other YouTube channels that have been hate-reviewing or satirizing And Just Like That… over the past two months have also seen their subscriber count skyrocket.
PJ Media's Megan Fox had a small channel that had nothing to do with TV shows. But when she started posting about how much she didn't like the Sex and the City reboot, her subscriber count jumped to over 5,000. And her critical reviews of the series are now getting tens of thousands of views.
Cate the Great Beauty has a ton of new fans thanks to her incredible impression of Samantha Jones. Watch With Me, Elle Bee has everyone in stitches over her hilarious takes that are a must-watch. And fans have also flocked to the Drag Dungeon Podcast.
These are just a few of the channels that have helped create the unexpected new fan community of And Just Like That… hate watchers.
'And Just Like That…' has brought everyone together
The one thing that stands out for these different YouTubers when speaking with their new fans is that this new community is extremely diverse. The disappointment with the Sex and the City spinoff crosses political, racial, gender, and cultural lines.
"My favorite part is that my fans are a mix of races, genders, orientation…you name it. They have messaged me to let me know they agree!" Jen explained.
"Through all of the nonsense and non-storylines they have provided us with, we have come together and built this fun community on Real Housewives Recaps. It's a place where we can share our mutual disdain and talk about the good ol' days of the characters before these writers wrecked the legacy." 
Sex and the City and And Just Like That… are now streaming on HBO Max.