How Being a Flexitarian Helps 'Outer Banks' Star Chase Stokes Maintain His John B. Physique
Flexitarian Chase Stokes talks about his mostly-plant-based diet and how it helps him become John B. on 'Outer Banks.'
Chase Stokes has become a household name, thanks to the Netflix series Outer Banks. For Stokes, part of playing John B. is eating right and taking care of himself.
Stokes spoke with Showbiz Cheat Sheet about his flexitarian diet, the plant-based food he's been eating, and the possibility of him ever competing on Food Network's Chopped.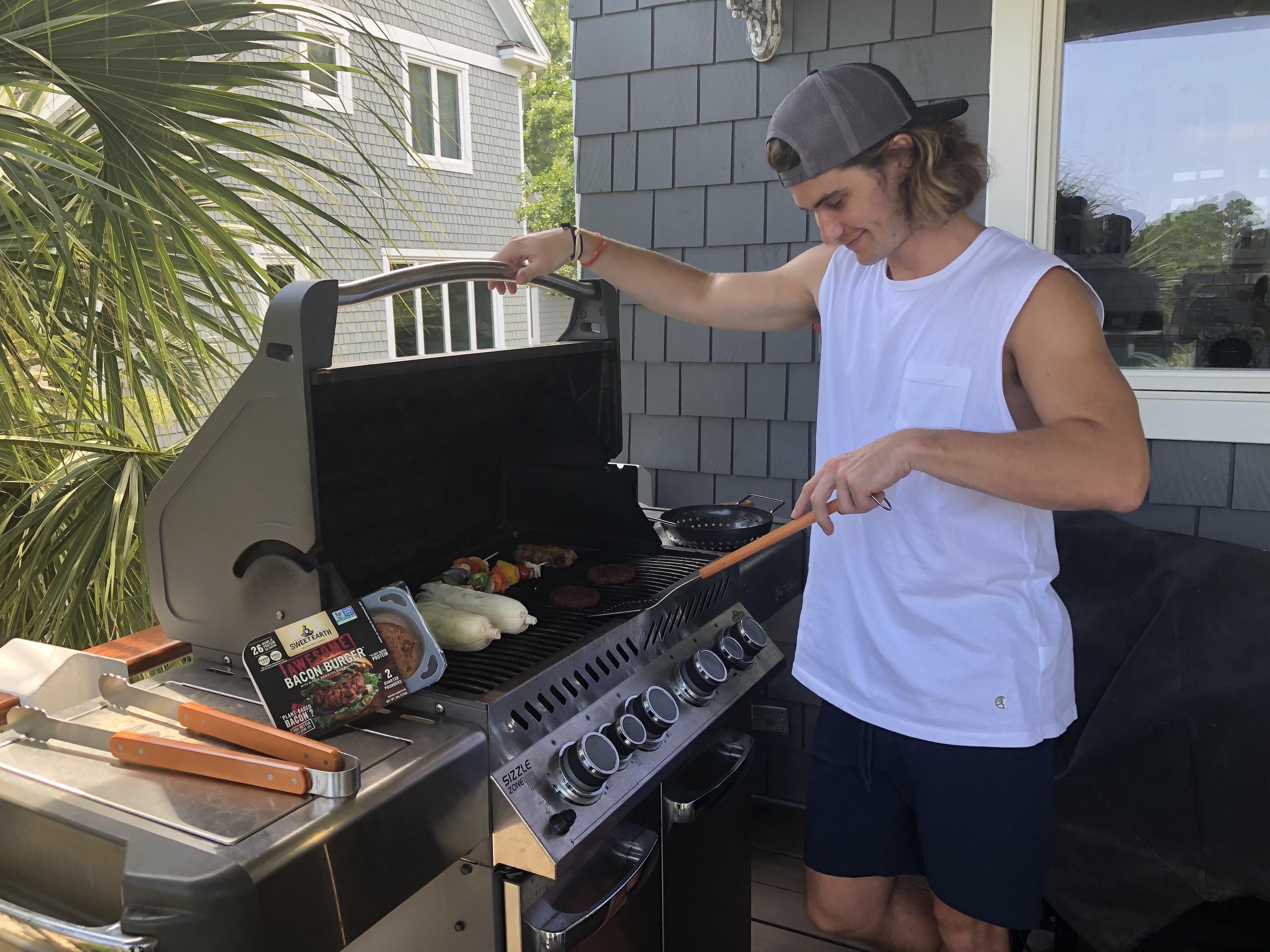 Chase Stokes is a flexitarian
As a self-proclaimed flexitarian, Stokes eats everything from steak to vegan options. A lot of his diet consists of protein. That's so he can maintain his John B. physique. "John B. runs a lot, so Chase has to run a lot," he explained in an Instagram Live.
In looking for a brand that aligns with his values and how he treats his body, Stokes discovered Sweet Earth Foods. The company offers plant-based alternatives to meat that are high in protein and, as Stokes will tell you, delicious.
As someone who is constantly on-the-go, Stokes, appreciates Sweet Earth's plant-based alternatives because they're accessible, high-quality, and enjoyable to eat.
There's one food Chase Stokes won't eat
Stokes considers himself a pretty adventurous eater. Most of the time, he's willing to try anything. But there's one food Stokes simply can't stand.
He will not eat pickles!
He mentioned it during his Instagram Live, and it came up during our conversation, too.
"It's been since I was a little kid," Stokes said. "I don't know how to describe it. I just have this weird hatred for the little green thing that you put on cheeseburgers." Note to self: convince Stokes pickles are life.
For fans considering becoming a flexitarian, Stokes says 'jump in'
If any Outer Banks fans are considering trying flexitarianism, Stokes has some advice. "You gotta kind of jump in the water because it's warm over here," Stokes says. "It's a fun kind of adventure to go on, especially with food."
During the Instagram Live he and Cline hosted, they demonstrated the many ways fans can explore plant-based foods. Stokes explained how easy it was to incorporate more plant-based foods into any diet, thanks to the variety of options. From burgers to sausages and even chicken, consuming more plant-based foods is all about making conscious choices.
Chase Stokes wants to do a cooking show
Given how passionate Stokes is about his partnership with Sweet Earth, I asked about the possibility of him doing a food-related show. He seemed excited about the prospect.
Follow Lauren Anderson on Twitter & Instagram.
"It's funny you say that. I have wanted to do something [food related], and we're kind of exploring it. It could be something in the future that we dive into." 
Stokes won't be working on anything until the coronavirus (COVID-19) pandemic is under control. With the entertainment industry at a complete standstill, Stokes is doing what he can to keep himself and his colleagues safe. 
"We're trying to be respectful and responsible," he told me. "If I get sick, then it puts the entire possibility of us going back to work — and that's hundreds of people on the Outer Banks cast —  at risk." 
Stokes is also working on One of Us Is Lying, a Peacock series based on Karen M. McManus' bestselling novel of the same name. "I'm just trying to be responsible and stay somewhat isolated with select people so that when the time comes and I know that I'm not putting anybody in harm's way, I can go back to work and do some fun stuff." 
The future looks bright for Stokes. When asked about upcoming projects outside of Outer Banks, he couldn't say too much — only that he has a few things in the works that fans are going to be excited about. 
Stay tuned to Showbiz Cheat Sheet for more updates on Chase Stokes.