How Carrie Underwood's 'American Idol' Fame Almost Never Happened
Today, Carrie Underwood is a superstar who is famously the richest American Idol winner with a net worth of $85 million. Known primarily for her singing talents, Underwood has used her fame to branch out into other areas and added an athletic clothing line, nail polish, and acting to her accomplishments.
What some fans may not know, though, is that her fame almost never happened at all. Underwood was nervous to appear on American Idol and almost decided not to audition. Luckily for her, she had some encouragement at just the right time.
Find out how she overcame her jitters and took the step to audition for the show that launched her into stardom.
Carrie Underwood's humble upbringing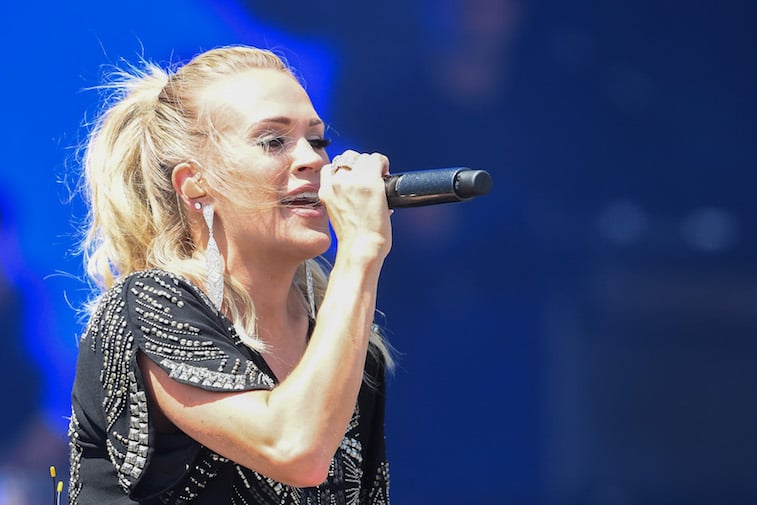 Before she was catapulted into country music superstar status, Underwood had a simple, humble upbringing. She was born in rural Oklahoma and raised on a farm. Later, she stayed close to home and went to college at Northeastern State University in Tahlequah, Oklahoma.
There, even though she had dreamed of being a singer, she majored in broadcast journalism.
While it looked like Underwood was on track to have a simple life under the radar of fame and fortune, a seemingly small decision made for some big changes.
In her senior year of college, she decided to audition for Season 4 of American Idol and give her long-time dream of being a singer a chance. However, she was not fully confident about the audition. Underwood felt like she was "dreaming too big" and almost backed out.
Her mom encouraged her to follow her dream
When Underwood considered backing out of the audition, her mom was the voice of reason who pushed her to give it a chance. She told her, "I will drive you. Let's go. Why not?"
These simple words of encouragement turned out to be one of the biggest forces in Underwood's life, and she did make it to the stage.
Her audition was full of nervous energy and she giggled uncomfortably as she answered a revealing question from judge Simon Cowell about having her third nipple removed.
Once she started singing, though, all conversation shifted to her musical influences and her impressive voice. She secured her spot on the Season 4 lineup with a rendition of Bonnie Raitt's "I Can't Make You Love Me."
She would go on to win the entire contest that season even though she was up against some tough competition with fellow contestants like Nadia Turner and runner-up Bo Bice. She went on to release a bestselling album titled Some Hearts and become the youngest member to get inducted into the Grand Ole Opry.
Since then, she has consistently released new work. Her sixth studio album, Cry Pretty, was released in September of 2018 and debuted at the top of the Billboard Country charts. She continues to wow fans with her live performances and award-winning album releases.
Underwood continues to be an inspiration
Underwood's story of believing in herself and being brave enough to audition for American Idol inspired a lot of young fans, and the superstar continues to be an inspiration today. She opened up and publicly voiced her pain and struggles with infertility, including revealing that she had suffered from three miscarriages in under two years.
She also gives advice to parents to live in the moment and enjoy the experiences around them because they never know what the future will bring.
Today, fans are charmed by Underwood's likability and passionate energy, and it's amazing to think that it all might never have happened without her mother giving her those simple encouraging words of "why not?"