How 'Outer Banks' Star Chase Stokes Deals With Heartache, Thanks to Cody Simpson
On the Netflix series Outer Banks, Chase Stokes plays John B, a heartthrob with a penchant for romance. Before falling in love with Sarah Cameron (Madelyn Cline), John B grapples with feelings for his fellow Pogue, Kiara (Madison Bailey). 
In reality, Stokes is no stranger to love. Though he's currently single, Stokes has a unique way of coping with his past heartaches, thanks to musician Cody Simpson.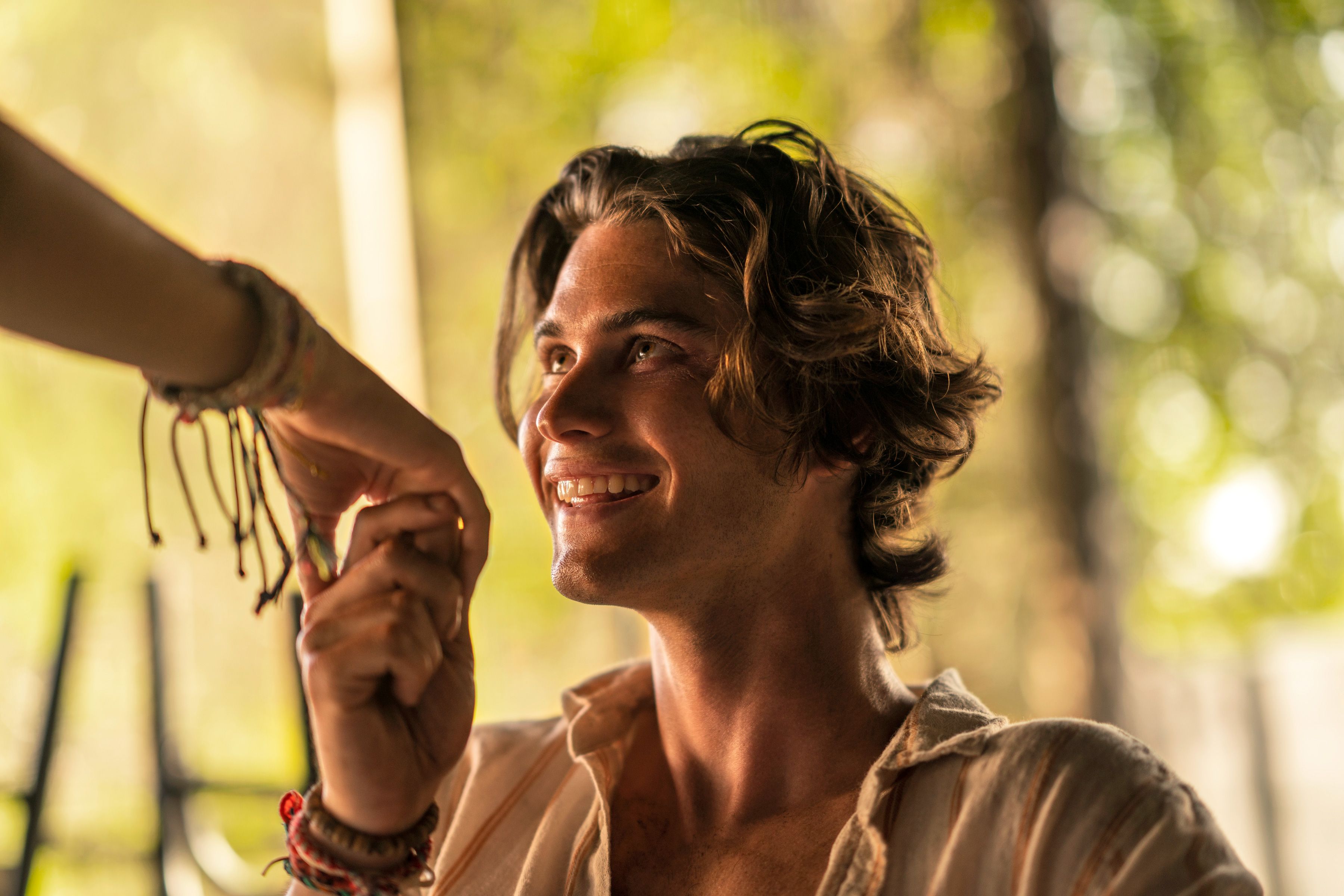 Chase Stokes was in a relationship with Xiomara Montalvo
Throughout his high school career, Stokes dated Xiomara Montalvo. According to Elite Daily, Montalvo moved to California with Stokes to persue a career in modeling. Eventually, the two went their separate ways. Stokes remains single, while Montalvo seems to be in a relationship with a tattoo artist named Diego Jiménez. According to Montalvo's Facebook page, the couple started dating in April 2020.
Fans think Madelyn Cline and Chase Stokes would make a cute couple
Though they only share a romance on-screen, Stokes had many fans convinced he and Cline were an item in real life. When Cline posted photos from her shoot for 1883 Magazine, fans thought they saw a relationship blossoming. "Heart rate… decreasing.. help," Stokes wrote, sending fans reeling. Realizing his mistake, Stokes replied: "Man, I really stirred the pot here, didn't I?"
RELATED: Here's What Got 'Outer Banks' Stars Chase Stokes and Madelyn Cline Through Quarantine
Between his Instagram comment and choosing to quarantine with Cline, fans aren't convinced that Stokes and cline are still single. Regardless, there's no substantial evidence that proves Cline and Stokes are currently together. 
Cody Simpson inspired Chase Stokes to write poetry
During quarantine, Stokes is keeping himself busy by writing poetry and sharing it with his fans. "I'll try my best to post some more," he captioned one poem, adding: "Still in the process of writing some more. Here's one that is incredibly personal probably to all of us dealing with some form of mental health. We aren't fine, and it's okay to feel whatever we are feeling. Don't feel the need to hide your emotions. Let's keep being present with each other. It's okay to not be fine."
RELATED: 'Outer Banks': Showrunner Jonas Pate Reveals What to Expect in Season 2
In an interview with New York Magazine, Stokes explained where his fondness for poetry came from. "[Cody Simpson] reached out and was like, 'Hey man, I'm a big fan of [Outer Banks],'" Stokes explained. He befriended Simpson after taking his sister to a Justin Bieber concert when he was living in Orlando.
"I went through a breakup a little bit before quarantine, and it was with somebody I'd been with for almost 10 years," Stokes continued. "I've been writing about it, drawing inspiration from the isolation of quarantine — there's a similar kind of heartbreak involved. So for me as a young poet who's finding my footing, Cody's an inspiration." 
RELATED: 'Outer Banks': How J.J.'s Relationship With His Dad Might Change in Season 2
According to Instagram, Stokes is passionate about his poetry and working on a book. Fans are excited to get their hands on a copy of Stokes' poems, whenever that may be.