How Did Besties Ian McKellen and Patrick Stewart Meet?
They are two of the most respected actors in the world, and both have appeared in some of the biggest film franchises of all time. Ian McKellen and Patrick Stewart are both highly-decorated thespians, classically trained and considered to be acting royalty.
Both McKellen and Stewart have continued working into their later years, at a time when many actors begin to consider retirement. They are also best friends, and one of the best-known "celebrity BFF" pairings in Hollywood.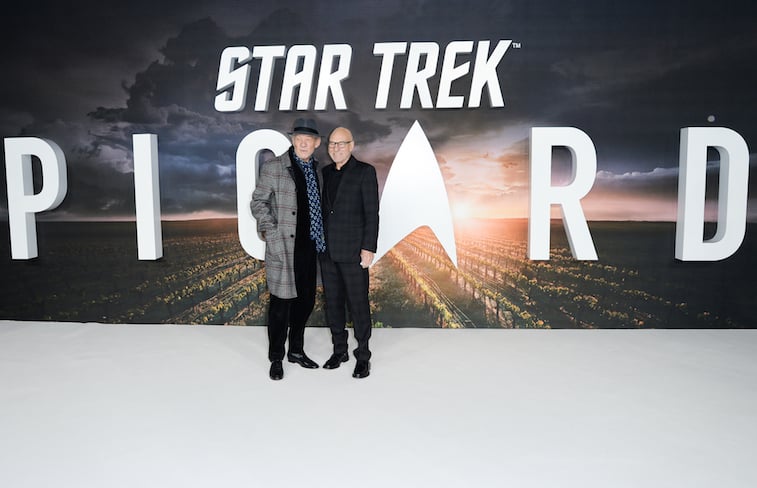 What is Ian McKellen best known for?
Born in 1939, Ian McKellen developed an early fascination for Shakespearean drama when his sister took him to a series of stage performances. Eager to learn as much as he could about classic literature, McKellen studied English literature at St. Catharine's College, Cambridge.
All throughout the sixties, McKellen developed his talent by acting on stage, in plays such as A Man for All Seasons, A Scent of Flowers, and Macbeth. Although he ended up achieving fame in motion pictures, McKellen has never forgotten his love of performing on stage and still does on occasion.
Throughout the eighties and nineties, McKellen appeared in a wide variety of films, including Last Action Hero, Priest of Love, and Richard III. However, he achieved his greatest film success when he was cast as Gandalf in the epic movie series The Lord of the Rings.
He reprised the role of the wizard Gandalf in the three-part The Hobbit movie series from 2012 – 2014. Another major film franchise that McKellen has worked in is the X-Men series – and in the role of supervillain Magneto, McKellen earned acclaim and recognition from a whole new segment of fans.
How did Patrick Stewart become famous?
Patrick Stewart was born in 1940 and raised in England by working-class parents. Like McKellen, Stewart fell in love with the works of William Shakespeare at an early age, and they ultimately propelled him into the study of acting.
As a teenager, Stewart began acting in local theatre companies and in 1966, he became a member of the Royal Shakespeare Company. Throughout the remainder of the sixties and seventies, Stewart acted in a wide variety of stage shows and appeared in many television shows as well. Still, he didn't become a household name until the eighties.
In 1987, Stewart was cast in the role of Captain Jean-Luc Picard in the now-iconic television show Star Trek: The Next Generation. He quickly became one of the most popular characters on the show and a franchise icon. Stewart's gravitas made the show believable and he has become closely entwined with the mythology of the Star Trek universe.
Similar to his friend Ian McKellen, Stewart is one of the featured players in the X-Men universe, and his work as Professor Charles Xavier is his other major pop culture figure.
When did Ian McKellen and Patrick Stewart meet?
It is clear that Ian McKellen and Patrick Stewart have a lot in common. They go way back – all the way back to Stewart's days with the Royal Shakespeare Company in Stratford Upon Avon.
As Stewart revealed in a 2017 interview, he was immediately impressed with McKellen: "I had seen all of his early work at the National Theatre, and admired what I saw so much. His technique was immaculate, his presentation, his speaking, his control was beautiful, and speaking of beautiful he was drop dead gorgeous."
Stewart and McKellen worked together in a play during their time together at the Royal Shakespeare Company. It would be years before they worked together again when 1999's X-Men brought them together again as co-stars. Stewart remembered the filming of that movie fondly, stating:
"We had so much in common. We are both northerners. Although he is a Lancastrian and I'm a Yorkist. We had the same kind of upbringings. We had the same passion for Shakespeare, and for the cinema and for the theatre. The only difference was that he had a brilliant education and I had none."
These days, the two remain firm friends and support each other through thick and thin.