How Did Bruce Willis Propose To Demi Moore?
Bruce Willis and Demi Moore had a whirlwind romance that began in the 1980s. The actors went on to have three daughters together during their marriage- Rumer, Scout, and Tallulah. Moore and Willis decided to divorce in 2000 after 12 years of marriage. 
Before their romance dissolved, Willis and Moore decided to get engaged four months after they met. Moore detailed how Willis proposed to her in her 2019 memoir, Inside Out per Daily Mail. 
Bruce Willis met Demi Moore after she ended her engagement to Emilio Estevez
Moore used Inside Out to discuss the relationships she acquired as a young Hollywood actor. In her memoir, Moore recalled her romance with actor Emilio Estevez. The couple met in 1985 while filming St. Elmo's Fire. Six months later, they got engaged. Although Moore said Estevez was "sweet" and "attentive," the pair never made it down the aisle. Moore ended her engagement with Estevez after discovering he cheated on her and allegedly got his ex-girlfriend pregnant.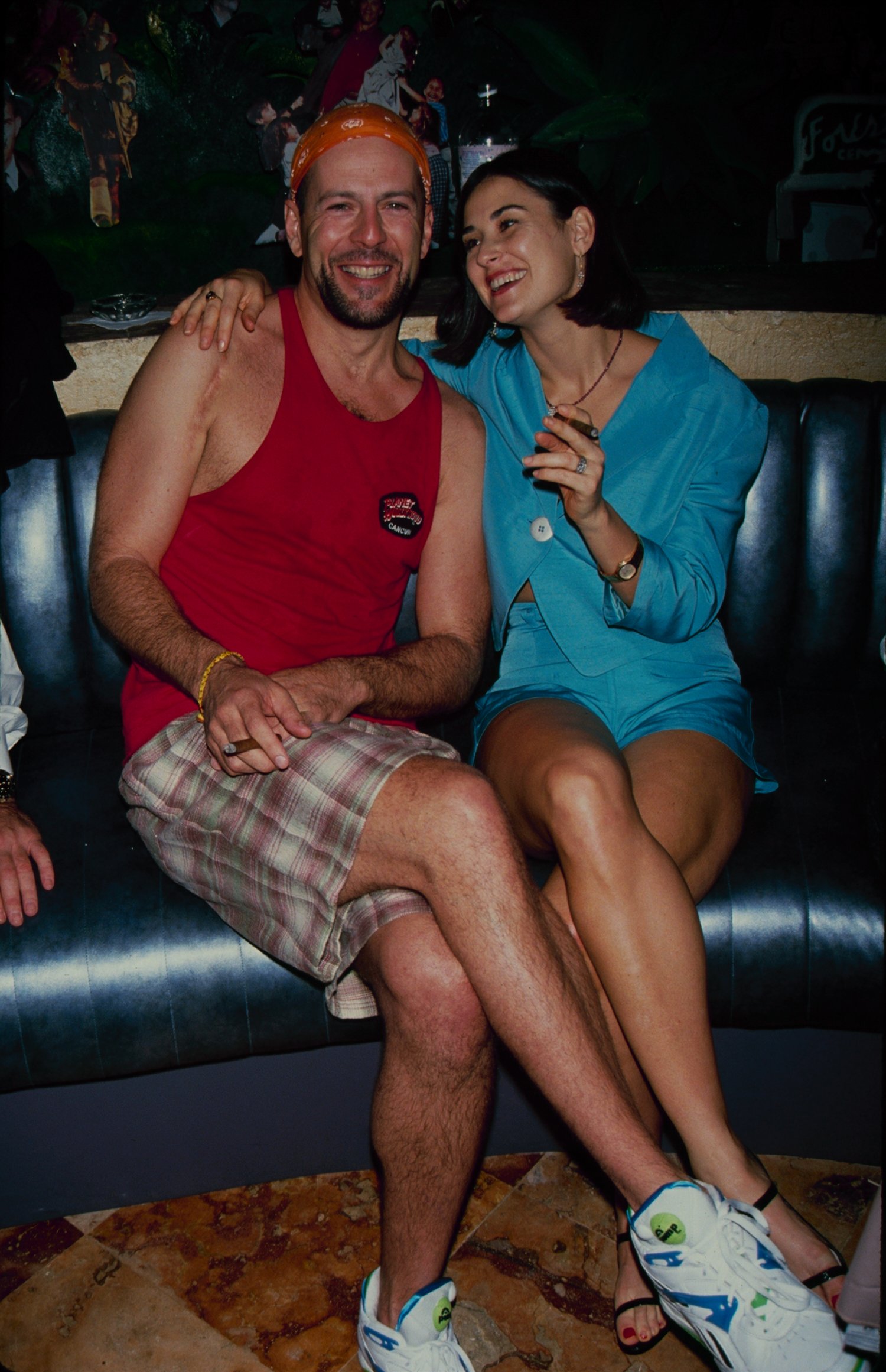 RELATED: Demi Moore Says She 'Changed' Herself During Her Marriages To Bruce Willis & Ashton Kutcher
Although they didn't last, Moore and Estevez remained close friends. They accompanied several events together as each other's dates, like a premiere for Stakeout in 1987. Moore said Estevez pointed out to her that she caught Willis' attention. In her book, Moore recalled Estevez telling her Willis looked at her like "a cheap suit in the rain," which was unexpected for her. 
"I'd never encountered treatment like this before," she admitted in her Moore wrote. "Bruce was so gallant- in his own boisterous way, a real gentleman. When I said it was time for me to go home, he offered to walk me to my car. He was so eager about it- Like a little boy who didn't want to miss the ice-cream truck. When he asked for my number, I felt a wave of schoolgirl flutters."
Bruce Willis proposed marriage to Demi Moore during a vacation to Las Vegas
Four months after their first meeting, Willis and Moore's relationship escalated quickly. The pair became inseparable, and Moore described their romance as a "whirlwind, truncated infatuation" in her book.
RELATED: Demi Moore Says Bringing in a 'Third Party' Into Her & Ashton Kutcher's Marriage Was His Way of Asking for a Divorce
Their love for each other soon blossomed into a proposal and marriage. While they attended the Golden Nugget hotel in Las Vegas, Moore wrote that Willis looked at her during their stay and suggested they get married. 
"We were moving to the gambling tables when Bruce said, 'I think we should get married,"' Moore said. "We'd been joking about it on the flight there, but suddenly it didn't seem like he was kidding."
Willis and Moore got married the same day with only a handful of people in the audience. They had an official wedding one month later at Warner Bros. studio. During the wedding, Little Richard, an ordained minister, married the couple.
Demi Moore said she and Bruce Willis 'didn't really know each other' after they got married
After they got married, Moore and Willis started to grow their family. Moore became pregnant with Rumer just nine months after the couple's Vegas wedding. Throughout their marriage, Moore gave birth to Scout and Tallulah while managing her career. Moore said the fast pace of her marriage to Willis ultimately affected them both. 

RELATED: Bruce Willis Was on a Date With Another Woman When He First Approached Demi Moore
"We had a whirlwind, truncated infatuation that morphed into a full-on family, all in our very first year," Moore recalls in her memoir. "When reality set in, I don't know if we really knew each other."