How Did Keanu Reeves and Girlfriend Alexandra Grant Meet?
Everyone's favorite actor, Keanu Reeves, is back in the headlines again, and for the very best of reasons. The kind, ultra-private Reeves recently stepped out to an event with a lady friend on his arm — a stunning artist who rocks silvery hair.
While fans were blown away by the fact that Reeves had apparently found love in his life again, everyone scrambled to uncover everything that they could about his new girlfriend, Alexandra Grant.
Keep reading to learn all about Grant, when she and Reeves met, and what drew them together romantically.
Keanu Reeves keeps his personal life very private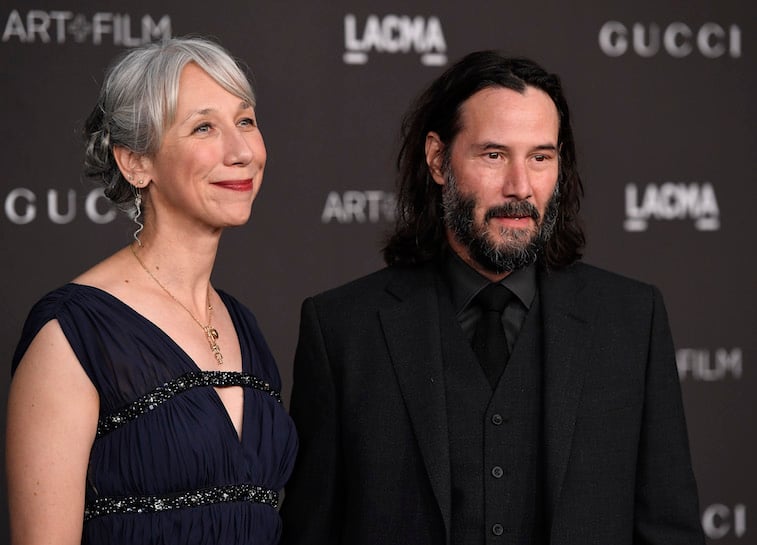 Many actors like to talk about their private lives in a way to garner extra publicity. However, Reeves has never followed that philosophy, preferring to stay under the radar, especially when it comes to romance.
There is not a lot known about Reeves' dating life, however, many of his fans know that he suffered a major tragedy in the late nineties. Reeves' girlfriend, Jennifer Syme, suffered a stillbirth and lost their daughter at eight months pregnant.
Not long after the death of their child, Syme was killed in a car wreck. As a result, Reeves decided that he would probably never experience love again.
He was linked to actress Claire Forlani in the early 2000s, but Reeves never confirmed their relationship and at one point, even said that they were just "good friends."
When Reeves experienced his recent career resurgence, many fans assumed that the beloved actor was dead set on being alone. 
When did Keanu Reeves meet Alexandra Grant?
When Reeves stepped out with a Los Angeles-based artist named Alexandra Grant in early November, fans were stunned. However, as it turns out, Reeves and Grant have actually known each other for some time.
The two first met around 2011 when they collaborated on a book called Ode to Happiness. Reeves was actually spotted with Grant several times after that initial collaboration, including for an intimate Thanksgiving dinner date in 2013.
Reeves and Grant would go on to collaborate on a second book in 2016 and then co-found their very own publishing company in 2017.
It's clear that they have gotten along professionally for years, and formed a thriving friendship, but recently, they took things to the next level and became romantic. 
When did Keanu Reeves and Alexandra Grant start dating?
While some sources claim that Reeves and Grant first became romantic as early as 2017, others claim that it wasn't until earlier this year that the two first started dating.
Neither Reeves or Grant have opened up about how their romance first started, but it's clear that they are very happy. After all, Reeves has made it a point not to take girlfriends on the red carpet with him, so this marks a huge turning point for the actor.
What does Alexandra Grant do?
Alexandra Grant is a very accomplished woman, as befits a talented actor such as Reeves. She has a love of the arts as well as history and owns her own art studio in Los Angeles. Grant speaks several languages and is politically active, sharing her support for Hillary Clinton on her social media pages around the time of the 2016 election.
It's certain that Reeves' fans approve of his new girlfriend. They took to social media shortly after the two were seen holding hands, praising how age-appropriate the pair is (Reeves is 55 and Grant is 46) and how unique and charming Grant seems.
Everyone is thrilled that Reeves has found happiness again, after some very difficult times in his life.