How Did Kendrick Lamar Get His Name?
When Quincy Jones regards you among his favorite contemporary artists, that's saying a lot. Such is the case for rapper Kendrick Lamar, who made Jones' list among artists such as Bruno Mars, Drake, Ludacris, Common, Jennifer Hudson, and Mary J. Blige. And Jones knows music.
But the public is also a huge fan, and Lamar is often suggested as a rapper to listen to if you aren't much of a rap fan. But Lamar has made history in his own right, and his roots go back to his childhood.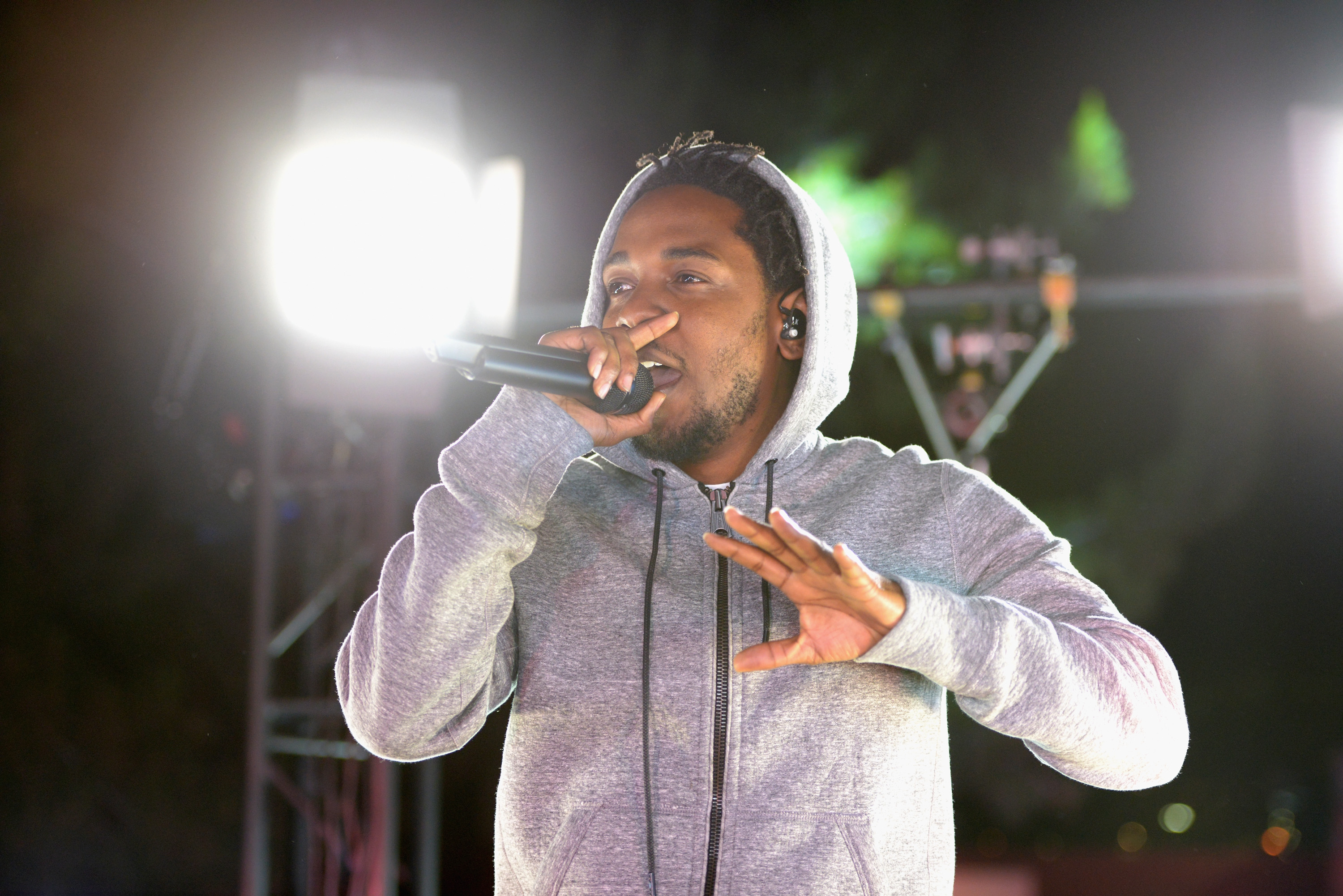 Who is Kendrick Lamar?
Lamar is a hip-hop artist with a wide range of influence. He was born in Compton, California 33 years ago. By age 8, he was freestyling. By age 16, he was serious about music and was rapping under the name K. Dot.
The pseudonym wouldn't last long, though, and after a few early E.P.s, he went back to his real name. Even then, he impressed those he worked with through the grown-up nature of his approach to music and the maturity of his lyrics.
He does have a softer side, though, and credits the fact that he came from a two-parent home for that. They were tough on him, with his mom pushing him to dream and his dad pushing him to be his best. Life wasn't always easy, and the streets didn't make it any easier. But this is where he would draw his inspiration from and why his music resonates with so many who listen to it. 
LeBron James, Toni Morrison, and peers like Eminem speak highly of him, to name a few, and not just about his music, but his character as well. Just read the Vanity Fair article featuring Lamar from 2018, and you'll see numerous famous people singing his praises. 
Kendrick Lamar understands and employs blues, jazz, and soul in his music, which makes it startling. His work is more than merely brilliant; it is magic. -TONI MORRISON for Vanity Fair
Kendrick Lamar's musical influences
Life in Compton wasn't the only place he drew inspiration from. Some of his earliest musical influences include his namesake, Eddie Kendricks of The Temptations. He also enjoyed listening to Curtis Mayfield, Marvin Gaye, Michael Jackson, and gangsta rap. He's drawn inspiration from Prince, Eminem, and other artists who are either lyrical geniuses or hip-hop legends. 
Of course, now, he's the one who's inspiring other artists and fans alike. Lamar has accomplished far more than he imagined since he signed with Dr. Dre's label in 2012. But he's also isn't done and knows he has more in him.
The accomplishments of Kendrick Lamar
Lamar has brought light to life in Compton with topics covering gun violence, drugs, assault, incarceration, police brutality, and more. His most recent solo album, Damn, is the first album in rap history to see every song hit platinum. This led to perhaps one of his most notable accomplishments: becoming the first non-jazz or classical artist to win the Pulitzer Prize.
Even before this significant life achievement, he was hitting records. One of his other albums stands as the longest-charting rap album in Billboard's history.
Another is still the highest-rated rap album, according to Metacritic. Making a top-ten best hits list of his songs proved to be difficult, with so many hits to choose from. He's won several Grammys, collaborated with artists across all genres, has numerous sponsorship deals, and is worth an estimated $18 million. 
What's next?
The Ringer calls him the most important rapper of his generation. That's a lot to live up to, even with all he's accomplished so far. Whether the long-rumored collaboration with J. Cole becomes a reality or not, Lamar surely has more in store for the world. Like he told Vanity Fair, getting complacent isn't on his agenda, and hearing good news only motivates him more.