How Did Ryan Reynolds' Bromance With Hugh Jackman Begin?
Ryan Reynolds and Hugh Jackman have several things in common — both are major action stars, both have high-profile marriages, and both are beloved by millions of fans all over the world. Both Jackman and Reynolds also have a sarcastic sense of humor and the ability to laugh at themselves, a quality that seems very rare in Hollywood. Finally, the two movie stars have been friends for many years, sharing a bromance that fans just can't get enough of.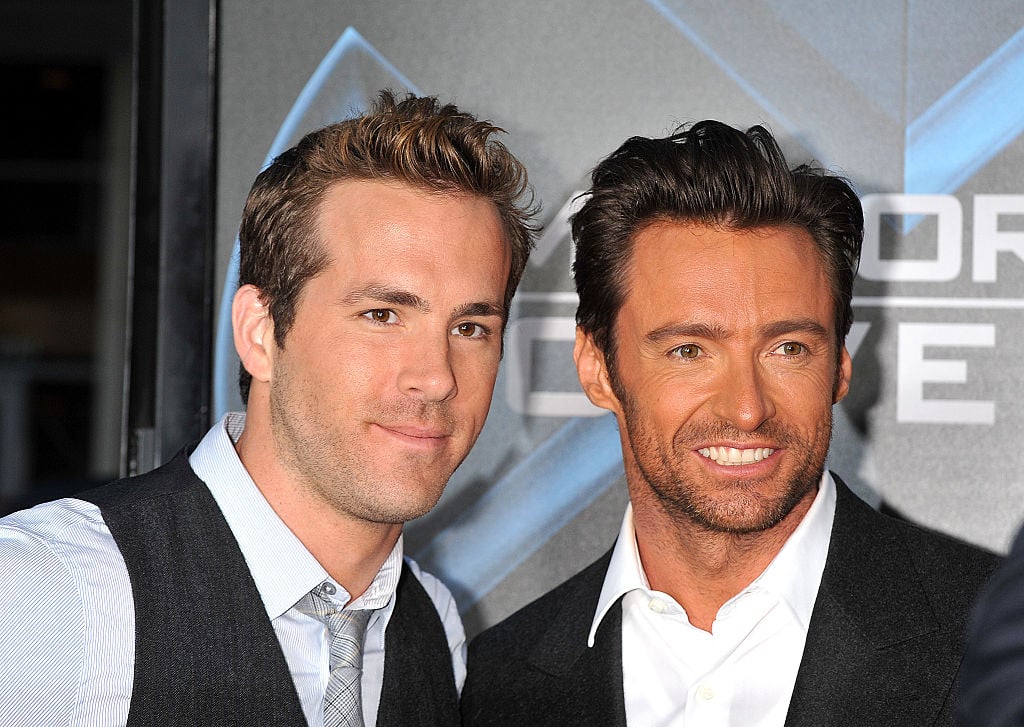 Ryan Reynolds is a major action star
For many years, throughout the late nineties and early 2000s, Ryan Reynolds was a star of romantic dramas and lighthearted comedies. He had major roles in a few television shows as well as in films like The Amityville Horror, Just Friends, and The Proposal. In 2016, the course of his entire career changed when he starred in the hit movie Deadpool. In the wisecracking character of Deadpool/Wade Wilson, Reynolds found the perfect match for his unique skill set.
Reynolds reprised the role of Deadpool in Deadpool 2, which was released in the summer of 2018. Reaching major stardom has enabled Reynolds to pick and choose his projects more carefully, and these days, he is considered to be one of Hollywood's brightest stars. He is also happily married to actress Blake Lively, and the two share three young children.
Hugh Jackman is best known as Wolverine
Hugh Jackman is an actor, singer, dancer, and all-around Renaissance man. His expansive career has encompassed stage and screen. His big breakthrough came in 2000 when he played Wolverine in the movie X-Men. He has since portrayed the character of Wolverine in multiple films, including most recently in the critically-acclaimed film Logan. 
A few of Jackman's other popular films include The Greatest Showman, The Front Runner, Les Misérables, Pan, and Australia. Jackman has been happily married to Deborra-Lee Furness since 1996, and they have two children.
When did Hugh Jackman and Ryan Reynolds first meet?
As two of the movie industry's top action stars, it was inevitable that Hugh Jackman and Ryan Reynolds would eventually cross paths. They first met on the set of Wolverine, when Reynolds was married to Scarlett Johansson. As Jackman later recalled, their friendship began with good-natured teasing. "I used to ream him because I was very close friends with Scarlett, and Scarlett had just married Ryan, so when he came on set I was like, 'Hey, you better be on your best behavior here, pal, because I'm watching.'"
In 2015, Ryan Reynolds upped the ante by posting a Hugh Jackman impression on social media while made up as Deadpool. Ever since then, the two have gone back and forth on social media, creating a hilarious "fake feud" that fans absolutely love.
Ryan Reynolds and Hugh Jackman have been trolling each other for years
In recent years, Reynolds and Jackman have posted a series of hilarious videos and clips, taking shots and gently poking fun at each other. The "feud" seemingly culminated in a video where the two declared a truce – but in reality, Jackman and Reynolds are the very best of friends. They have been seen on many occasions hanging out with each other, grabbing coffee, and probably discussing the realities of life in the spotlight.
Rumors continue to swirl about the possibility of Jackman and Reynolds co-starring in their very own movie. While the pandemic has delayed production on most creative projects, including Hollywood films, perhaps sometime in the future, fans can expect to see the two bromance partners interacting even more on-screen.