How Did the Duggar Family and the Bates Family Meet Each Other?
When it comes to favorite reality TV families, there are quite a few that come to mind. And one of the reasons fans continue to follow the Duggars through the years is because they're so much different than the majority of their viewers. The Duggar's journey to reality TV all began with Jim Bob and Michelle, two parents of 19 kids who have starred in a number of TV specials and can now be seen on TLC's Counting On. Their kids are growing up fast, and many of our favorites, like Jessa, Jinger, and Jill, even have families of their own.
The Duggars aren't the only massive family to take the reality TV spotlight, however. The Bates' also have 19 children and abide by Christian fundamentalist viewpoints. It turns out the Bates and the Duggars know each other quite well, too. Here's how they first met.
Jim Bob Duggar approached the Bates family in the late '90s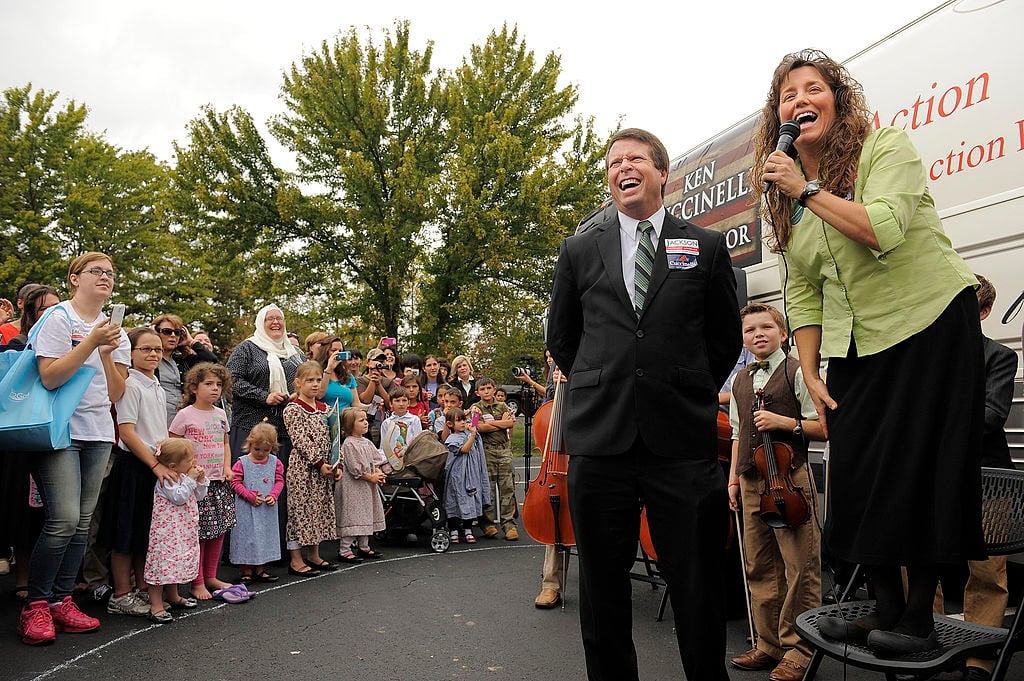 It seems the Duggars and the Bates' met many years ago and immediately hit it off due to their similarities. Romper notes on an episode of United Bates of America that aired back in 2012, Jim Bob Duggar discussed how he first approached the family. He said, "Back about 15 years ago, I went to a conference, and I walked in and I saw this family with, like, seven or eight kids sitting around a table. And I said 'This kinda looks like my family.'" Jim Bob then went on to explain that Gil and Kelly Bates, the mother and father of the family, have been great friends of Jim Bob and Michelle's ever since that first initial meeting.
The Duggars and Bates have proven that their friendship is long-lasting, too. Over the years, Romper notes they've attended each others' weddings and appeared in many photos together. And since both families have similar ideals when it comes to courting, appropriate dress, and house rules, the Duggar and Bates kids became fast friends.
The Bates family is still more relaxed than the Duggars, however
The two families certainly have a lot of similarities, as they both abide by Christian fundamentalist viewpoints and have 19 children. But it seems the Bates are still more relaxed than the ultra-strict Duggars. In Touch Weekly notes both families believe in saving kissing and holding hands until after marriage, but the Bates' understand that physical contact does sometimes happen on dates — and that's OK. In addition, the Bates' don't believe in rushing into courtships. As Kelly said back in 2013, "It doesn't make sense to tell couples they should have to rush and get married in three months either. The couple misses so much that way."
We know by now that when the Duggars enter a courtship, marriage is typically right around the corner. And it seems the Bates' are much more open to the idea of their kids attending college instead of marrying right away, too. The Duggar women are much more encouraged to find themselves a husband who can take care of them instead of seeking higher education. Still, despite their differences, the two families remain great friends.
Fans would love if Jana Duggar started courting a Bates family member
Jana Duggar has remained a fan favorite over the years. While many of her younger siblings have found men to court and marry, Jana is waiting on the perfect man — and though she's 29 years old, she's still living under Jim Bob and Michelle's roof. Fans love Jana's desire to do her own thing, but they'd also love to see her enter a courtship with the right man. And many of her followers even thought she was secretly courting Lawson Bates after he left a flirtatious comment on her Instagram, People reports.
Sadly for fans, Jessa set the record straight and announced that Jana was still single — but fans are still hopeful that a Duggar/Bates romance will occur. There are plenty of comments on this photo Lawson posted to Instagram that show just how much fans wish he was with Jana. The photo depicts the Bringing Up Bates star holding a rose. To that, one fan commented, "Rose to Jana!!!"
Check out The Cheat Sheet on Facebook!