How Eminem Overcame His Tragic Past and Turned His Life Around
Controversial rapper Eminem is one of the most respected forces in music, even if he frequently raises eyebrows. He first rose to fame in the mid-nineties, and though his career has experienced a number of ups and downs, he's always managed to come out on top.
Even more impressive than the fact that Eminem has managed to sustain a decades-long career are the sheer number of obstacles that the rapper has overcome in his life. Read on to learn about Eminem's tragic early life and how the musician is doing these days.
How did Eminem get his start in music?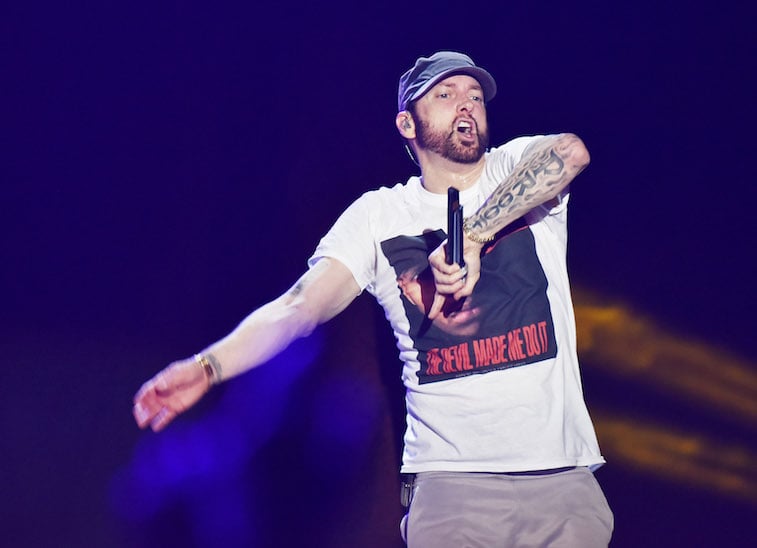 Born in 1972 under the name Marshall Bruce Mathers, young Eminem didn't have much contact with his father, who had moved away when Eminem was very young. He also suffered from bullying in school, and when he was only nine years old, he was beaten so badly by one of the boys at school that he ended up spending a week in a coma.
Years later, Eminem opened up about being bullied and how it affected him later in life. Speaking to journalist Anderson Cooper, Eminem admitted that he was "beat up in bathrooms, in the hallways, shoved in lockers," and because his mother moved a lot when he was young, he was constantly having to deal with being the new kid.
What helped the young man through this period in life turned out to be something that no one expected — rapping. Eminem stated that it was rapping that helped him to start earning a little bit of respect. For these reasons, Eminem has become a hero for many who have experienced bullying or difficulties in their life.
Eminem's relationship drama
Even though he found some escape in his music, life didn't become easier for Eminem in those early years. When he was only fifteen years old, he met Kim Scott. The two began a relationship that would become legendary in the world of hip-hop.
They started living together while still in high school and in 1995, Scott became pregnant with the couple's daughter, Hailie Mathers. Though reportedly Eminem had the best intentions for his young family, the difficult times and desperate situation that they found themselves in, living in various seedy apartments with little money, ended up driving the couple apart, then back together, repeating the cycle multiple times.
He vented about his relationship with Scott in many of his songs, even notoriously rapping about her hypothetical murder. They got married in 1999 but split only two years later. Eminem and Scott reconciled after the split and got married again in 2006, only to split yet again a short time later.
Reportedly, these days, the two maintain a cordial friendship, but the years of drama definitely caused trauma and anxiety for Eminem.
How is Eminem doing now?
As if all of the problems in his personal life weren't enough, Eminem has had many brushes with the law. During the course of his career, his own mother sued him for slander, and he has been arrested on multiple occasions. Eminem has also struggled with drug addiction and in the early days of his career, was addicted to prescription pills like Vicodin.
These days, Eminem is sober and working hard on his music. Though he has gone through more trying times than most people should ever have to, he has certainly come out on top and is now considered not only an icon of hip-hop but one of the true legendary cultural influences of the century. Perhaps most inspirational of all, he maintains a close, loving relationship with his daughter, Hailie Mathers.