How 'Game of Thrones' Star Rose Leslie Really Feels About Her Infamous 'You Know Nothing, Jon Snow' Line
Playing the role of Ygritte on Game of Thrones for three seasons changed Rose Leslie's life, both personally and professionally. As fans know, Leslie met her future husband, Kit Harington, while working on the series. She was also part of the biggest TV series of its time, and Ygritte had a famous catchphrase. But how does Leslie really feel about the memorable line – "You know nothing, Jon Snow?"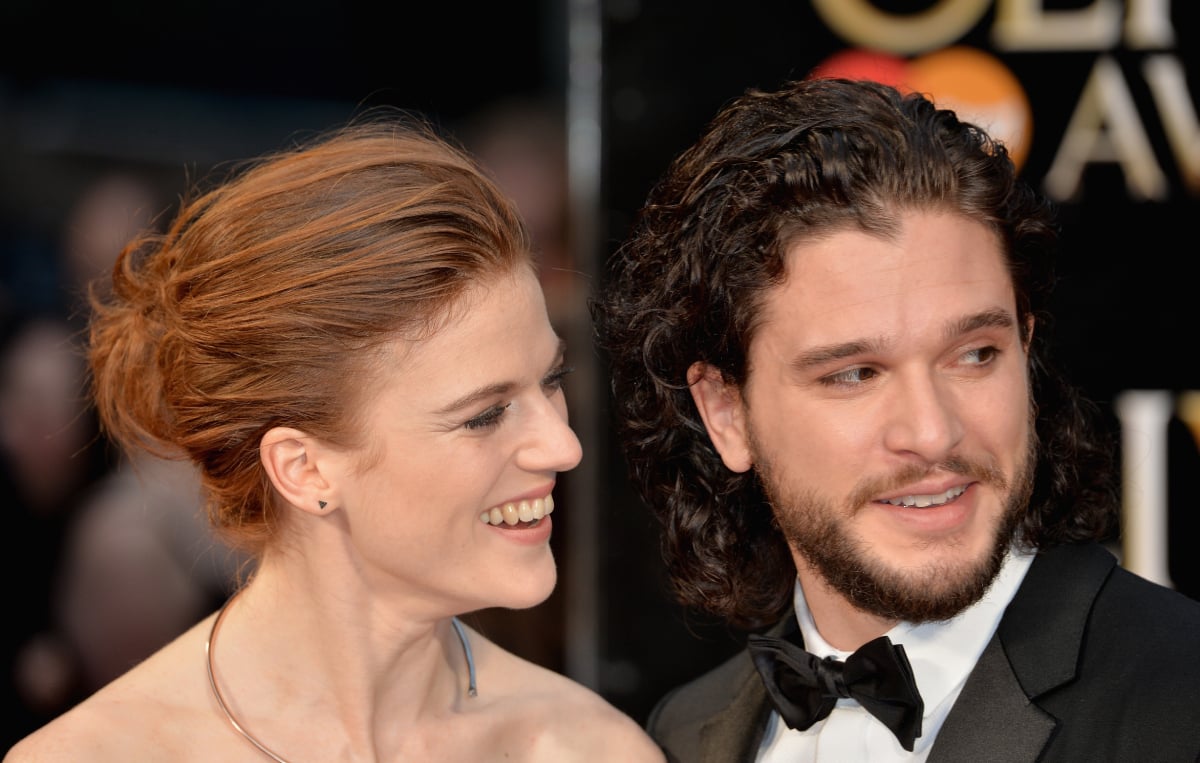 Jon Snow and Ygritte shared a steamy moment together on 'Game of Thrones'
As Insider notes, Harington and Leslie played on-screen couple Jon Snow and Ygritte for three seasons. During seasons 2 through 5 of Game of Thrones, they started a real-life romance while their characters fell for each other on-screen.
Even though they only had three seasons together, Jon and Ygritte shared some great moments. They first met during Season 2, Episode 6 "The Old Gods and the New" when Jon went ranging beyond the Wall.
She told him, "Strike hard and true, Jon Snow. Or I'll come back to haunt ya." But Jon couldn't bring himself to execute her, and that hesitation ended up costing him. Jon's fellow Night's Watch brothers ended up leaving them behind and losing them.
Jon kept Ygritte as his prisoner, and she flirted with him every chance she got. Constantly teasing Jon, Ygritte finally ended up getting her way. After their steamy scene, she asks, "That thing you did with your mouth … is that what lords do to their ladies in the south?"
Kit Harington being a perfect gentleman while shooting that 'Game of Thrones' scene
Leslie later recalled the day she and Harington shot that scene with Entertainment Weekly. She said it was a closed set, which limited the number of people present. She remembers it being such a moment because the two lovers were finally coming together.
The mother-to-be says it was a lot fun showing her Game of Thrones character's promiscuous side, who was wanting to "teach Jon Snow a few things." Leslie also remembers feeling very safe and enjoying the day.
"[Harington] was, as ever, a gentleman, and he made sure that I was comfortable where he was going to be positioned," Leslie explained. "He would always then turn around when they called cut and the lovely wardrobe dailies would come in with a dressing gown, and then I would be covered. And only then would notes be spoken to us from the director."
Leslie remembers Harington being "very considerate." He made sure that she didn't feel awkward, and they also had a conversation about where the boundaries lay.
Rose Leslie admits her infamous catchphrase was a 'phenomenon'
The first time Ygritte said, "You know nothing, Jon Snow" was during Season 2, Episode 7 "A Man Without Honor. Before she was able to convince him to break his vow of celibacy, she told him she could "teach" him how to do it.
An embarrassed Jon Snow said, "I know how to do it." Ygritte replied with a smile, "You know nothing, Jon Snow."
She tried to say the line again during their steamy scene but got distracted. Ygritte said it again when she aimed her bow and arrow at Jon. The phrase was also the character's last words before she died.
Leslie says she feels "incredibly privileged" to have that catchphrase. She admits that many people probably think it's "the most irritating thing in the world." But there are also those Game of Thrones fans who find it endearing.
"I think between he and I, no, we never say it to one another for obvious reasons — and not just 'cause it's corny," Leslie said. "We came across a mug with the catchphrase on as we were doing our Christmas shopping the other month. It's such a phenomenon, though."
Game of Thrones seasons 1 through 8 are available on HBO Max.