How 'Jeopardy!' Champ Brad Rutter Responded When Asked if He Could Tie Ken Jennings' 74-Game Record
Brad Rutter first appeared on 'Jeopardy!' in 2000 when the game show had a five-game limit. 'The Chase' star shared his thoughts on whether he could get into GOAT territory of 70+ victories if the rule hadn't existed.
Jeopardy! featured a meeting of the minds during the 2020 Greatest of All Time tournament. Ken Jennings won the title against against former champs James Holzhauer and Brad Rutter, adding the moniker to his impressive list of credits. The GOAT became a household name after his 74-game winning streak in 2004 on Jeopardy!, right after the game show lifted its five-game limit to contestants. Since Rutter competed on Jeopardy! when the rule was still in effect, he previously speculated if he could've gone the same distance as Jennings.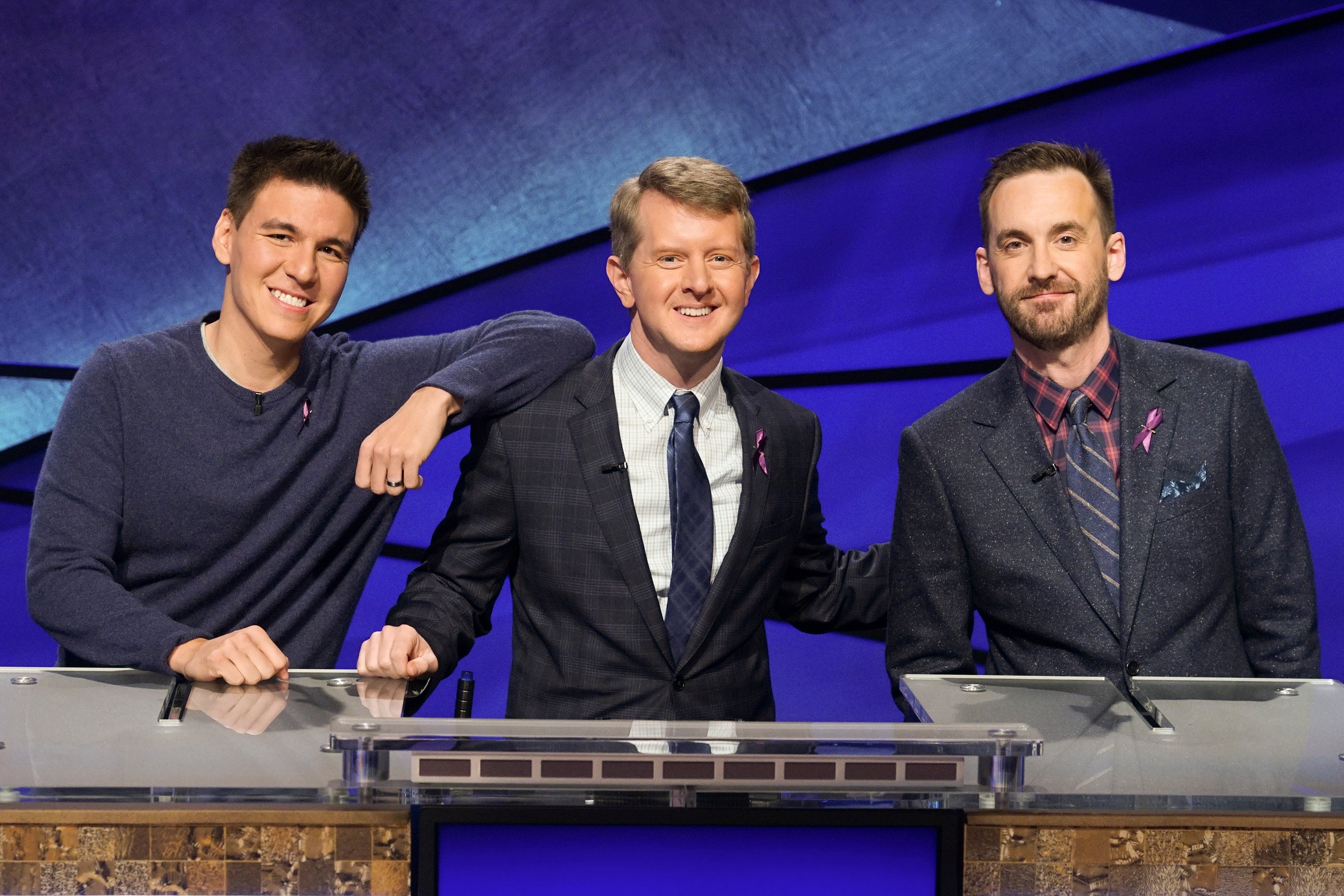 Brad Rutter co-stars on 'The Chase' with Ken Jennings and James Holzhauer
Rutter reflected on his time in the Jeopardy! GOAT competition, noting that he and his fellow competitors were able to enjoy the tournament due to their previous experience on the game show.
"At the GOAT tournament, we always got along, but it was a little intense," Rutter told Screenrant in January 2021. "We're all out there, trying to win. … I think one of the things people really enjoyed about the GOAT tournament was, the three of us are so used to the high-stakes competition, so we were maybe a little more relaxed than most people would be, so we could joke around and stuff like that."
The Jeopardy! alum now heads the ABC game show The Chase with Jennings and Holzhauer, and pointed out how their roles on the new trivia competition are quite different from their Jeopardy! days.
"We're all on the same team now!" Rutter remarked. "There's certainly some friendly competition about who's going to be the quote-unquote 'Best Chaser,' but yeah. We're just hanging out, having fun, and trying to take any frustration we may have out on the contestants!"
'Highly unlikely' Brad Rutter could tie Ken Jennings
Rutter made his Jeopardy! debut in October 2000 when the game show capped a contestant's games at a max of five. After his fifth victory, Rutter left the Jeopardy! stage with a total of $55,102 but returned for several tournaments and added quite a bit to his total.
The limit of wins was lifted in 2003, paving the way for Jennings the following year to embark on his legendary 74-game streak. Rutter was asked if he felt he could give Jennings a run for his money had the rules allowed him to go further at the time.
"I'd like to think I could do 74 games, and I'll tell anyone, 'Yeah, I think I probably could have!'" Rutter began, but also expressed his doubts. "Just the math says that's highly unlikely."
Sharing some calculations, Rutter revealed that the odds would be against him to achieve that kind of victory run. Still, the Jeopardy! champ left the door open.
"Even if you're as good as Ken or I were, I think somebody ran the statistics once, and the over/under is something like 35, which is right around where James [Holzhauer] ended up," Rutter explained. "That sounds like a pretty good over/under to me. It would be highly unlikely I would have gone that far, even though I will always insist I could have!"
Speaking of 'Jeopardy James' Holzhauer…
Holzhauer made a name for himself with his "all in" bets on Daily Double clues, risking his entire jackpot regardless of the amount of his winnings. While the professional gambler won almost $3 million during his 32-game winning streak, Rutter doesn't think the strategy is for everyone.
"James, with his gambling background, was obviously trying to maximize his take-home pay every day," Rutter said, according to Yahoo! News. "If you're not as good as James, you're probably not going to succeed in that, too."