How Long Were Elvis and Priscilla Married?
Elvis and Priscilla Presley had one of the great romances in music history. Although their love story ended tragically, they are still an iconic couple for millions of people around the world, with Priscilla Presley still heavily involved in curating Elvis's legacy and managing his Graceland home.
From their first, starstruck meeting to the way their marriage ended, discover all the details about Elvis and Priscilla's long romance.
How did Elvis and Priscilla first meet?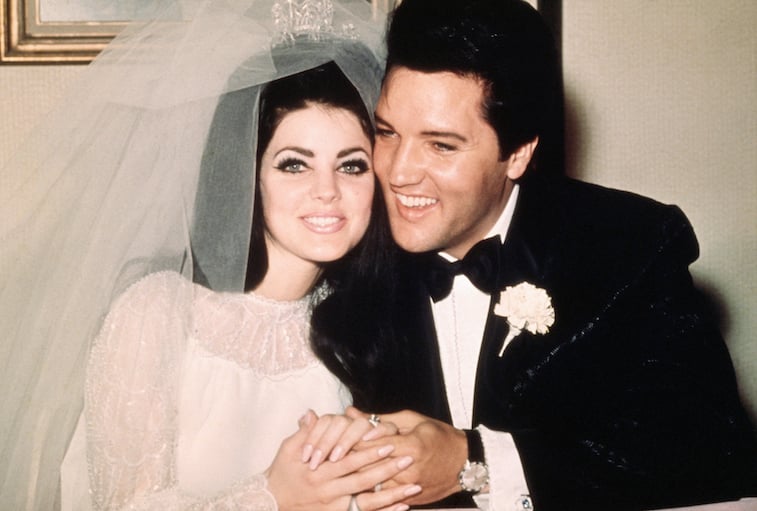 Elvis Presley was already a massive star when he met Priscilla Beaulieu in 1959. Presley was serving in the Army and was stationed in Germany at the time. The two crossed paths at a party, on a military base where Priscilla Beaulieu's father was also serving.
Even though Priscilla was only fourteen years old at the time, to Presley's twenty-four, she made a huge impression on him. The pair bonded immediately, and even though Priscilla's family was reluctant to let their daughter spend time with a much older man, she would not be dissuaded.
When Elvis Presley was sent back to the United States, communication was sporadic between the young couple. Reportedly, Priscilla Beaulieu sank into a deep depression that she told her parents could only be cured if she was sent to Tennessee to live with Presley at Graceland.
After months of pleading, her parents gave in, and around 1962, she flew to meet up with Presley. Once she moved into Graceland, her superstar boyfriend reportedly introduced her to drugs, and the couple would often stay up all night and sleep all day.
When did Elvis and Priscilla get married?
In 1967, Elvis and Priscilla Presley got married in Las Vegas. Although they were very much in love, Priscilla later revealed that marriage to Presley was tough. The singer was a global sensation and had surrounded himself with certain people, creating what she called a "bubble."
At only 21 years old, Priscilla's whole world revolved around Presley and his career. She realized that Presley liked things a certain way, including the way that his wife presented herself – she admitted later that he never once saw her without a full face of makeup.
The couple welcomed their only child, Lisa Marie Presley, in 1968, exactly nine months after their wedding. According to later accounts by Priscilla Presley, after the birth of Lisa Marie, things really went south for the couple, and she started to realize just how unusual their relationship was.
The year the Presleys divorced
In the early seventies, Elvis's career was suffering, and Priscilla Presley had started to wonder about life outside the strange world she was living in. She started taking karate lessons and got involved with an instructor named Mike Stone.
Although Elvis Presley was reportedly devastated, Priscilla Presley filed for divorce in 1972. The couple had been married for six years in total.
Even though they were no longer married, the Presleys remained very close. They were even photographed leaving the courthouse following the divorce proceedings holding hands.
Reportedly, Priscilla Presley regretted the way their marriage dissolved but was intent on finding her own happiness and establishing her own identity – separate from that of Elvis Presley.
Tragically, Elvis died in 1977 of a drug overdose that caused a massive heart attack. His family was devastated, but have soldiered on, making sure that his legacy has continued.
Priscilla and Lisa Marie Presley curate Graceland and actively take part in Elvis tributes and documentaries on a regular basis. Priscilla Presley has gone on to become a successful actress, model, and author. Her story and her relationship with the King of Rock and Roll remains a vital part of music history.